House Secrets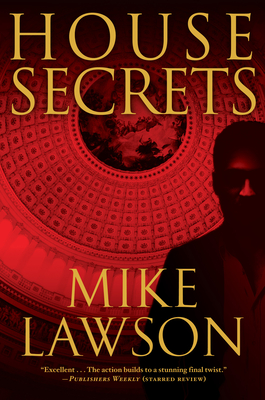 House Secrets
Grove Press, Mass Market Paperbound, 9780802144805, 541pp.
Publication Date: June 8, 2010
* Individual store prices may vary.
Buy at Local Store
Enter your zip code below to purchase from an indie close to you.
or
Buy Here
Description
In House Secrets, DeMarco is sent by Speaker of the House John Mahoney to look into the accidental death of a mediocre newspaper reporter who, in the days before his death, claimed that he had a lead on the biggest political scandal since Watergate. It turns out that the reporter was on the trail of Senator Paul Morelli, the handsome and gifted rising star from New York, considered a shoo-in for his party's presidential nomination. Morelli's past has already been scrutinized and he looks clean, but then why is DeMarco being followed by a pair of thugs who freelance for the CIA?
About the Author
Mike Lawson, a former senior civilian executive for the US Navy, is the author of nine previous novels starring Joe DeMarco. His first book, "The Inside Ring", was rated by the "Seattle Times" as one of the top ten thrillers of 2005 and was a finalist for the Barry Award for Best Thriller. "House Secrets" was selected as one of the best thrillers of 2009 by "Library Journal", the "St. Louis Post-Dispatch", and "Deadly Pleasures" "Mystery Magazine".
Praise For House Secrets…
Outstanding." Library Journal, Five Best Thrillers of the Year

[I] consider Mike Lawson my favorite political thriller writer (Flynn, Baldacci and Metzger will have to go to the back of the line)." George Easter, Deadly Pleasures

House Secrets is his best yet." Jeff Ayers, The Big Thrill

Congressional fixer Joe DeMarco returns in the fourth of Mike Lawson's brainy, character-driven and droll novels of D.C. politics." Adam Woog, Seattle Times

Writing a top-tier Washington thriller ain't easy. Just think of the competition. I'm happy to reporter that Mike Lawson is up to the challenge. House Secrets is plotted artfully, written with panache and has a surprise endingdon't cheat and peakthat made me roar with laughter. Lawson has a true insider's insight about real-world spinelessness, venality, and corruption that have taken the place of moral courage and true leadership on Capitol Hilla fine ear for dialogue...[and] a good eye for irony. What makes House Secrets so delicious is that even though we know Senator Morelli is a bad apple almost from the get-go, Lawson inserts enough twists and turns into this book to keep readers guessing how it all resolves right up until the incredibly funny last page. Trust me. Don't cheat and peek." John Weisman, Washington Times

Lawson's got the goods for bestsellerdom." Sarah Weinman, The Baltimore Sun

The twists, turns, and surprises never flag, leading to a blockbuster conclusion that is letter perfect, one that few will forget anytime soon. [House Secrets is] a wry and entertaining novel about Washington politics." Mary Whipple, MostlyFiction.com

A startling tale, with twists and turns galore. Lawson has created an engrossing, full of sinister characters from both sides of the law. House Secrets is the fourth in the Joe DeMarco series, which is rapidly becoming a favorite for me." Maddy Van Hertbruggen, ReviewingTheEvidence.com

"A fantastic tale filled with twists and spins that seem plausible A consistently great series." Harriet Klausner, The Midwest Book Review

Despite his many flaws, DeMarco is a sympathetic character with a self-deprecating sense of humor. This leads to some snappy dialogue Lawson give his readers a clever plot and maintains suspense." Dick Saxe, Mystery News

The kind of whodunit thriller you can't stop thinking about while you're reading and can't stop talking about once you're done. Smart, original, crafted with true insider knowledge, brimming with vivid characters, and a forward drive that just won't quit. . . . I couldn't put it down." Vince Flynn on The Inside Ring

[Lawson is] on his game from the first chapter. As a fixer, De Marco has seen his share of corruption and the secrets of the movers and shakers, done his business in the shabby corridors of power. Given questionable evidence, De Marco is inclined to err on the side of caution, but Lawson never lets his protagonist off that easy, forcing him to make tough choices and face down personal demons. As Joe works his inside sources, the reader gets a bird's-eye view of the Washington machinations he thrives on: leverage, an exchange of favors, the shifting layers of loyalty and opportunity. This thriller is no exception, another solid chronicle of the vagaries of Washington politics and the promises of elected leaders with feet of clay." Luan Gaines, Curled Up With a Good Book