The Best of It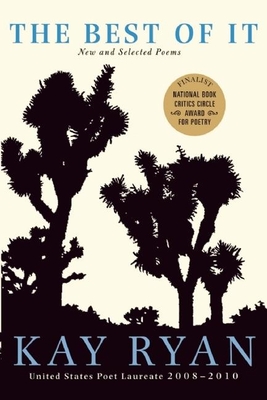 The Best of It
New and Selected Poems
Grove Press, Paperback, 9780802145215, 288pp.
Publication Date: April 2, 2011
* Individual store prices may vary.
Buy at Local Store
Enter your zip code below to purchase from an indie close to you.
or
Buy Here
Description
Kay Ryan's recently concluded two-year term as the Library of Congress's sixteenth poet laureate is just the latest in an amazing array of accolades for this wonderfully accessible, widely loved poether awards include the Ruth Lilly Poetry Prize from the Poetry Foundation, four Pushcart Prizes, and a Guggenheim fellowship. Ryan's "The Best of It: New and Selected Poems" has garnered lavish praise. The two hundred poems in "The Best of It" offer a stunning retrospective of her work, as well as a swath of never-before-published poemsall of which are sure to appeal equally to longtime fans and general readers.
About the Author
Kay Ryan served as Poet Laureate of the United States from 2008 through 2010.

She has long lived in Marin County, California.
Praise For The Best of It…
2011 Pulitzer Price Winner for Poetry:
"Awarded to The Best of It: New and Selected Poems, by Kay Ryan (Grove Press), a body of work spanning 45 years, witty, rebellious and yet tender, a treasure trove of an iconoclastic and joyful mind." Pulitzer.com

Everything [Ryan's] eye falls upon takes on a brisk, beautifully complete clarity. Her tidy lines disguise an enormous intelligence and tonal warmth: a ferocious capacity for finding the essence of things. The Best of It reveals that right before our eyes Ryan has become a classic American poet."John Freeman, Los Angeles Times

Ryan's poems are as slim as runway models, so tiny you could almost tweet them...Her voice is quizzical and impertinent, funny in uncomfortable ways, scuffed by failure and loss. Her mastery, like Emily Dickinson's, has some awkwardness in it, some essential gawkiness that draws you close you can't help consuming [her] poems quickly, the way you are supposed to consume freshly made cocktails: while they are still smiling at you. But you immediately double backwhat was that?and their moral and intellectual bite blindsides you."Dwight Garner, The New York Times

[Ryan] has the uncanny ability to construct a tiny word-mechanism that produces the experience of genuine wonder."Steven Ratiner, The Washington Post

Kay Ryan [is] among the geniuses celebratedfor her clear style that puts her in the company of Robert Frost." Nick Owchar, Los Angeles Times

The Best of It displays an astounding consistency of tone and quality[Her] gifts call to mind some illustrious predecessors, including Dickinson, Stevens, Moore and Frost. Despite the echoes, though, Ryan is so arresting and genuinely original that her book stays in the mind in a way unlike much contemporary poetry, so often impenetrable and self-absorbed. In today's world of exploding self-expression and relentless ephemera, Kay Ryan sticks."Michael Lindgren, Cleveland Plain-Dealer

[Ryan's] work is concise, exquisitely crafted, and explores the landscape of the mindThe Best of It lives up to its promise and has the potential to change the way many American poets think and write."Elizabeth Lund, Christian Science Monitor

Pithy poems manage to encapsulate far more than their few words should holdSassy, smart and deep as they are hilarious, Ryan's poems are among the best."Publishers Weekly (starred review)

Droll, exquisite, weirdly stupendous poems[they] are brief, seemingly offhand. But they go off in the head like firecrackers. Ryan's on the zip line to Parnassus."Terry Castle, author of The Professor and Other Writings, San Francisco Chronicle's Summer Reading Recommendations"

[Ryan's] most startling discovery is that melancholy, with its tendency to brood and spread, is best contained in a form that is tight, witty, almost sprightly sounding. Her poems are often built on the logic of the pun, taking an ordinary word or dead cliché as a title and then jolting it to unexpected life."Adam Kirsch, The New Yorker

Ryan is one of the few contemporary poets to have imitators because she is one of the few truly compelling stylists now at work. Her voice is authoritative, confident, unfussy, exactingshe is astutely reserved, watchful, and understands that no one is special in his or her griefSo many new and selected" volumes come out each year, but The Best of It is rare in being truly the best of the poet's work so far. Kay Ryan is so disarming, so fresh and original, that she has earned her recent reputation as one of the very best poets among us."David Mason, The Hudson Review

If the job of poetry is to distill language and experience, there are few greater contemporary masters of the form than Ryan[Her work] never fails to surprise, enlighten and delight."Carmela Ciuraru, Newsday

Ryan is the poet of the possible, who keeps to the edges of words and thoughts, leaving emotions for others to find[her poetry] is singular, playful as well as serious, forcing us to prick up our ears and listen."Bob Hoover, Pittsburgh Post-Gazette