The Great Divorce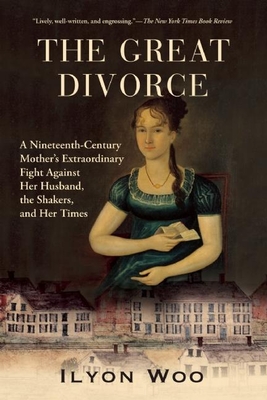 The Great Divorce
A Nineteenth-Century Mother's Extraordinary Fight Against Her Husband, the Shakers, and Her Times
Grove Press, Paperback, 9780802145376, 404pp.
Publication Date: August 16, 2011
* Individual store prices may vary.
Buy Now
or
Shop Local
Enter your zip code below to purchase from an indie close to you.
Description
Ilyon Woo's The Great Divorce is a dramatic, richly textured narrative history of early America's most infamous divorce case. A young mother singlehandedly challenged her country's notions of women's rights, family, and marriage itselfall in a bid to win back her kidnapped children from the celibate, religious sect known as the Shakers. Pulling together the pieces of this saga from crumbled newspapers, Shaker diaries, and long-forgotten letters, Woo delivers the first full account of Eunice Chapman's epic five-year struggle. A moving story about the power of a mother's love, The Great Divorce is also a memorable portrait of a rousing challenge to the values of a young nation.
About the Author
ILYON WOO holds a BA in the Humanities from Yale College and a PhD in English from Columbia University. She lives in New York with her husband and children.
Praise For The Great Divorce…
Modern Americans, bombarded with stories of celebrity divorces, probably assume that the tabloid breakup is a recent phenomenon. This lively, well-written and engrossing tale proves them wrong."The New York Times Book Review

Woo captures the drama and many ironies of Eunice's story, admiring her courage without adopting her view of the Shakers as unmitigated villains."The New Yorker

ProvocativeWoo vividly tells the story of the Chapmans' broken family, beginning with a dramatic sentence worthy of Stephen KingWoo tells [this story] in nuanced and absorbing detail."Elaine Showalter, The Washington Post

Ilyon Woo's The Great Divorce is much more than a fascinating account of a woman's trailblazing battle for her children. By delving so deeply into the sources, Woo brings the past to life in all its wonderful strangeness, complexity, and verve. This is what history is all about."Nathaniel Philbrick, author of the National Book Award-winning In the Heart of the Sea

Ilyon Woo has taken the stuff of obscure history and transformed it into a gripping drama that resonates with our own world. Though she lived in the 19th century, Eunice Chapman reminded me of Erin Brockovicha woman on a mission who fights like a tigress for what she believes in. Woo has an eye for the telling detail, and a prose style as elegantly spare as a Shaker chair. The result is a heart-warming, finely written story of one woman's battle against fanaticism, a story that has particular resonance today."Simon Worrall, author of The Poet and the Murderer

American history, law, religion, and politics all come alive in this poignant account of an abandoned woman's rescue of her children in the first decades of the nineteenth century. Ilyon Woo gives us the unfolding drama of the first and only legislative divorce in the history of New York as part of a larger struggle for civil identity and women's rights. It is not enough to say that this story of Eunice Chapman's fight against injustice is well told. Ilyon Woo tells a story that every American should want to read."Robert A. Ferguson, George Edward Woodberry Professor of Law, Literature, and Criticism, Columbia University and author of The American Enlightenment, 1750-1820

A gripping read. Ilyon Woo is a scholar who draws on an impressive array of primary sources, but her lively prose is anything but scholarly. That Woo succeeds in making the reader sympathize with Eunice Chapman is not surprising; that she also makes the reader feel empathy for the Shakers and the troubled James Chapman is a measure of her masterful and sensitive storytelling." Glendyne Wergland, author of One Shaker Life: Isaac Newton Youngs, 1793-1865

Ilyon Woo presents the earliest child custody laws of this country with vivid relevance[Woo] creates a tactile portrait of life nearly 200 years agoboth legal and feminist details are fascinatingEunice has all the splash and charisma of a modern celebrity."Holly Silva, St. Louis Post-Dispatch

A myth-smashing taleIt would have been easy to tell this story as a polemic or a melodrama, but Woo never lets us settle into mere indignation or pity."Anne Trubek, The Barnes & Noble Review

This biography makes a movie-worthy story of [Chapman's] struggle to reclaim her children and her destiny."Meredith Maran, More

In addition to providing an enthralling account of Eunice's early life, marriage, and legislative campaign, woo offers a detailed look at the Shakers' communal way of life. . .Woo writes with verve."Pamela H. Sacks, Worcester Telegram & Gazette

This is a true story of losses, but also a momentous emancipation, and what it took to get there. . . [Woo] is a wonderful resource to us today. . .Near the end, in the climax of the story, I felt as if I was gaining the kind of truth and wisdom that comes more often from a novel."David Ritchie, Brattleboro Reformer

Woo gives an interesting, and at times gripping, step-by-step account of the drama, capturing the various personalities involved, the issues at the heart of the conflict, and the far-reaching political and social ramifications of the legislation. . . the challenge of the historical nonfiction genre is to give life to facts and to create an engaging story, in which nothing can be made up or embellish. Woo does an excellent job of meeting both those challenges."Carlene Phillips, The Harvard Press

A smoothly narrative and revealing debutFull of information about women's lives and status at the time, the book makes the case that Eunice's charisma and obsessive determination helped her overcome the usual rejection of women in the public sphere. Both Eunice's struggle and the Shakers' story fascinate equally while dispelling romanticized myths of utopian societies in the tumultuous postrevolutionary period."Publishers Weekly

"A writer of extraordinary empathy and great resourcefulness, Ilyon Woo has transformed a neglected historical record into a vivid evocation of an era and an amazing tribute to a remarkably tenacious woman, Eunice Chapman. Meticulously researched and compellingly narrated, The Great Divorce will stand in the pantheon of American women's history writing."John Matteson, Pulitzer Prize-winning author of Eden's Outcasts

The Great Divorce is a superb bookmasterfully written, deeply suspenseful, and filled with fascinating facts and insights. American history would be everyone's favorite subject if more historians wrote like this. Woo is a writer to watch."Debby Applegate, winner of the 2007 Pulitzer Prize for The Most Famous Man in America: The Biography of Henry Ward Beecher

The Great Divorce is a riveting tale of betrayal and redemption. Ilyon Woo's story of Eunice Chapman's desperate legal struggle to retrieve her children from the Shakers brings early nineteenth-century America alive. Woo blends a thorough knowledge of the era with a novelist's eye for character and place to make us understand how one woman could wage such an epic battle and why we should know about her crusade."Michael Grossberg, Sally M. Reahard Professor of History & Professor of Law, Indiana University, and author of Governing the Hearth: Law and the Family in Nineteenth-Century America