Down the Highway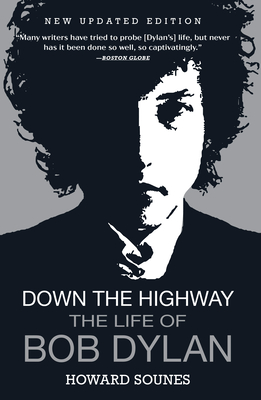 Down the Highway
The Life of Bob Dylan
Grove Press, Paperback, 9780802145529, 566pp.
Publication Date: May 3, 2011
* Individual store prices may vary.
Buy Now
or
Shop Local
Enter your zip code below to purchase from an indie close to you.
Description
The acclaimed biography substantially updated and revised, Howard Sounes's "Down the Highway" broke news about Dylan's fiercely guarded personal life and set the standard as the most comprehensive and riveting biography on Bob Dylan. Now, on the occasion of Dylan's seventieth birthday, this edition continues to document the iconic songwriter's life through new interviews and reporting, covering the release of Dylan's first #1 album since the seventies, recognition from the Pulitzer Prize jury for his influence on popular culture, and the publication of his best-selling memoir, giving full appreciation to his artistic achievements and profound significance.
Candid and refreshing, "Down the Highway" is a sincere tribute to Dylan's seminal place in postwar American cultural history, and remains an essential book for the millions of people who have enjoyed Dylan's music over the years.

About the Author
Howard Sounes was born in 1965. He is the author of five works of nonfiction, published in thirteen languages, addressing diverse subjects. Each book is based on a huge amount of research and exclusive interviews conducted over a number of years, revealing a great deal of new information. Sounes's recent books include a celebrated biography of the American poet Charles Bukowski and Down the Highway: The Life of Bob Dylan. Sounes lives in London.
Praise For Down the Highway…
Praise for Down the Highway

Sounes [has] produced [a] fascinating and finely written account of Dylan's life and times, while managing at the same time to provide interesting evaluations of his music and cultural contribution."The New Republic

Sounes . . . pieces together testimony and circumstantial evidence into a fairly detailed account of Dylan's wreck. . . . It's the kind of thing Sounes does well, opening new angles on the enigmatic polyhedron that is Dylan."The Nation

[Sounes] offers information that, in sheer quantity, supersedes prior accounts."The New York Times Book Review

Sounes' book has the definite virtue of being the last one you'll ever need to read about Dylan."Salon

With little sensationalism, the inscrutable and intensely private Dylan is dissected, measured, and categorized."Esquire

[Sounes] has scoured court documents and interviewed friends, family, lovers, band members and anyone else who had contact with the mercurial troubadour. . . . [He] appears to know every nuance of every track Dylan has ever recordedand the inspirations for famous songs."Washington Post Book World

Irresistible . . . finally puts Dylan the human being in the rocket's red glare."Detroit Free Press

[A] lively, exhaustively researched book. . . . Sounes strikes a healthy balance, packing the book with musical details aimed at Dylan diehards without wallowing in the dirty laundry that will no doubt make headlines."The Boston Globe

Praise for Charles Bukowski

Bukowski is one of those writers people remember more for the legend than for the work . . . but, as Howard Sounes shows in this exhaustively researched biography, it wasn't the whole story."Los Angeles Times

Engaging . . . adroit . . . revealing."The New York Times Book Review

Howard Sounes does an admirable job of re-creating Bukowski's journey through the underground passages of the American literary landscape."Sarasota Herald-Tribune

A must-read for anybody who is a fan of Bukowski's writing, Howard Sounes successfully conjures up the voice of this outrageous character and offers clear-eyed insight into his extraordinary life."The Globe and Mail (Toronto)

Excellent. . . . A fast-paced narrative and a great read."Minneapolis City Pages

Howard Sounes writes with wit and compassion about this irascible wild man of American letters."Judith Wynn, Boston Herald

Charles Bukowski: Locked in the Arms of a Crazy Life is a generous tribute to Bukowski's genius and it clearly and truthfully captures the essence of Bukowski both as writer and man."John Martin, Black Sparrow Press (Bukowski's editor)

With no shortage of anecdotes, pictures or big names, this [biography] is so thorough and sharp that it may as well be the last."Graham Caveney, Arena

A remarkable account of the poet laureate of Skid Row's bedeviled sojourn on planet Earth."Iain S. Bruce, The Glasgow Herald

This is the first in-depth biography of Bukowski and succeeds by pulling into focus the hazy image of the apocryphal barfly anti-hero . . . a picaresque read."Nick Wyke, The Times (London)

Wonderful . . . the first such serious and thorough Bukowski biography. . . . An excellent book about a remarkable man."Ross Fortune, Time Out

A fine storyteller, descriptive and visual, Sounes sticks with the stuff that made Bukowski a legend."Tulsa Kinney, LA Weekly

A lively portrait of American literature's Dirty Old Man.'"William Gargan, Library Journal

The man who emerges from Sounes's work is one who shamelessly pursued his needs for beer, women and recognitiona man capable of tenderness, who always paid child support for his daughter and who resisted the seductions of belated, relished fame. This biography is an affectionate and thorough introduction that will not be rivaled for quite some time. Its effect is to revitalize rather than reduce Bukowski's work: poems and stories that help keep people alive."Guy Mannes-Abbott, The Independent