Cosmos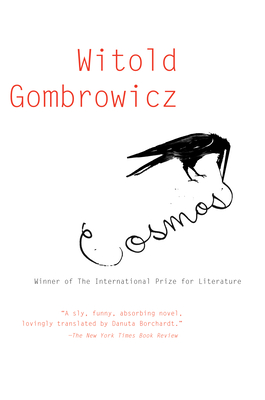 Cosmos
Grove Press, Paperback, 9780802145628, 189pp.
Publication Date: November 15, 2011
* Individual store prices may vary.
Buy at Local Store
Enter your zip code below to purchase from an indie close to you.
or
Buy Here
Description
Milan Kundera called Witold Gombrowicz one of the great novelists of our century. His most famous novel, "Cosmos," the recipient of the 1967 International Prize for Literature, is now available in a critically acclaimed translation, for the first time directly from the Polish, by the award-winning translator Danuta Borchardt.
"Cosmos" is a metaphysical noir thriller narrated by Witold, a seedy, pathetic, and witty student, who is charming and appalling by turns. On his way to a relaxing vacation he meets the despondent Fuks. As they set off together for a family-run pension in the Carpathian Mountains they discover a dead bird hanging from a string. Is this a strange but meaningless occurrence or is it the beginning of a string of bizarre events? As the young men become embroiled in the Chekhovian travails of the family running the pension, Grombrowicz creates a gripping narrative where the reader questions who is sane and who is safe?
About the Author
Witold Gombrowicz is the single most important Polish prose writer of the 20th century. He is best known for his novels Ferdydurke(1937), Pornografia(1960) and Cosmos(1966) and his plays Princess Ivona(1935) and The Marriage(1953). Gombrowicz left Poland in 1939, lived in Argentina for over 20 years, and died in France. In 1967, he was awarded the Prix Formentor. This is Bacacay's first English language publication.


Praise For Cosmos…
[A] sly, funny, absorbing fourth novel and lovingly translated by Danuta Borchardt" Neil Gordon, The New York Times Book Review

A master of verbal burlesque, a connoisseur of psychological blackmail, Gombrowicz is one of the profoundest late moderns, with one of the lightest touches." John Updike

Cosmos is a vicious and uncompromised little gem of the obscene." Adam Novy, The Believer

Borchardt's graceful, powerful, and inventive translation is a great gift to all lovers of Witold Gombrowicz's quirky prose." Jaroslaw Anders on Cosmos

[Cosmos] will hold special appeal for fans of Camus' The Stranger. In this deft new translation, Cosmos, reveals itself as a challenging but important work."Frank Sennett, Booklist (starred review)

Probably the most important 20th-century novelist most Western readers have never heard of." Benjamin Paloff, Words Without Borders

Cosmos is a compulsively unsettling philosophical drama veiled as a quotidian mystery. . . . Borchardt's new English translation conveys a world wrought with an interconnectedness, or perceived interconnectedness, that struggles to understand meaningfully a series of events that defy logical association."David Thomas Holmberg, Rocky Mountain Review of Language and Literature