The Memory of Love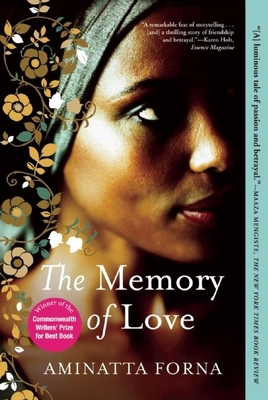 The Memory of Love
Grove Press, Paperback, 9780802145680, 464pp.
Publication Date: September 13, 2011
* Individual store prices may vary.
Buy at Local Store
Enter your zip code below to purchase from an indie close to you.
or
Buy Here
Description
Winner of the Commonwealth Writers Prize for Best Book
Finalist for the Orange Prize for Fiction
An "Essence" Book Club Pick
In contemporary Sierra Leone, a devastating civil war has left an entire populace with secrets to keep. In the capital hospital, a gifted young surgeon is plagued by demons that are beginning to threaten his livelihood. Elsewhere in the hospital lies a dying man who was young during the country's turbulent postcolonial years and has stories to tell that are far from heroic. As past and present intersect in the buzzing city, these men are drawn unwittingly closer by a British psychologist with good intentions, and into the path of one woman at the center of their stories. A work of breathtaking writing and rare wisdom, "The Memory of Love" seamlessly weaves together two generations of African life to create a story of loss, absolution, and the indelible effects of the pastand, in the end, the very nature of love.
A] luminous tale of passion and betrayal. Maaza Mengiste, "The New York Times Book Review.
Praise For The Memory of Love…
Praise for THE MEMORY OF LOVE:

Forna has achieved somethingstartling and impressive here. Here is a luminous tale of passion and betrayal.Forna's sharp eye spares no one its brutal honesty. And she writes to expose what remains after all the noise has faded: at the core of this novel is the brave and beating heart, at once vulnerable and determined, unwilling to let go of all it has ever loved."Maaza Mengiste, New York Times Book Review

Delivering us to a common center, no matter where we happen to be have been born, Aminatta Forna tackles those great human experiences of love and war, of friendship, rivalry, of death and triumphant survival. Often darkly funny, written with gritty realism and tenderness, The Memory of Love is a profoundly affecting work."Kiran Desai, winner of the Man Booker Prize for The Inheritance of Loss

[An] elegantly rendered novel of loss and rehabilitation in the aftermath of Sierra Leone's long civil war.As Kai, Adrian and Elias are revealed in flashbacks and fragments, the novel coalesces into an ambitious exploration of trauma and storytelling.Forna advances the story through tightly executed scenestime bombs that detonate once their context becomes clear."San Francisco Chronicle

Fate and tragedy intertwine in this stunning and powerful portrait of a country in the aftermath of a decade of civil war."Kristine Huntley, Booklist

The author's visceral appreciation of her troubled country is evident on every page of The Memory of Love. So, too, is her probing intelligenceand her compassion." Brooke Allen, Barnes & Noble Review (online)

Set in Sierra Leone during the aftermath of its devastating decade-long civil war that began in 1991, Aminatta Forna's new novel is a remarkable feat of storytelling Like Ancestor Stones, Forna's 2006 fiction debut, Memory draws us into the lives of its protagonists from the first few passages. And just as quickly, it carries us away with a thrilling story of friendship and betrayal while keeping us grounded as eyewitnesses to man's cruelty and courage."Karen Holt, Essence

The real pleasure of Forna's storytelling is in her scrutiny of her characters' inner lives and her ability to connect their choices to the moral dilemmas of a traumatized society."The New Yorker

Forna, a former BBC journalist and documentarian, has seen the cruelties of the war-ravaged West African country first-hand, and has devoted a career to chronicling them. In careful, precise prose, Forna makes even the seemingly commonplace details meaningful."Nora Dunne, The Christian Science Monitor

As in Forna's first novel, Ancestor Stones (2006), women serve to bring all these stories togetherThe way Forna writes it, these women were the primary victims of the wars, and the ones expected to pick up and move on. The men, those who survived, rarely can; they tell and retell their tales and run from memories that reveal their cruelty, weakness, and utter helplessness. This device could be distancing, but in Forna's capable hands it works, bringing us slowly into stories that might otherwise be too horrific to digest. Her subtle approach, with narrative building on narrative, also highlights the issues underlying the trauma how the former child soldier who can no longer stand the smell of cooked meat may be more sympathetic than the selfish civilian who acted out of fear and ambition."Clea Simon, The Boston Phoenix

Forna is one of the best novelists writing about Africa"Cristin Miller, Hugo House (online)

"This is powerful and necessary reading."--Karen Briggs, Shelf Awareness (online)

"She threads her stories like music, imperceptibly into the reader's consciousness. One is left hauntingly familiar with the distant and alien; not quite able to distinguish the emotional spirits of fiction from the scars of real experience." The Times (London)

A soft-spoken story of brutality and endurance Forna's insight, elegance and elegiac tone never falter. Tragedy and its aftermath are affectingly, memorably evoked in this multistranded narrative from a significant talent." Kirkus Reviews (starred review)

A subtle and complex exploration, daring in depth and scope, of both the psyche of a war and the attractions which it holds for an outsider. Forna is a writer of great talent who does not shy from tackling the toughest questions about why humans do the things they do: from the smallest acts of betrayal to the greatest acts of love."Monica Ali, author of Brick Lane

It is difficult to confine a commentary about The Memory of Love to a paragraph, so grand are the dimensions of this wise, compassionate novel. Though it is set in one corner of West Africa, its story is the story of that entire continentbeautiful, captivating, tormented. Yet it is much more: a universal tale of love, of war's power to cripple souls as it maims bodies, and of the triumphant human spirit, overcoming the forces that seek to crush it."Philip Caputo, author of Rumor of War, Acts of Faith and Crossers

A striking study of the past and present of a country whose name calls up twisted images of beautiful beaches, blood diamonds and child soldiers The Memory of Love is an ambitious novel, but one that richly rewards the committed reader."Lauren Bufferd, Book Page

The Memory of Love is the most significant novel that I have read since Orhan Pamuk's The Museum of Innocence.This is an extraordinary meditation on the capacity that men and women have to survive in the midst of the most overwhelming obstacles that war and all its attendant violence and degradation can throw in front of them. Aminatta Forna's The Memory of Love is the first major novel of the new decade."Charles R. Larson, Counter Punch (Online)

Aminatta Forna's third noveltells the stories of normal people struggling, in the aftermath of terrible violence, to survive the psychological and social impacts of what they experienced in [Sierra Leone's] brutal civil war. Some write. Others emigrate. And, in this consummate picture of the horror of civil war, some, like Forna's heroine Agnes, are forced to live among the same people who committed unspeakable atrocities." This Week's Hot Reads' Selection, The Daily Beast

Memories of love, Forna writes, are like phantom limbs: The pain is real, yes, but it is a memory of pain." Forna's novel illuminates the phantom limbs of a nation through considering the narratives of individual men and women within and outside of a country's collective experience Forna continues to be a writer to watch, one whose work explores essential questions about what it means to survive our own histories."Katie Freeman, Tkreviews.org

This, no doubt, is one of the best books I have read this year, and I think ever. The writing is careful, clear, crisp, oh, just beautiful. This is a complex book, a complex story, a book about getting to know people, its beauty is in its ordinary characters, ordinary in the sense that they are not some grand characters on the scale of social class, extraordinary in the author's stark individualisation of each character."The Pen and I (blog)

To read The Memory of Love is to experience, not simply learn about, the inner existences of its characters, even as they lapse in and out of their lives." Anjali Joseph, Times Literary Supplement (UK)

"Forna weaves an intricate tapestry of betrayal, tragedy and loss; expertly drawing together the threads that link the sick old man, the brilliant doctor with dreams of leaving his troubled homeland, the wounded English psychologist and the young woman who links the three of them in a common bond of love [Forna] moves deftly between the enchantments of different narratives: the therapeutic, the confessional, the traumaticflashbacks, nightmares, hauntings, fugue states where stories are lost or distorted beyond recognition and the sweetly joyous themes of new love, renewal, springing hope, second chances." The Telegraph, April 2010 (UK)

"Aminatta Forna's novel is intelligent, engrossing and beautifully crafted." The Daily Mail (UK)

Aminatta Forna's brilliant new novel takes an oblique look at the Sierra Leonean civil war of the 1990s. . . Forna writes like a scientist, not only in the accuracy of her descriptions but in the way she selects which incidents to highlight, turning each scene into a metaphor that reverberates with meaning beyond the event itselfyou feel that what she is reaching for is economy of phrasing, aptness of imagery, exactness of description, and she achieves that perfectly. This is a remarkable novel: well researched, well thought out, well written the kind that deserves to be on the Booker shortlist."Helon Habila, The Guardian (UK)

"Aminatta Forna's two previous books explored, with elegance and empathy, the conflicts endemic to Sierra Leone. Her second novel continues Forna's examination of unpalatable truths while sacrificing none of her talent as a storyteller." The Sunday Telegraph (UK)

"Through the complicated connections between characters, Forna explores a country's history: the violence and chaos of war, the scars, the hope and determination and the uncertainty of rebuilding." The Sunday Times (UK)

"As Forna's forensic re-inhabiting of the aftermath of the conflict reveals, these wounds may have vivid physical realities, but it is always behind the eyes that they are felt most keenly." Tim Adams, the Observer (UK)

"Forna reveals the legacy of [the war's] damage, viscerally visible in injured bodies, but just as devastating to the mental health of the survivors who were witnesses and victims of a repressive regime. Heartbreaking." Marie Claire (UK)

"Forna [assembles] her character with the patience and vision of a chess master, and soon they are locked in an inexorable collision of good and evil and past and present, until we read on hurriedly to see if they will be left with hope." Metro (UK)

"The Memory of Love is a beautifully crafted tale of life in Sierra Leone in the aftermath of the civil war.....This is not a book to be read lightly, but one to savour and share." Stylist (UK)

"If West Africa has lived through some of the most grotesque episodes of the 20th century, it has also been blessed with several generations of extraordinary writing talents who continue to turn those ordeals into heart-rending literature." Michela Wrong, The Spectator (UK)