I Married You for Happiness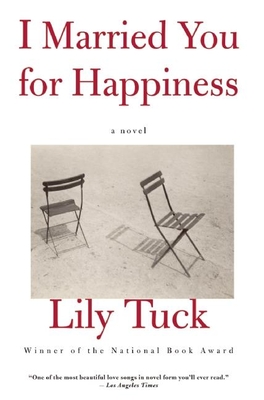 I Married You for Happiness
Grove Press, Paperback, 9780802145918, 193pp.
Publication Date: September 2012
* Individual store prices may vary.
Buy Now
or
Shop Local
Enter your zip code below to purchase from an indie close to you.
Description
His hand is growing cold, still she holds it, is how this riveting, deeply moving story of a forty-three year old marriage by National Book Award winner Lily Tuck begins. Unfolding over a single night, Nina sits at the bedside of her husband, Philip, whose sudden and unexpected death is the reason for her lonely vigil. Too shocked yet to grieve, she lets herself remember the defining moments of their long marriage, beginning with their first meeting in Paris. She is an artist, he a highly accomplished mathematicianit was a collision of two different worlds that merged to form an intricate and passionate love.
Slender, powerful, and utterly engaging, "I Married You For Happiness" is not only an elegant elegy to a man and a marriage, but also a meditation on the theory of probability and how chance can affect both a life and one's consideration of an afterlife.

About the Author
Born in Paris, LILY TUCK is the author of four previous novels: Interviewing Matisse, or the Woman Who Died Standing Up; The Woman Who Walked on Water; Siam, or the Woman Who Shot a Man, which was nominated for the 2000 PEN/Faulkner Award for Fiction; and The News From Paraguay, winner of the National Book Award. She is also the author of the biography Woman of Rome: A Life of Elsa Morante. Tuck s work has been translated into over a dozen languages. Her short stories have appeared in The New Yorker and are collected in Limbo, or Other Places I Have Lived. She divides her time between Maine and New York City.
Praise For I Married You for Happiness…
A Best Book of the Year:

Boston Globe
Chicago Tribune
National Post
Publishers Weekly

"One of the most beautiful love songs in novel form you'll ever read . . . Tuck is a genius with moments . . . Her ability to capture beauty will remind readers of Margaret Yourcenar and Marguerite Duras."Los Angeles Book Review

"[A] moving narrative . . . Poetic and absorbing . . . The final passages, as dawn breaks in thie new widow's life, as re a rare and elegant affirmation of the transcendence of love."The Daily Beast

"Beautiful . . . Tuck produces spare prose that doesn't sacrifice tension or emotion in its economy. . . . An artfully crafted still life of one couple's marraige." Boston Globe

"Sweet, tender and compelling."Chicago Tribune (Best Books of the Year)

"This slim brush of a book manages to accomplish in a mere 200-plus pages what many novelists try to do in twice the verbiage. . . . Examines the disguises and surprises that energize a lasting marriage." The Seattle Times

"An elegant vigil . . . A poised, readable, immediate novel."The Guardian

"Luminous . . . Spare but deep." NPR

"A magical, truthful tale." Huffington Post (Best Upcoming Books for Fall)

"Captivating . . . Absorbing . . . Strikes a chord."The Washington Post

"Fearless and absorbing . . . What Tuck has captured so deftly is the essence of a bereaved wandering mind, with its detours and tangents. . . . Intense, brutal, and stunning." The Portland Press Herald

"The writing is lyrical and striking, vividly capturing the nature of memory and the way in which love, though never simple, is contained and proven in the small, indelible moments of our lives. . . . This slim, magnificent novel is rarefied by its heartbreaking immediacy, and the moving, aching stream of consciousness chronicles not only the psychology of shock and mourning, but also the minute-by-minute way in which Nine begins to put life as she knows it in the past tense." BookPage

A breathlessly mannered, affecting new work . . . Small, vital snapshots make up two lives closely shared, and beautifully portrayed in this triumph of a novel."Publishers Weekly (starred review)

"A tender look at marriage, mathematics, life and death, and the intricacies of love . . . I Married You for Happiness elegiac and joyful simultaneouslya love letter to this marriage and to the idea of marriage in general." Book Browse

"Tuck's crisp writing is a joy."Kirkus Reviews

"A full and satisfying potrayal of a marriage . . . Great fodder for readers who enjoy pondering life's larger questions."Library Journal

"Affecting, original . . . Rich in sentiment, poignancy, and honesty."Booklist

"Tuck is an elegant, spare writer who limns her characters in a few swift sentences. . . . Her ability to work mathematical concepts into a literary novel is impressive. . . . For the unmarried, I Married You for Happiness will do what great fiction does: draw you into another's life, allowing you to inhabit it vicariously, emerging with an increased understanding of something previously unknown. If you are happily married, your worst fears about your spouse predeceasing you will be miserably, brightly illuminated, the better you may see them in the harshly brilliant light of quality fiction." PopMatters