Teenage Hipster in the Modern World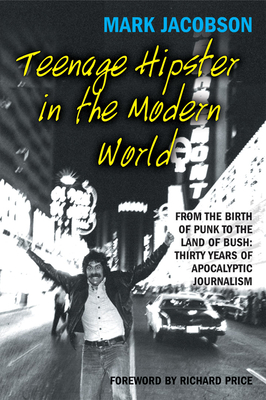 Teenage Hipster in the Modern World
From the Birth of Punk to the Land of Bush: Thirty Years of Millennial Journalism
Grove Press, Black Cat, Paperback, 9780802170088, 415pp.
Publication Date: March 23, 2005
* Individual store prices may vary.
Not Currently Available for Direct Purchase
or
Shop Local
Enter your zip code below to purchase from an indie close to you.
Description
In the pages of The Village Voice, Rolling Stone, Esquire, New York, Maxim, and GQ, Mark Jacobson has carried on in the tradition of such titans as Joe Mitchell, A. J. Liebling, Jimmy Breslin, and Pete Hamill as one of New York City's finest journalistic provocateurs. Now he collects the best of his years in Teenage Hipster in the Modern World.
Jacobson has been witness to a decidedly different sort of history. His "beats" range far and wide, delving into the realms of politics, sports, and celebrity in pieces on such luminaries as Bob Dylan, Julius Erving, Chuck Berry, Pam Grier (in her Scream, Blacula, Scream days), Martin Scorsese, and many others. But for Jacobson, New York City has always been Topic Number One. Jacobson tells the story of the city in his classic essays on the beginnings of punk rock back in the times of "pregentrification" to the heart-wrenching days of 9/11.
With a foreword from best-selling author Richard Price, Teenage Hipster in the Modern World is a hilarious and poignant snapshot of a city, a generation, and a man who wonders how he went from hanging out at CBGB to being an AARP card-holding father of three.
About the Author
Mark Jacobson is the author of the novels Gojiro and Everyone and No One and has been a contributing editor to New York and Rolling Stone, a staff writer at The Village Voice, and a columnist for Esquir.

James Hamilton graduated from the University of Toronto Medical School in 1957 and was engaged in family practice before completing a psychiatric residency in Michigan in 1964. He obtained board-certification in 1968 and was a full-time member of the Departments of psychiatry at the University of Cincinnati, Yale and the Medical College of Wisconsin before coming to New Mexico in 1988 to run a private psychotherapy practice. He has published extensively in the psychiatric and psychoanalytic literature on various theoretical and clinical issues. He has also made numerous presentations at meetings of the American Psychoanalytic Association and the Academy of Psychoanalysis, most recently two papers to the former in 2006 on subjective elements in art criticism and the efficacy of sublimation in the life and work of Willem de Kooning.

Richard Price is the author of seven novels, including "Lush Life, Clockers, Freedomland, "and "Samaritan," He wrote the screenplays for the films" Sea of Love, Ransom," and "The Color of Money," for which he received an Academy Award nomination. He won the 2007 Edgar Award for Best TV writing as a co-writer for the HBO series "The Wire," Price was also awarded a Literature Award from The American Academy of Arts and Letters. He lives in New York City.