How I Became a Famous Novelist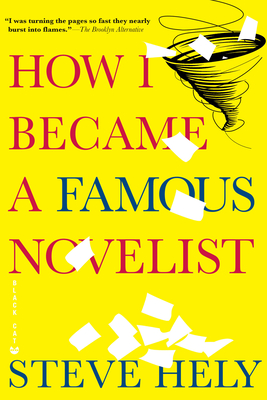 How I Became a Famous Novelist
Grove Press, Black Cat, Paperback, 9780802170606, 322pp.
Publication Date: July 1, 2009
* Individual store prices may vary.
Buy at Local Store
Enter your zip code below to purchase from an indie close to you.
or
Buy Here
Description
What Pete Tarslaw wants is simple enough: a realistic amount of fame that will open new avenues of sexual opportunity; the kind of financial comfort that will allow him to spend his life pursuing hobbies such as boating or skeet shooting at his stately home by the ocean or a scenic lake; andperhaps mostly importantlythe chance to humiliate his ex-girlfriend at her wedding. This is the story of how he succeeds in getting it all, and what it costs him in the end.
Narrated by an unlikely literary legend, "How I Became A Famous Novelist" pinballs from the post-college slums of Boston, to the fear-drenched halls of Manhattan's publishing houses, from the gloomy purity of Montana's foremost writing workshop to the hedonistic hotel bars of the Sunset Strip. The horrifying, hilarious tale of how Pete's pile of garbage called"The Tornado Ashes Club" becamethe most talked about, blogged about, read, admired, and reviled novel in America will change everything you think you know about literature, appearance, truth, beauty, andthose people out there, somewhere in America, who still care about books.
About the Author
Steve Hely writes for the Fox animated comedy "American Dad!" He was twice president of The Harvard Lampoon, and has been a writer and performer on "Last Call with Carson Daly" and a writer for "The Late Show with David Letterman", the latter earning him an Emmy Award nomination for Outstanding Writing for a Variety or Comedy Show.
Praise For How I Became a Famous Novelist…
Brilliant . . . How I Became a Famous Novelist is a cheeky book and a brave one, all but naming real-life literary emperors sans clothes. . . . I was sold and sold again . . . [by Hely's] subtle zingers. . . . The cynicism is delicious, the humor never broad, with just enough modesty and conscience seeping into the story to make our con artist lovable. . . . I rooted for Pete, a scheming underachiever whom the late great humorist Max Shulman would have been proud to call his own. I may have read a funnier book in the last twenty years, but at this moment I'm hard-pressed to name it."The Washington Post

Steve Hely needed to know how to write very well in order to write as miserably as he does in How I Became a Famous Novelist. In a satirical novel that is a gag-packed assault on fictitious best-selling fiction, Mr. Hely . . . takes aim at genre after genre and manages to savage them all. Without really straining credulity, [his] travels through the world of publishing become exuberantly farflung. Mr. Hely has deftly clobbered the popular-book business, [taking] aim at lucrative tidy candy-packaged novels you wrapped up and gave as presents,' the kinds of books that go from store shelves to home shelves to used-book sales unread.' His complaints about such books are very funny. They'd be even funnier if they weren't true."The New York Times

A savagely funny, well observed skewering of the current state of best-selling fiction of all genres: a surprisingly affectionate story of a confused life."NPR.org (Three Books for the Contemplative Comic")

What makes this book especially funny and satisfying is that it lampoons an aspect of American culture that doesn't get parodied as often as others, such as film and television. The book industry is no less deserving. After all, this is a country that made The Bridges of Madison County and The Secret runaway bestsellers. . . . Hely has put together a book that so perfectly and hilariously skewers the publishing industry, it's amazing that he could find anyone to print it. It's time to prove we're smarter than the book business thinks we are and make his novel as big a hit as the Da Vinci Code."The New York Post

If this book doesn't make you laugh, you may need a new funny bone."People (4 stars)

Hely's story offers a pitch-perfect takeoff on the insipid conventions of the best-seller racks and combines the expected caustic wit with an unexpected depth of emotional insight."Austin American-Statesman (Summer Reading Pick)

How I Became a Famous Novelist has a laugh-out-loud quotient inappropriately high for reading in public. [I] yukked so hard that yogurt shot out my nose." St. Louis Post-Dispatch

Hely has written a captivating novel about writing a bestselling novel, while doing as little work as possible. The fake New York Times bestseller list alone is worth the price of this book!"Shelf Awareness

A witty and urbane novel about, well, a guy . . . setting out to write the best-selling novel of all time, and lucky us, we get to go along for the ride."Cape Cod Times

You'd have to be pretty cheeky to name your first book How I Became a Famous Novelist . . . [and] Steve Hely has as much cheek as Alvin and the rest of the Chipmunks." The New York Times Paper Cuts blog

[A] penetrating satire."Huffington Post's Best Books of 2009 Honorable Mention

A funny, thought-provoking, cynical story about being successful for all the wrong reasons."Library Journal

Biting, hilarious, and improbably affectionate."Publishers Weekly

A hilarious send-up of literary pretensions and celebrity culture. . . . Will hit close to home for publishers, writers, and readers."USA Today

The hilarity level of this book is not an idle threat. . . . No one connected to bookswriters, writing teachers, lit agents, publishers, critics, book buyersgets off unskewered by Hely's rapier pen. But out of the irony emerges something that feels like genuine reverence for great books, and for those who write out of honesty. For fellow book lovers weary of tracking book sales trends, Hely's warp-up might even feel like catharsis."Amazon.com (Best Books of July 2009)

A satiric, facetious, and laugh-out-loud funny first novel."Kirkus (starred review)

"It may seem like an act of deep cynicism to name a biting satire of publishing, in which one of its would-be darlings exploits the industry's weaknesses for fortune's sake, as a standout in a year in which print media shed nearly 90,000 jobs. But only someone who loved books could lay bare the process by which college-application ghostwriter Pete Tarslaw sets out to write the James-Patterson-meets-Paulo-Coelho novel The Tornado Ashes Club, a nonsensical pastiche whose excerpts, along with fatuous blurbs and too-real-to-be-true bestseller lists, act as waystations on the way to Tarslaw's rise and inevitable fall. Sucker-punching everyone from William Faulkner to Oprah, How I Became a Famous Novelist's narrator would be despicable if he weren't so self-aware, and his misguided conviction fuels a series of Swiftian encounters rounded out by a note-perfect ending affirming and smashing the brass ring he thought he was chasing all along." A.V. Club

It takes a very good writer to pull of a parody like this, and Hely is a very good writer. . . . A hilariously apt pastiche of our Oprah-fied fictional world . . . [that] gleefully decapitates not just an entire industry but an entire culture. What's best about How I Became a Famous Novelist is that Hely is a superb mimic, changing (fictional) fictional styles at a page's notice: He can do pastoral, he can do old-fashioned nostalgia, he can do pseudo-lit, he can do broken English. But most of all, he can do sharp and funny. All through the book, I kept imagining him writing a note-perfect parody and, as he did so, laughing convulsively. I certainly did. . . . Many novels claim to be very funny, though few genuinely are. How I Became a Famous Novelist is. Genuinely. Funny."Globe and Mail
Wednesday, Sep 16, 2009
Comedy writer Steve Hely details the journey of a young writer's effort to create the greatest best seller of all time in his new novel How I Became a Famous Novelist. More at NPR.org