The Disappeared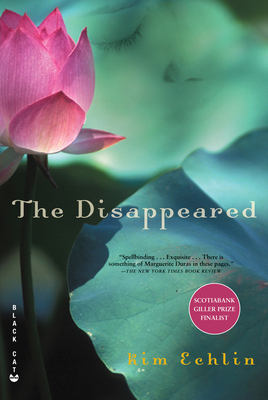 The Disappeared
Grove Press, Black Cat, Paperback, 9780802170668, 235pp.
Publication Date: December 29, 2009
* Individual store prices may vary.
Buy Now
or
Shop Local
Enter your zip code below to purchase from an indie close to you.
Description
A fiercely beautiful love story for the ages, "The Disappeared" traces one woman's three-decades-long journey from the peaceful streets of Montreal to the war-torn villages of Cambodia, as a brief affair turns into a grand passion of loss and remembrance, set against one of the most brutal genocides of our time. When sixteen-year-old Anne Greves first meets Serey, a Cambodian student forced to leave his country during the rise of the Khmer Rouge, she never considers the consequences of their complicated romance. Swept up in the infatuation of young love, Anne ignores her father's wishes and embraces her relationship with Serey in Montreal's smoky jazz clubs and in his cramped yellow bedroom. But when the borders of Cambodia are reopened, Serey must risk his life to return home in search of his family. A decade later, Anne will travel halfway around the world to find him, and to save their love from the same tragic forces that first brought them together. In aching, tender prose, Kim Echlin challenges our notions of how to both claim the past of move on after insufferable loss. Part elegy, part love letter, part call to arms, "The Disappeared" is a soaring tribute to those who have disappeared in the violent conflicts throughout history.
About the Author
Kim Echlin is the author of Elephant Winter, nominated for the Chapters/Books in Canada First Novel Award. Her novel Dagmar's Daughter will be published by Viking/Penguin in 2001. Echlin is fiction editor at the Ottawa Citizen and is a freelance producer/writer, most recently for Life & Times at the CBC. Her non-fiction writing has appeared in Best Canadian Writing. She currently holds a McGeachy Fellowship in support of her fiction.
Praise For The Disappeared…
Spellbinding . . . There is something of Marguerite Duras in these pages, something of the lust between the young Western girl and the Asian man that drove novels like The Lover and The North China Lover . But while Duras focuses mostly on desire, Echlin focuses on absolute lovephysical desire coupled with the need to know everything about the beloved, to follow him even to the grave and beyond. . . . Echlin captures the beauty and horror of Cambodia in equal measure . . . [and] love and death pulsate through [her] pages, interlaced. . . . Exquisite . . . [Echlin] creates alchemy. She permits what has been unsaid to be said, and what has been nameless to be named at last." The New York Times Book Review (Editors' Choice)

The Disappeared is a contemplation of horror, and a ferocious look at love. While all the nameless missing' of the Cambodian genocide gather around the characters like ghosts, the story also thrums with life, love, sensuality, tenderness and brutal pain. Echlin dares a hard look at the best and worst of humanity and pulls off this ambitious feat with elegance and heart."Zoë Ferraris, author of Finding Nouf

This book, which deals forthrightly with man's inhumanity to man, transcends its difficult subject matter by virtue of Echlin's brilliant and beautiful prose, which tenderizes everything that it touches. The Disappeared is a unique, powerful, quietly devastating book, and a true and important love story."Peter Cameron, author of Someday This Pain Will Be Useful to You

This is a powerful and affecting novel, one that's willing to consider the greatest devotion and the most terrible cruelty. At the center of The Disappeared is a truly penetrating and unforgettable understanding of the circumstances of genocide."John Dalton, author of Heaven Lake

The beautifully spare narrative is daringly imaginative in the details. . . . Echlin creates a sorrowfully compelling world . . . [in this] powerful, transcendent love story." Publishers Weekly

[A] poignant love story . . . Lush and poetic . . . The Disappeared is a passionate and emotionally wrenching novel that forces us to remember and provides witness to what was lost."BookPage.com

Sensual . . . Electrifying . . . [ The Disappeared ] is a miracle of economy whose short sentences and ellipses often draw on the powerful brevity of short-story technique. . . . The voice is singular and arresting. . . . [Written with] insidious urgency . . . [and] in an aroused but taut and plain prose that attaches the intensities of erotic love to the smell, sight, taste and touch of human suffering . . . Through [her] technical and stylistic virtuosity, allied with elliptical narrative brilliance, Echlin raises Anne's climactic ritual action to a level of tragic sublimity."Stevie Davies, The Guardian (UK)

Finely chiseled prose . . . Undeniably beautiful . . . [With] moments of genuine tension and power."Tash Aw, Telegraph (UK)

A dance of words . . . [full of] beauty, grace, sensuality and power. . . . In what is a seemingly impossible feat, the form is carved perfectly to the taskthe book balances on the beauty. . . . Echlin is able, by imagination and art, to take the reader on a journey through eros and evila journey that travels into utter darkness but does not leave us in despair. . . . Echlin has wrought a work of singular beauty, a work which turns human cruelty' into the image of a particle of dust by a lover's cheek, into the rhythm of the sentences that carry knowledge of the world so all may witness." The Chronicle Herald (Canada)

Like her passionate narrator, Anne Greves, Echlin is not afraid to risk everything in this aching, heart-wrenching novel of young love aligned against human atrocity. In Anne's decades-long search for her missing lover, we see how those touched by genocide take the darkness inside themselves, holding annihilation at bay only through the defiant refusal to forget. A slender book of remembering, The Disappeared is unforgettable."Sheri Holman, author of The Mammoth Cheese

The familiar tale of star-crossed lovers is revisited with gripping immediacy and compelling freshness in Kim Echlin's The Disappeared . Writing with sensuality, yearning, and in a voice readers will not soon forget, Ms. Echlin reminds us of the potency of our first loves, and of their enduring ability to shape and haunt us."Stephanie Kallos, author of Broken For You and Sing Them Home

Echlin's pristine prose . . . evokes the pull of eros as Anne searches for the man she loves in one of the world's most dangerous places. But Echlin is equally skilled at portraying the effects of trauma on the human spirit. . . . The Disappeared goes to poetic lengths in order to come to grips with events too terrible to contemplate calmly . . . [and] I say thank you to writers who seek to open our eyes and minds." NOW magazine

Luminous . . . [A] precise, expressive story . . . Erotic and spiritual . . . Echlin's storytelling, shifting continents and years in a paragraph, gathers much of its pace and grace equally from her lyrical prose. . . . For all its brevity, The Disappeared still attends to the skulls and bones and slaughterhouses of Cambodia's agony. . . . Emerging from [the] final pages is an act of love, and an image of horror, that elevates The Disappeared to a level of tragic intensity that it had been bound for from its opening sentences. To describe the act apart from its setting as the climax of a powerfully vivid narrative would be ruin its extreme beauty. . . . The book, which can be read in a single sitting, builds toward a complex expression of annihilating loss and eternal love that is best experienced, in a sense, like the final act of a tragic play: as something inevitable and beyond the calculations of reason." The Globe and Mail

[An] engrossing literary novel . . . A beautiful elegy about two lovers who struggle to overcome the betrayal of their families and their fellow man." Winnipeg Free Press

The impossibility of closure after great crimes, no matter how many tribunals and truth-and-reconciliation commissions we may launch, is the subject of Kim Echlin's absorbing new novel, The Disappeared . Echlin, one of Canada's finest prose stylists, approaches her subject with the delicacy and solemnity it deserves. . . . A beautiful work of art . . . The Disappeared takes its place with such other chronicles of female desire as Elizabeth Smart's By Grand Central Station I Sat Down and Wept or Pauline Reage's The Story of O , here yoked to a history that makes it both larger and more keen. . . . Echlin successfully links the void in Anne's heart with the void left in the lives of millions of mothers, widows and children, as well as with the erasure of cultural memory that was not only the intent of the Khmer Rouge but wholly embraced by those who followed. . . . The Disappeared is an expert novel, which manages to penetrate to the aching core of the Cambodian tragedy. . . . Its heroine's fell sexuality is a force for life not only in the extinguished world in which she finds herself but in the novel itself. The Disappeared presents desire as an antidote to despair. We may need one, if those who committed the crimes that make memorials like this one necessary continue to, all these years later, elude karma." National Post

Remarkable . . . In a brief 228 pages, Echlin manages to juxtapose the horrific depravity of the Pol Pot era, and its brutal successor, against the power and resilience of individual human courage. . . . The Disappeared is written with singular elegance, a polished, poetic, deeply affecting novel from a writer in impressive control of her craft." London Free Press (Canada)