As God Commands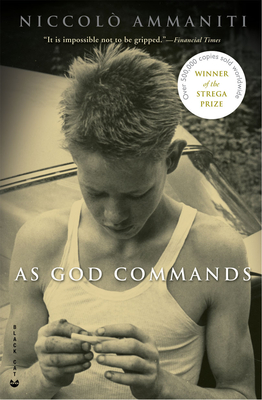 As God Commands
Black Classic Press, Paperback, 9780802170675, 406pp.
Publication Date: October 2009
* Individual store prices may vary.
Buy Now
or
Shop Local
Enter your zip code below to purchase from an indie close to you.
Description
From the internationally best-selling author of I'm Not Scared comes a dizzying and compulsively readable novel set in a moribund town in industrial Italy, where a father and son contend with a hostile world and their own inner demons. The economically depressed village of Varrano, where Cristiano Zena lives with his hard-drinking, out-of-work father, Rino, is a world away from the picturesque towns of travel-brochure Italy. When Rino and his rough-edged cronies Danilo and Quattro Formaggi come up with a plan to reverse all their fortunes, Cristiano wonders if maybe their lives are poised for deliverance after all.  But the plan goes horribly awry. On a night of apocalyptic weather, each character will act in a way that will have irreversible consequences for themselves and others, and Cristiano will find his life changed forever, and not in the way he had hoped. Gritty and relentless, As God Commands moves at breakneck speed, blending brutal violence, dark humor, and surprising tenderness. With clear-eyed affection, Niccolò Ammaniti introduces a cast of unforgettable characters trapped at the crossroads of hope and despair.
About the Author
Niccolo Ammaniti was born in Rome in 1966. He has written two collections of short stories and six novels, four of which have been translated into English. His second novel, I'll Steal You Away, was long listed for The Independent Foreign Fiction Prize. He was the youngest ever winner of the Italian Viareggio Literary Prize for Fiction for his bestselling novel I'm Not Scared, which has been translated into thirty-five languages. As God Commands received the prestigious Premio Strega Prize in 2007, and his novel Me and You was made into a feature film by Bernardo Bertolucci.

Jonathan Hunt lives in Boca Raton, Florida, with his wife, the illustrator Lisa Hunt. He has illustrated over ten books for children.
Praise For As God Commands…
Acclaimed novelist Niccolo Ammaniti has been widely praised for his bone-chilling stories about adolescent boys on the verge of manhood. . . . In his newest work, As God Commands, Ammaniti once again visits familiar territory with his customary skill and bravado. . . . A highly charged narrative . . . Stark and simultaneously intense . . . The core of this novel is the deep rifts that often separate so many fathers and sons, the muted aggressiveness and competitiveness, the feeling of dread that permeates; the feeling that at any moment, things could spin wildly out of control. . . . One can't help but be enthralled by [Ammaniti's] keen insights into the degradations that mar so many familial relationships."Elaine Margolin, Denver Post

Niccolo Ammaniti is one of the bright stars in modern Italian fiction. . . . As God Commands is another exercise in nail-biting suspense by a master at raising anxiety. . . . It's compulsive reading, with the helpless reader gobbling up hundred-page chunks at a time, the stuff of soap operas told with gusto by an Italian Dickens, in a plot that's never going where you think it's going, plunging along eagerly from climax to climax, littered with poetic moments and human touches. Ammaniti offers up a fascinating gallery of flawed, unpredictable human beings pondering how their impulsive mistakes, unexpected opportunities, misunderstandings, and defiant braveries reveal the inscrutable will of God."Nick DiMartino, Shelf Awareness

Punk-rock desperadoes and a daft father-son tragicomedy team run riot through the mess and splendor of today's Italy . . . [in the] latest from Ammaniti. . . . Propulsive from the first page, [As God Commands] is stunningly, disturbingly entertaining adrenaline fiction. . . . A speed-of-light montage of family-and-friend dysfunction. . . . Ammaniti relentlessly creates a poetics of perversity, an anthem of anger for working-class Italy: bollixed and laid-off by Internet modernity, appalled and titillated by the omnipresence of Britney Spears, fearful of the crash of Italy's currency, the corruption of politicians and the onslaught of immigrants. Not at all pretty, but darkly, ferociously beautifula triumph for Europe's hottest novelist."Kirkus Reviews (starred review)

[As God Commands] shows the gritty side of [Italy] not seen by tourists. . . . The issues raised here range widely, from alienation, violence, drug use, hunger, and joblessness to the role of religion in today's world. . . . An excellent book discussion choice. . . . A powerful novel, cinematically written, with touches of unsentimental emotion and comedy . . . The masterly Ammaniti creates powerful characters not easy to forget."Library Journal

Ammaniti, a wonder at creating graphic black comedy, keeps the plot rolling while pushing his characters to their absolute limits. . . . If the Coen brothers ever wanted to go Italian, this'd be prime adaptation material."Publishers Weekly

It is impossible not to be gripped."Financial Times

Ammaniti is a modern-day Dickens: he takes a ruthless snapshot of degradation, arousing horror, shock and tears."La Repubblica (Italy)

Niccolò Ammaniti is one of Italy's brightest literary stars. His fiction combines tense horror with the blackest comedy . . . [offering] an artful interstitching of plots and cinematic, horror-dazed images."The Observer

[As God Commands] is a rollickingly dark horror-comic, a grueling piece of fun."The Independent (UK)

An extraordinary book. The characters are dissected with a sly sense of humor, compelling you to follow them wherever they go. Ammaniti sketches a cruel picture of adolescence and laments the Italian landscape where beauty and nature have lost out to business parks and megastores."NRC Handelsblad (Holland)

Niccolo Ammaniti strikes a masterful balance between farce and tragedy."Die Welt (Germany)

A black thriller with the momentum of an action-packed Hollywood movie."
Times Literary Supplement (UK)

Niccolò Ammaniti is the best novelist of his generation."Il Giornale (Italy)

Ammaniti is a born story-teller."L'unità (Italy)

Both classic and modern, As God Commands has the authenticity of a great novel."El Cultural (Spain)

A tragicomic story by a writer at the top of his form."Le Figaro (France)

Energy and danger spray off [the page] like water from a choppy sea. . . . Very hard to put down."Daily Mail (UK)