The Fabric of America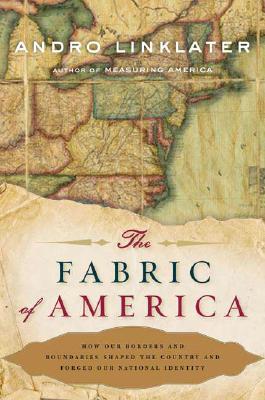 The Fabric of America
How Our Borders and Boundaries Shaped the Country and Forged Our National Identity
Walker & Company, Hardcover, 9780802715333, 304pp.
Publication Date: June 12, 2007
* Individual store prices may vary.
Not Currently Available for Direct Purchase
or
Shop Local
Enter your zip code below to purchase from an indie close to you.
Description
With the same mix of compelling narrative history and captivating historical argument that made his previous book, "Measuring America," such a success, Andro Linklater relates in fascinating detail how, the borders and boundaries that formed states and a nation inspired the sense of identity that has have ever since been central to the American experiment.
Linklater opens with America's greatest surveyor, Andrew Ellicott, measuring the contentious boundary between Pennsylvania and Virginia in the summer of 1784; and he ends standing at the yellow line dividing the United States and Mexico at Tijuana. In between, he chronicles the evolving shape of the nation, physically and psychologically. As Americans pushed westward in the course of the nineteenth century, the borders and boundaries established by surveyors like Ellicott created property, uniting people in a desire for the government and laws that would protect it. Challenging Frederick Jackson Turner's famed frontier thesis, Linklater argues that we are, thus, defined not by open spaces but by boundaries. "What Americanized the immigrants was not the frontier experience" Linklater writes, "but the fact that it took place inside the United States frontier." Those same borders had the ability to divide as well as unite, as the great battle over internal boundaries during the Civil War would show. By century's end, however, we were spreading U.S. power beyond our borders, an act that, seen through Linklater's eyes, offers an intriguing perspective on our role in the world today.
Linklater's great achievement is to weave these provocative arguments into a dramatic storyline, wherein the actions of Ellicott, Thomas Jefferson, the treasonous general James Wilkinson, Abraham Lincoln and Stephen Douglas, and numerous hitherto invisible settlers, all illuminate the shaping of the nation. This brilliant book will alter forever readers' perception of America and what it means to be an American.
About the Author
Andro Linklater is the author of Measuring America: How an Untamed Wilderness Shaped the United States and Fulfilled the Promise of Democracy as well as The Code of Love and several other books. He lives in England.
Praise For The Fabric of America…
"A history of America that looks at land from a slightly different angle - that of real estate...Mr. Linklater's history is one of increasing federal power. A territory had to meet federal standards before it could be admitted as a state, and so the interior became more loyal to federal power than the original 13 colonies. The most exciting episode in this book concerns a plot to break Kentucky and Tennessee off from the union, in collusion with the Spanish government at Natchez. Only the good offices of Andrew Ellicott, Mr. Linklater's favorite surveyor and perennial hero, prevented the conspiracy, by proving in 1797 that Natchez actually lay within American territory, in modern day Mississippi - as opposed to Spanish Florida. After Ellicott promised the local white landowners that their property - including slaves - would be preserved, the assumption of American jurisdiction was assured."--Benjamin Lytal, New York Sun

"Linklater gives us a different perspective than we usually get when reading about how the U.S. developed. The frontier experience took place not only in wide open spaces, but within the borders of the United States. How that happened is an important story and Linklater tells it splendidly."--Roger Bishop, BOOKPAGE "Scottish-born Linklater (Measuring America) delivers a readable story of how borders helped shape America. He refutes Frederick Jackson Turner's famous thesis that the frontier gave us a dislike for direct control and government dependence. Instead, he effectively argues that without literal boundaries, our history would be much more treacherous....This book, addressing little-known history, will appeal to general readers, while students can use it to research the other side of Turner's thesis. Highly recommended for both public and college libraries."--Library Journal (starred review) "Contradicting historian Frederick Jackson Turner's famous "frontier thesis," Linklater (Measuring America, 2002, etc.) claims it was America's borders that shaped our national character...An ingenious premise delivered in lively, accessible prose backed by impressive research."--Kirkus Reviews