On Hallowed Ground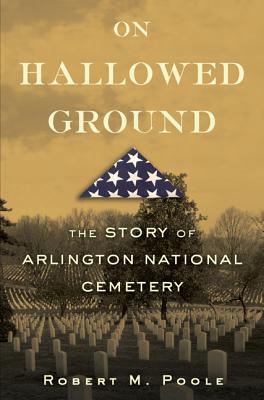 On Hallowed Ground
The Story of Arlington National Cemetery
Walker & Company, Hardcover, 9780802715487, 352pp.
Publication Date: October 27, 2009
* Individual store prices may vary.
Buy at Local Store
Enter your zip code below to purchase from an indie close to you.
or
Buy Here
Description
An intimate, behind-the-scenes chronicle of America's most sacred ground.
"Along Eisenhower Drive, as far as the eye could see, the grave markers formed into bone-white brigades, climbed from the flats of the Potomac River, and scattered over the green Virginia hills in perfect order. They reached Arlington's highest point, where they encircled an old cream-colored mansion with thick columns and a commanding view of the cemetery, the river, and the city beyond. The mansion's flag, just lowered to half-staff, signaled that it was time to start another day of funerals, which would add more than twenty new conscripts to Arlington's army of the dead."
So does Robert Poole describe a day like so many others in the long and storied history of Arlington National Cemetery. Created towards the end of our greatest national crucible, the Civil War, its story as revealed in "On Hallowed Ground" reflects much of America's own over the past century and a half. The mansion at its heart, and the rolling land on which it sits, had been the family plantation of Robert E. Lee before he joined the Confederacy; strategic to the defense of Washington, it became a Union headquarters, a haven for freedmen, and a burial ground for indigent soldiers before Secretary of War Edwin Stanton made it the latest in the newly established national cemetery system. It would become our nation's most honored resting place.
No other country makes the effort the United States does to recover and pay tribute to its war dead an effort Poole reveals in poignant details from the aftermaths of the Civil War, Spanish-American War, World Wars I and II, Korea, Vietnam, and the conflicts in the Gulf and Afghanistan today. Every tombstone at Arlington tells a story: from Private William Christman, the first soldier buried at Arlington on May 13, 1864, to Union General Montgomery Meigs, whose idea Arlington was; from Lieutenant Thomas Selfridge, the first casualty of powered flight, to Audie Murphy, America's most decorated soldier; from the Tomb of the Unknown Soldier, so lovingly tended today, to John F. Kennedy's eternal flame; from scientists and slaves to jurists and generals and tens of thousands of ordinary citizen-warriors, among the more than 300,000 interred on Arlington's 624 acres. Their sagas, and the rites and rituals that have evolved at Arlington the horse-drawn caissons, marble headstones, playing of taps, and rifle salutes speak to us all.
About the Author
Robert M. Poole is a writer and editor whose work for National Geographic, Smithsonian, and other magazines has taken him around the world. His last book, On Hallowed Ground, earned wide critical acclaim and was one of the Washington Post s Best Books of 2009. Poole, former executive editor of National Geographic, lives in Vermont.
Praise For On Hallowed Ground…
"Gracefully written, often deeply affecting history. like the nation itself, Arlington bears the scars of its history, as Robert Poole eloquently shows."—Fergus Bordewich, Washington Post.
"Engaging. Robert Poole is an adroit sketcher of historical events, but even more of character."—The Economist.
"Graceful and dignified…perhaps more than any other secular site in America, Arlington casts a religious spell. The effect is not accidental…there is ample evidence of sacramental need in the many Arlington rituals that Mr. Poole relates in such moving detail."—Wall Street Journal.
 "Vivid, compelling, filled with rich and unexpected detail, On Hallowed Ground tells the little-understood story of Arlington National Cemetery and in the process chronicles how we have honored—and sometimes dishonored—those who gambled everything on our behalf. Robert M. Poole is a fine storyteller and this is a great story."—Geoffrey C. Ward, author of The Civil War and The War: An Intimate History 1941-1945
"Improbably gripping and often deeply moving, On Hallowed Ground chronicles both the evolution of our national cemetery and the profound ways in which treatment of the war dead reflects a nation's soul. Readers interested in political, social or military history from the Civil War on will want to read this book."—Caroline Alexander, author of The Endurance
"Most Americans, especially most historians, think they know all about Arlington Cemetery. They respect what it represents, and revere the heroes resting there. But only Robert Poole has brought to life all the historic figures, from privates to presidents, who made this national shrine and populate its rolling hills. On Hallowed Ground is a memorable combination of historical research, first-hand reporting and sensitive writing—a definitive work that should last as long as the eternal flame at John Kennedy's grave site."—Ernest B. Furgurson, author of Freedom Rising: Washington in the Civil War
"In his stirring, evocative style, Robert Poole blends Arlington's untold story with America's own story, as Robert E. Lee's home, a prize of war in a divided nation, evolves—through wars and peace—into America's most hallowed ground."—Thomas B. Allen, coauthor of The Bonus Army
"Robert M. Poole not only captures the history of a venerable American institution but with it the politics of commemoration and reconciliation.  Absolutely first rate."—Paul Dickson, coauthor of The Bonus Army
"Robert Poole has coupled superb storytelling with meticulous research and produced a gem.  On Hallowed Ground is by turns illuminating, informative, and enormously readable.  In the future you will never think of Arlington Cemetery withut recalling the tales contained in this marvelous book."—Robert Timberg, author of The Nightingale's Song and State of Grace: A Memoir of Twilight Time
Wednesday, Nov 11, 2009
Thousands of people will visit Arlington National Cemetery on Veteran's Day — just a snapshot of the four million visitors who pass through America's revered burial ground each year. Author Robert M. Poole discusses his new book, On Hallowed Ground, which traces the history of the nation's most celebrated military cemetery. More at NPR.org