The Accidental Feminist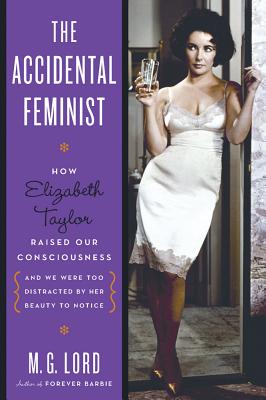 The Accidental Feminist
How Elizabeth Taylor Raised Our Consciousness and We Were Too Distracted by Her Beauty to Notice
Walker Books, Hardcover, 9780802716699, 224pp.
Publication Date: January 31, 2012
* Individual store prices may vary.
Not Currently Available for Direct Purchase
or
Shop Local
Enter your zip code below to purchase from an indie close to you.
Description
Movie stars establish themselves as brands--and Taylor's brand, in its most memorable outings, has repeatedly introduced a broad audience to feminist ideas. In her breakout film, "National Velvet" (1944), Taylor's character challenges gender discrimination: Forbidden as a girl to ride her beloved horse in an important race, she poses as a male jockey. Her next milestone, "A Place in the Sun" (1951), can be seen as an abortion rights movie--a cautionary tale from a time before women had ready access to birth control. In "Butterfield 8" (1960), for which she won an Oscar, Taylor isn't censured because she's a prostitute, but because she chooses the men: she controls her sexuality, a core tenet of the third-wave feminism that emerged in the 1990s. Even "Who's Afraid of Virginia Woolf?" (1966) depicts the anguish that befalls a woman when the only way she can express herself is through her husband's stalled career and children.
The legendary actress has lived her life defiantly in public--undermining post-war reactionary sex roles, helping directors thwart the Hollywood Production Code, which censored film content between 1934 and 1967. Defying death threats she spearheaded fundraising for AIDS research in the first years of the epidemic, and has championed the rights of people to love whom they love, regardless of gender. Yet her powerful feminist impact has been hidden in plain sight. Drawing on unpublished letters and scripts as well as interviews with Kate Burton, Gore Vidal, Austin Pendleton, Kevin McCarthy, Liz Smith, and others, "The Accidental Feminist "will surprise Taylor and film fans with its originality and will add a startling dimension to the star's enduring mystique.
About the Author
M. G. Lord is an author and critic. Since 1995 she has been a regular contributor to "The New York Times Book Review" and "Times's "Arts & Leisure section. Her work has appeared in numerous publications, including "ARTNews," "Vogue," "The Wall Street Journal," "The Los Angeles Times Book Review," and "The New Yorker," Currently, she is completing a family memoir about aerospace culture during the Cold War, which will be published in 2004 by Walker & Company. She lives in Los Angeles.
Praise For The Accidental Feminist…
"For MG Lord, it's curvaceous, charismatic icons of femininity that hold her imagination hostage…What Lord did for Barbie, she now does for La Liz in 'The Accidental Feminist'…Lord takes her readers on a chronological journey through the actress's signal performances, analyzing each film with a theory scholar's eye for telling detail, brightened with bloggerly brio, emotion, and use of the first person…When watching her significant films in succession, you see that, as Lord maintains, each serves as a cinematic Rorschach of social changes percolating through postwar society, in which Taylor stars as the protean blot…With 'The Accidental Feminist,' MG Lord makes the intriguing case that for Elizabeth Taylor, too much as never enough—not for the woman, not for the actress and not for the society that produced the theater of her life."--New York Times Book Review
"An affectionate portrait of Taylor and her event-filled life… an excellent, compact guide to Taylor's film roles."--Wall Street Journal