Austerity Britain, 1945-1951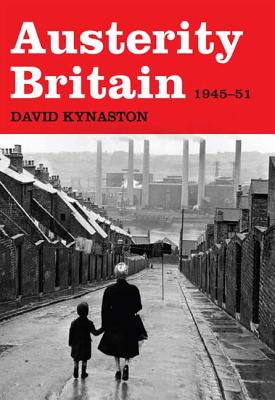 Austerity Britain, 1945-1951
Walker & Company, Hardcover, 9780802716934, 692pp.
Publication Date: May 13, 2008
* Individual store prices may vary.
Buy at Local Store
Enter your zip code below to purchase from an indie close to you.
or
Not Currently Available for Direct Purchase
Description
A majestic people's history of England in the years immediately following the end of World War II, and a surprise bestseller in the UK.
As much as any country, England bore the brunt of Germany's aggression in World War II, and was ravaged in many ways at the war's end. Celebrated historian David Kynaston has written an utterly original, compellingly readable account of the following six years, during which the country indomitably rebuilt itself.
Kynaston's great genius is to chronicle England's experience from bottom to top: coursing through the book, therefore, is an astonishing variety of ordinary, contemporary voices, eloquently and passionately displaying the country's remarkable spirit even as they were unaware of what the future would hold. Together they present a fascinating portrait of the English people at a climactic point in history, and Kynaston skillfully links their stories to the bigger, headline-making events of the time. Their stories also jostle alongside those of more well-known figures like celebrated journalist-to-be Jon Arlott (making his first radio broadcast), actress Glenda Jackson, and writer Doris Lessing, newly arrived from Africa and struck by the leveling poverty of postwar Britain. "Austerity Britain" gives new meaning to the hardship and heroism experienced by England in the face of Germany's assaults.
About the Author
David Kynaston was born in Aldershot in 1951. He has been a professional historian since 1973 and has written eighteen books, including "The City of London "(1994-2001), a widely acclaimed four-volume history, and WG's Birthday Party, an account of the Gentleman v. Players match at Lord's in July 1898. He is the author of "Austerity Britain 1945-51" and "Family Britain 1951-57", the first two titles in a series of books covering the history of post-war Britain (1945-1979) under the collective title 'Tales of a New Jerusalem'. He is currently a visiting professor at Kingston University.
Praise For Austerity Britain, 1945-1951…
"Exemplary social history of a time still fresh in many Britons' minds—and much different from the postwar era in America."—Kirkus Reviews (starred review)
"By combining astute political analysis with illustrative anecdotes brilliantly chosen from contemporary newspapers, popular culture and memoirs, Kynaston succeeds in recreating the lost world of austerity. The volume represents social history at its finest, and readers may look forward to its promised sequels taking the story of Britain up to 1979 and the election of Margaret Thatcher."—Publishers Weekly
"An engrossing, kaleidoscopic portrait of a people from a particular time and place. This is history as total immersion."—Barry Gewen, New York Times
"This sparkling book—deeply and imaginatively researched, written with bounce, and informed by the wryest sensibility—charts the evolution of British society during the depleted and dingy years 1945–1951….With wit and ingenuity, Kynaston mines opinion surveys, radio shows, advertising slogans, parliamentary reports, and above all letters, diaries, and memoirs to evoke the gray tinge that permeated postwar life—the shabby frocks, the sallow faces, the grubby train compartments, the dreary meals ("all winter greens and root vegetables and hamburgers made of grated potato and oatmeal and just a little meat," the food writer Marguerite Patten recalled). ...Kynaston's sense of structure and pacing is sure, his mastery of his astonishingly diverse material unfailing (see his opening set piece on VE Day). More vividly and penetratingly than any work of history I can recall, this book captures the rhythms and texture of everyday life. To read it is to enter a world, which helps explain why it became a surprise best seller in the U.K."   —Benjamin Schwarz, Atlantic Monthly
"In Austerity Britain, David Kynaston weaves together personal reminiscences, statistical data and media accounts to paint a portrait of this critical moment in British history...Most histories describe this period as one of idealism, hope and progress. Mr. Kynaston would not entirely disagree, but he wants to emphasize what is too often overlooked: the sheer difficulty of life in Britain between 1945 and 1951. He shows us a war-weary society weighed down by the burdens of austerity. He brings to life a world – it wasn't so long ago – noticeably unaided by the conveniences and prosperity that Britain (like the rest of the West) now takes for granted." —William Anthony Hay, Wall Street Journal
"In Austerity Britain: 1945-1951, British social historian David Kynaston tells the story of those drab, difficult postwar years so familiar to viewers of the stiff-upper-lip, black-and-white films the British studios were turning out at the time ('Brief Encounter,' 'Passport to Pimlico'). Reading the many first-person accounts in this weighty, immensely detailed and sometimes evocative volume, you begin to see that, for countless people in that place at that time, life really was lived in a world devoid of color -- a place of long lines, of shortages, of frustration." —Martin Rubin, Los Angeles Times
"Absolutely masterful and absorbing, helped considerably by the liberal use of feedback from the vox pop through diaries, opinion polls, newspapers and broadcast reports...England was old and not very merry, a state of affairs conveyed with brilliant clarity and poignant depth in Austerity Britain." —Jonathan E. Lazarus, Newark Star Ledger