How to Mellify a Corpse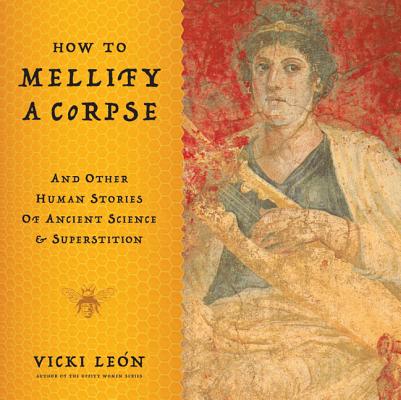 How to Mellify a Corpse
And Other Human Stories of Ancient Science & Superstition
Walker & Company, Paperback, 9780802717023, 308pp.
Publication Date: July 6, 2010
* Individual store prices may vary.
Buy Now
or
Shop Local
Enter your zip code below to purchase from an indie close to you.
Description
In "How to Mellify a Corpse," Vicki Leon brings her particular hybrid of history and humor to the entwined subjects of science and superstition in the ancient world, from Athens and Rome to Mesopotamia, the Holy Land, Egypt, and Carthage. Leon covers subjects as diverse as astronomy and astrology, philosophy and practicalities of life and death (including the titular ancient method of embalming), and ancient mechanical engineering. "How to Mellify a Corpse "of course invokes legendary thinkers (Pythagoras and his discoveries in math and music, Aristotle's books on politics and philosophy, and Archimedes' "Eureka" moment), but it also delves deeply into the lives of everyday people, their understanding and beliefs.
A feast for the curious mind, "How to Mellify a Corpse "is not only for those with an interest in the experimental: it's for anyone who's inspired by the imagination and ingenuity humanity uses to understand our world.
About the Author
Varla Ventura is the author of "The Book of the Bizarre" and "Beyond Bizarre", and a lover of all things strange, freaky, and terrifying. She is the curator of the Weiser Magical Creatures and Paranormal Parlor series of e-books. Visit her at "varlaventura.wordpress.com".
Praise For How to Mellify a Corpse…
"In this delightful follow-up to IX to V, León explores the tangled webs of science and superstition in Greek, Roman, Egyptian, and other ancient societies. With her characteristic deadpan humor, verve, and wit, she brings to life the practices of ordinary folks as they sought practical ways to avoid the evil eye, battle stronger enemies, and understand strange and marvelous astronomical events … León's rollicking tour helps us see that the daily lives and worries of the ancients were not far removed from our own."—Publishers Weekly
"A captivating read from start to finish."—Alan Hirshfeld, astrophysicist and author of Eureka Man
"MARVELOUS STUFF! León deftly combines modern research with ancient lore to lift the lid on the classical world's weird and wonderful, from solar fountains to lethal lipstick."—Ruth Downie, New York Times bestselling author of Medicus
Sunday, Aug 8, 2010
Classical Greeks and Romans dreamed up some fantastic inventions -- including an analog computer to track the sun, and amphitheater surround sound (of sorts). Historian Vicki Leon discusses these innovations and more in her new book, How to Mellify a Corpse: And Other Human Stories of Ancient Science & Superstition. More at NPR.org