The Path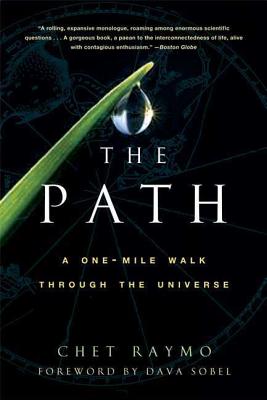 The Path
A One-Mile Walk Through the Universe
Walker & Company, Paperback, 9780802717191, 199pp.
Publication Date: March 17, 2009
* Individual store prices may vary.
Buy Now
or
Shop Local
Enter your zip code below to purchase from an indie close to you.
Description
"Here Raymo seeks and finds the laws of nature and the existential problems of man hidden under every leaf and rock, or caught in the murmur of running water What history is hidden outside your front door?" "Los Angeles Times "
""
""For almost forty years, Chet Raymo walked a one-mile path from his house to the college where he taught, chronicling the universe by observing every detail of his route with a scientist's curiosity, a historian's respect for the past, and a child's capacity for wonder. With each step, the landscape he traversed became richer, suggesting ever deeper aspects of astronomy, history, biology, and literature, and making the path universal in scope. His insights inspire us to turn our local paths into portals to greater understanding of our interconnectedness with nature and history.
About the Author
Dava Sobel (born June 15, 1947) is the author of "Longitude, Galileo's Daughter, The Planets, " and most recently "A More Perfect Heaven: How Copernicus Revolutionized the Cosmos". A former staff science reporter for "The New York Times, " she has also written for numerous magazines, including "Discover, " "Harvard Magazine, Smithsonian, " and "The New Yorker".
Her most unforgettable assignment at the "Times" required her to live 25 days as a research subject in the chronophysiology lab at Montefiore Hospital, where the boarded-up windows and specially trained technicians kept her from knowing whether it was day outside or night.
Her work has won recognition from the National Science Board, which gave her its 2001 Individual Public Service Award "for fostering awareness of science and technology among broad segments of the general public." She also received the 2004 Harrison Medal from the Worshipful Company of Clockmakers in England and the 2008 Klumpke-Roberts Award from the Astronomical Society of the Pacific for "increasing the public understanding and appreciation of astronomy."
A 1964 graduate of the Bronx High School of Science, she has taught several seminars in science writing at the university level, and held a two-year residency at Smith College in fall 2013.