The Suspicions of Mr. Whicher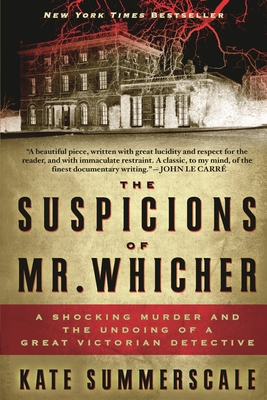 The Suspicions of Mr. Whicher
A Shocking Murder and the Undoing of a Great Victorian Detective
Walker & Company, Paperback, 9780802717429, 372pp.
Publication Date: February 17, 2009
* Individual store prices may vary.
Buy Now
or
Shop Local
Enter your zip code below to purchase from an indie close to you.
Description
The national bestseller, now in paperback.
In June of 1860 three-year-old Saville Kent was found at the bottom of an outdoor privy with his throat slit. T he crime horrified all England and led to a national obsession with detection, ironically destroying, in the process, the career of perhaps the greatest detective in the land. I nspector Jonathan Whicher's real legacy, however, lives on in fiction: the tough, quirky, all-knowing and all-seeing detective that we know and love today from the cryptic Sgt. Cuff in Wilkie Collins's "The Moonstone "to Dashiell Hammett's Sam Spade. "The Suspicions of Mr. Whicher "reads like the best of Victorian thrillers, and has been nominated for the Samuel Johnson Prize in London.
About the Author
Kate Summerscale is the author of the bestselling books The Suspicions of Mr. Whicher and The Queen of Whale Cay.
Praise For The Suspicions of Mr. Whicher…
"[A] fastidious reconstruction and expansive analysis of the Road Hill murder case…Summerscale smartly uses an energetic narrative voice and a suspenseful pace, among other novelistic devices, to make her factual material read with the urgency of a work of fiction."—New York Times Book Review
"A terrific book."—Nicholson Baker
"A brilliant reconstruction of the obstacles facing detectives long before the advent of forensic technology."—L.A. Times Book Review
"Not just a dark, vicious true-crime story; it is the story of the birth of forensic science, founded on the new and disturbing idea that innocent, insignificant domestic details can reveal unspeakable horrors to those who know how to read them."—Time
"One eloquent doozy of a true-crime thriller. A-"—Entertainment Weekly
"The Suspicions of Mr. Whicher combines a thumping good mystery yarn with fine social and literary history."—Fresh Air
"This is a great biographical fiction of an interesting real life mid nineteenth century detective working a shocking homicide case."—Mysterylovers.com
"Fascinating."—Denver Post
"If you are a mystery lover, or if you have ever wondered how the modern love of the genre began, you'll enjoy Summerscale's tracing of the early days of the profession and the fascination it exerted...a fascinating look at Victorian life, death and detection."—Associated Press
"In crime annals, it's right up there with the Lindbergh trial or the mystery surrounding JonBenet Ramsey: In 1860, one of Scotland Yard's finest was sent to solve the murder of a little boy at an upscale address near London. It turned out Jack Whicher's hunch was right, and his footwork fed the public imagination as well as writers such as Charles Dickens. Sadly, failure to clinch the case in court upended Whicher's career."—Minneapolis Star-Tribune
"Takes you back to a specific place and time with all the imagination and skill of a top-tier historical novelist. You hang on every word, flipping pages faster than you can read them….If you like your murder mysteries wrapped up in a neat little package, this isn't the book for you.  But if you're looking for a complex, intellectually stimulating thriller that will leave you breathless, well, this mystery is well worth inspecting."—Fairfield County Weekly
"Summerscale's clean writing makes The Suspicions of Mr. Whicher so dynamic that she can't be accused of "freezing" the past—instead, she has done a masterly job of reviving it, with all its curiosities and contradictions. But, most strikingly, she has created an enthralling mystery by overlaying the fictional tools of misdirection and suspense onto a nonfiction narrative that, in its day, helped inspire writers to create a new fictional genre—a strange and very impressive feat."—American Scholar
"Told and interwoven with admirable skill and definition."—Bookpage
"A bang-up sleuthing adventure."—Kirkus Reviews
"A mesmerizing portrait of one of England's first detectives and the gruesome murder investigation that nearly destroyed him…Whicher is a fascinating hero, and readers will delight in following every lurid twist and turn in his investigation."—Publishers Weekly, (starred review)
"Summerscale organizes the book like a period novel, with a denouement that suggests that full justice was never done. Erik Larson (The Devil in the White City) fans will be enthralled."—Library Journal