Dracula's Guest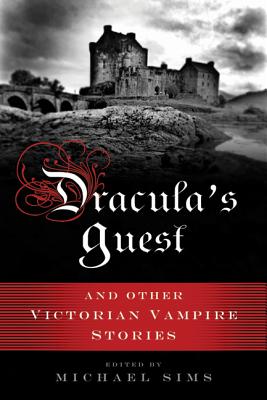 Dracula's Guest
A Connoisseur's Collection of Victorian Vampire Stories
Walker & Company, Paperback, 9780802719713, 467pp.
Publication Date: June 22, 2010
* Individual store prices may vary.
Buy Now
or
Shop Local
Enter your zip code below to purchase from an indie close to you.
Description
Before "Twilight "and "True Blood," even before Buffy and Anne Rice and Bela Lugosi, vampires haunted the nineteenth century, when brilliant writers everywhere indulged their bloodthirsty imaginations, culminating in Bram Stoker's legendary 1897 novel, "Dracula."
Michael Sims brings together the very best vampire stories of the Victorian era from England, America, France, Germany, Transylvania, and even Japan into a unique collection that highlights their cultural variety. Beginning with the supposedly true accounts that captivated Byron and Shelley, the stories range from Edgar Allan Poe's "The Oval Portrait" and Sheridan Le Fanu's "Carmilla" to Guy de Maupassant's "The Horla" and Mary Elizabeth Braddon's "Good Lady Ducayne." Sims also includes a nineteenth-century travel tour of Transylvanian superstitions, and rounds out the collection with Stoker's own "Dracula's Guest" a chapter omitted from his landmark novel.
Vampires captivated the Victorians, as Sims reveals in his insightful introduction: In 1867, Karl Marx described capitalism as "dead labor, which, vampire-like, lives only by sucking living labor"; while in 1888 a London newspaper invoked vampires in trying to explain Jack the Ripper's predations. At a time when vampires have been re-created in a modern context, "Dracula's Guest "will remind readers young, old, and in between of why the undead won't let go of our imagination.
About the Author
Michael Sims is the author of four nonfiction books: Darwin's Orchestra, Adam's Navel, Apollo's Fire, and a companion book to the National Geographic Channel series In the Womb: Animals. His three previous literary collections include The Annotated Archy and Mehitabel, The Penguin Book of Gaslight Crime, and Arsene Lupin, Gentleman-Thief. His writing has appeared in many periodicals in the U.S. and abroad, including New Statesman, Washington Post, Orion, American Archaeology, The Chronicle of Higher Education, and many others. He speaks often at colleges and other institutions and has appeared on many TV and radio programs, from CBS's Early Show and Inside Edition to a BBC Radio series about the human body. His Web site is www.michaelsimsbooks.com.
Praise For Dracula's Guest…
"Sims, editor of this brilliant collection, gathers stories of the undead written during what he loosely terms the Victorian era…. the bloodsuckers presented here are predators who can be turned away only by Christian symbols, garlic, and little else. Do not expect sparkling Twilight vampires or even the good-guy types that sometimes appeared in the Buffy the Vampire Slayer franchise. An excellent addition to popular fiction and literature collections." —Library Journal (starred review)
"Dracula's Guest invokes the dangerous shadows of Victorian culture, those dark places where passion, terror, pathos, and sorrow mingle and merge. Gathering together canonical works along with less familiar knock-out masterpieces, Michael Sims has produced an anthology designed to keep us all up at night."—Maria Tatar, professor and chair of the program in Folklore and Mythology at Harvard University, author of The Annotated Classic Fairy Tales and Enchanted Hunters: The Power of Stories in Childhood
"In this fine new anthology, Michael Sims brings to bear his extensive knowledge of Victorian tales and their tellers on the vampire genre. Despite the title, Sims's nets have caught fascinating material that pre-dates Dracula and the Victorians. Some will be familiar (excerpts from works by the Abbé Calmet, Lord Byron, John Polidori, and Varney the Vampire, for example), but other authors and stories will be new to many, revealing an unexpected depth and breadth to the thrall of the undead. With a thoughtful introduction to the volume as well as each story, this book belongs in the crypt of every student of the creatures of the night!"—Leslie S. Klinger, editor of The New Annotated Dracula and The New Annotated Sherlock Holmes
"Everyone loves a good vampire story, but it takes a true aficionado with an insatiable thirst for knowledge to ferret out the roots of these monsters' enduring appeal. There is no better guide to the natural history and mythology of the Undead than Michael Sims."—Jennifer Ouellette, author of The Physics of the Buffyverse and Black Bodies and Quantum Cats