An Edible History of Humanity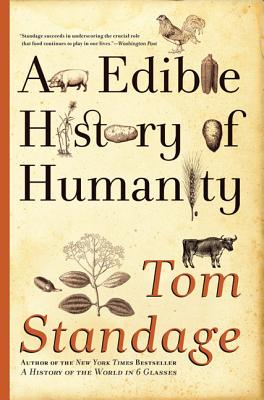 An Edible History of Humanity
Walker & Company, Paperback, 9780802719911, 269pp.
Publication Date: April 27, 2010
* Individual store prices may vary.
Buy at Local Store
Enter your zip code below to purchase from an indie close to you.
or
Not Currently Available for Direct Purchase
Description
More than simply sustenance, food historically has been a kind of technology, changing the course of human progress by helping to build empires, promote industrialization, and decide the outcomes of wars. Tom Standage draws on archaeology, anthropology, and economics to reveal how food has helped shape and transform societies around the world, from the emergence of farming in China by 7500 b.c. to the use of sugar cane and corn to make ethanol today. An Edible History of Humanity is a fully satisfying account of human history.
About the Author
Tom Standage is business editor at The Economist magazine and the author of four works of history, including A History of the World in 6 Glasses and The Victorian Internet. He has also written for the Guardian, the New York Times, Wired, and other publications. He is married and has two children.
Praise For An Edible History of Humanity…
"A fascinating history of the role of food in causing, enabling and influencing successive transformations of human society … An extraordinary and well-told story, a much neglected dimension to history."—Sir Crispin Tickell, Financial Times
"The emphasis on food as a cultural catalyst differentiates Standage from Michael Pollan, whose plants' eye view of the world keeps the consumables central. With Standage it is not what changes in food that matters, but rather what food changes. And it's not just one food lifting and guiding history, but what Adam Smith might have called the 'invisible fork' of food economics."—New Scientist
"Earliest civilizations appeared on earth when farmers banded together and exploited their excess crops as a means of trade and currency. This allowed some people to abandon agriculture [leading to] organized communities and cities. Standage traces this ever-evolving story through Europe, Asia, and the Americas and casts human progress as an elaboration and refinement of this foundation … Standage also uncovers the aspects of food distribution that underlay such historic events as the Napoleonic Wars and the fall of the Soviet empire."—Booklist
"[Standage] shows how one of humanity's most vital needs (hunger) didn't simply reflect but served as the driving force behind transformative and key events in history… Perhaps the most interesting section is the final one, which looks at the ways in which modern agricultural needs have acted as a spur for technological advancement, with Standage providing a summary of the challenges still faced by the green revolution."—Library Journal
"This meaty little volume… 'concentrates specifically on the intersections between food history and world history.' But history isn't Standage's only concern. He takes the long view to illuminate and contextualize such contemporary issues as genetically modified foods, the complex relationship between food and poverty, the local food movement, the politicization of food and the environmental outcomes of modern methods of agriculture … Cogent, informative and insightful."—Kirkus Reviews