The International Bank of Bob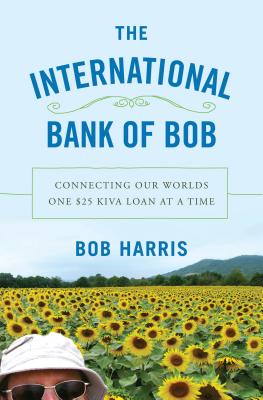 The International Bank of Bob
Connecting Our Worlds One $25 Kiva Loan at a Time
Walker & Company, Hardcover, 9780802777515, 400pp.
Publication Date: March 5, 2013
* Individual store prices may vary.
Buy Now
or
Shop Local
Enter your zip code below to purchase from an indie close to you.
Description
Hired by ForbesTraveler.com to review some of the most luxurious accommodations on Earth, and then inspired by a chance encounter in Dubai with the impoverished workers whose backbreaking jobs create such opulence, Bob Harris had an epiphany: He would turn his own good fortune into an effort to make lives like theirs better. Bob found his way to Kiva.org, the leading portal through which individuals make microloans all over the world: for as little as $25-50, businesses are financed and people are uplifted. Astonishingly, the repayment rate was nearly 99%, so he re-loaned the money to others over and over again.
After making hundreds of microloans online, Bob wanted to see the results first-hand, and in The International Bank of Bob he travels from Peru and Bosnia to Rwanda and Cambodia, introducing us to some of the most inspiring and enterprising people we've ever met, while illuminating day-to-day life-political and emotional-in much of the world that Americans never see. Told with humor and compassion, "The International Bank of Bob" brings the world to our doorstep, and makes clear that each of us can, actually, make it better.
About the Author
Bob Harris is a qualified psychotherapist, youth and community worker and teacher. He was a Principal Psychotherapist in the NHS for many years and currently works as a Clinical Consultant to the Priory Group, the Drug and Alcohol Foundation, and at a large GPs surgery. For several years he headed a project working with disaffected, often homeless young people on the streets in North London and has also been Consultant Psychotherapist at a Therapeutic Community for highly disturbed adolescents. He was Director of Programmes at the Institute of Group Analysis, London. He teaches on training courses for psychotherapists and supervises therapists in NHS units specializing in personality disorder and also at the Westminster Pastoral Foundation.
Praise For The International Bank of Bob…
"No book this important should be this delightful. Bob Harris's funny, tender, and incisive opus works as both an engaging personal memoir and a clear introduction to the world of microfinance. Filled with astonishing anecdotes and indelible characters from those corners of the world most of us never explore, Bank of Bob celebrates a process that is improving the lives of millions through a radically simple concept: moving us past the 'virtue of charity' to the exultation of connection. Give this book your time. It will pay you back." — Joss Whedon, filmmaker
 
"Surprising in so many ways: a travelogue that makes the people in exotic locales as accessible as your next-door neighbors; a book about poverty alleviation that often makes you laugh out loud (or cry, sometimes on the same page); and a portrayal of loving families in challenging environments that leaves you feeling stronger, more connected to the world, and full of hope. In short: joyous, humane, and inspiring." — Arianna Huffington, President and Editor-in-Chief, The Huffington Post Media Group
 
"Bob Harris shows us how to save the world without being an insufferable prig — The International Bank of Bob is enlightening, inspiring, and entertaining." — Steven Pinker, Harvard College Professor of Psychology, Harvard University, and author of The Better Angels of Our Nature
 
"Read this book. Be amazed at a man as decent as Bob Harris. Learn how the world works. Actually help improve the world. And be entertained, amused, and enlightened along the way. Seriously. Just by reading a book." — Arthur Phillips, author of The Tragedy of Arthur
 
"Truly inspirational. Ten minutes after I finished this book, The International Bank of Ken opened in Cambodia." — Ken Jennings, author of Because I Said So!
 
"The result of [Harris's] writing is a series of honest portraits of mothers, husbands, and farmers to whom a $25 loan was life changing."—The Daily Beast
"An engaging, fully transparent, upbeat narrative, with chockablock footnotes and resources." — Kirkus Reviews
"Most travel books promise to transport you to parts of the world you've never seen.  This book goes one better: it will take you to places you'd never have the courage to go, to meet people you'd never meet — from a bicycle repairman in the backstreets of Rabat to a pig trader in Tuzla to a barber in Beirut. And it's not even a travel book.  It's a quest!   Bob Harris goes literally (and literarily) to the ends of the earth in order to see first-hand the effects of his micro-financing loans.  A writer with a big heart and a keen eye, Harris's book will make you feel optimistic, inadequate, informed, fortunate, awful, and edified.  It may also inspire you to help change the world." — Hart Hanson, creator, executive producer, and writer, Bones
"What a wonderfully uplifting book — proof positive that small things really can have a huge impact.  This compassionate travelogue through the world of microfinance not only moves you to count your own blessings, it inspires you to want to make a difference in this world — just like Bob Harris has." — Robert J. Sawyer, Hugo Award-winning author of FlashForward
"Believe it or not — and I know most people don't — there's a moral arc that bends toward justice, and the world really is becoming a better place to live. This is due in part to the spread of democratic institutions from the top down, but the real change is coming from the bottom up from people like Bob Harris, through his boots-on-the-ground approach to helping people improve their lives one small loan at a time. This book is not only inspirational, it is illuminating, enlightening and, well, damn funny!" — Michael Shermer, publisher of Skeptic magazine, monthly columnist for Scientific American, and author of The Believing Brain
"An important review of the strengths of microlending and its limitations… a fun read… powerful."—
The Boston Globe