The Story of Charlotte's Web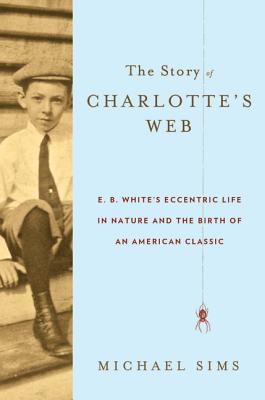 The Story of Charlotte's Web
E. B. White's Eccentric Life in Nature and the Birth of an American Classic
Walker & Company, Hardcover, 9780802777546, 307pp.
Publication Date: June 7, 2011
* Individual store prices may vary.
Buy at Local Store
Enter your zip code below to purchase from an indie close to you.
or
Buy Here
Description
A "Washington Post" Notable Nonfiction Book for 2011
As he was composing what was to become his most enduring and popular book, E. B. White was obeying that oft-repeated maxim: "Write what you know." Helpless pigs, silly geese, clever spiders, greedy rats-White knew all of these characters in the barns and stables where he spent his favorite hours. Painfully shy his entire life, "this boy," White once wrote of himself, "felt for animals a kinship he never felt for people." It's all the more impressive, therefore, how many people have felt a kinship with E. B. White. With "Charlotte's Web," which has gone on to sell more than 45 million copies, the man William Shawn called "the most companionable of writers" lodged his own character, the avuncular author, into the hearts of generations of readers.
In "The Story of Charlotte's Web," Michael Sims shows how White solved what critic Clifton Fadiman once called "the standing problem of the juvenile-fantasy writer: how to find, not another Alice, but another rabbit hole" by mining the raw ore of his childhood friendship with animals in Mount Vernon, New York. translating his own passions and contradictions, delights and fears, into an al-time classic. Blending White's correspondence with the likes of Ursula Nordstrom, James Thurber, and Harold Ross, the E. B. White papers at Cornell, and the archives of HarperCollins and the "New Yorker "into his own elegant narrative, Sims brings to life the shy boy whose animal stories--real and imaginery--made him famous around the world.
About the Author
Michael Sims is the author of four nonfiction books: Darwin's Orchestra, Adam's Navel, Apollo's Fire, and a companion book to the National Geographic Channel series In the Womb: Animals. His three previous literary collections include The Annotated Archy and Mehitabel, The Penguin Book of Gaslight Crime, and Arsene Lupin, Gentleman-Thief. His writing has appeared in many periodicals in the U.S. and abroad, including New Statesman, Washington Post, Orion, American Archaeology, The Chronicle of Higher Education, and many others. He speaks often at colleges and other institutions and has appeared on many TV and radio programs, from CBS's Early Show and Inside Edition to a BBC Radio series about the human body. His Web site is www.michaelsimsbooks.com.
Praise For The Story of Charlotte's Web…
"Immensely charming"—Boston Globe
"A fine stylist, Mr. Sims portrays these scenes with a beauty and an economy of language that would make the co-author of
The Elements of Style
proud."—
Wall Street Journal
"Thorough...clear, direct and concise...a lovely and empathetic testament to E.B. White's vision."—
The Washington Post
"
The Story of Charlotte's Web
is a paean to a great work and a window into the uniquely gifted man who created it."—
Christian Science Monitor
"Sims offers an affectionate homage to E.B. White"—
Entertainment Weekly
"An engaging, distilled, highly focused biography of White"—
Salon
"Built on revealing glimpses"—
USA Today
"A really lovely book"—
Science Friday
"Unpacks the appeal of Charlotte's Web"—
Smithsonian
"Goes back to Zuckerman's farm"—
Vanity Fair
"A pocket biography"—
Chicago Sun-Times
"Beautifully written and researched, the book is well worth anyone's time"—
Monica Edinger, Huffington Post
 "An affectionate biography…Packed with the same kind of sensory detail its subject reveled in, this account is an honorable addition to the literature of letters."—
Kirkus Reviews
Friday, Aug 19, 2011
In his new book, The Story of Charlotte's Web, writer Michael Sims traces the life of E.B. White. From White's childhood in suburban New York and rural Maine, to his adult years as a New Yorker writer, Sims shows how White's experiences in nature shaped his classic novel. More at NPR.org