The Story of Charlotte's Web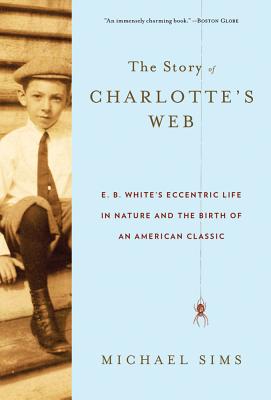 The Story of Charlotte's Web
E. B. White's Eccentric Life in Nature and the Birth of an American Classic
Walker & Company, Paperback, 9780802778161, 307pp.
Publication Date: May 22, 2012
* Individual store prices may vary.
Buy Now
or
Shop Local
Enter your zip code below to purchase from an indie close to you.
Description
While composing what would become his most enduring and popular book, E. B. White obeyed that oft-repeated maxim: "Write what you know." Helpless pigs, silly geese, clever spiders, greedy rats White knew all of these characters in the barns and stables where he spent his favorite hours as a child and adult. Painfully shy, "this boy," White once wrote of himself, "felt for animals a kinship he never felt for people." It's all the more impressive, therefore, how many people have felt a kinship with E. B. White.
Michael Sims chronicles White's animal-rich childhood, his writing about urban nature for the "New Yorker," his scientific research into how spiders spin webs and lay eggs, his friendship with his legendary editor, Ursula Nordstrom, the composition and publication of his masterpiece, and his ongoing quest to recapture an enchanted childhood.
About the Author
Michael Sims is the author of four nonfiction books: Darwin's Orchestra, Adam's Navel, Apollo's Fire, and a companion book to the National Geographic Channel series In the Womb: Animals. His three previous literary collections include The Annotated Archy and Mehitabel, The Penguin Book of Gaslight Crime, and Arsene Lupin, Gentleman-Thief. His writing has appeared in many periodicals in the U.S. and abroad, including New Statesman, Washington Post, Orion, American Archaeology, The Chronicle of Higher Education, and many others. He speaks often at colleges and other institutions and has appeared on many TV and radio programs, from CBS's Early Show and Inside Edition to a BBC Radio series about the human body. His Web site is www.michaelsimsbooks.com.