Mirror Earth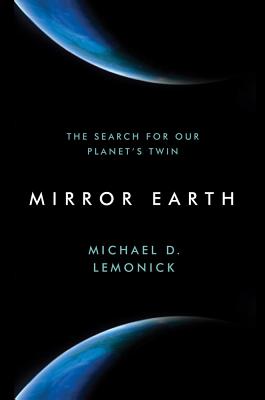 Mirror Earth
The Search for Our Planet's Twin
Walker & Company, Hardcover, 9780802779007, 294pp.
Publication Date: October 16, 2012
* Individual store prices may vary.
Buy at Local Store
Enter your zip code below to purchase from an indie close to you.
or
Not Currently Available for Direct Purchase
Description
In the mid-1990s, astronomers made history when they detected three planets orbiting stars in the Milky Way. The planets were nothing like Earth, however: they were giant gas balls like Jupiter or Saturn. More than 500 planets have been found since then, yet none of them could support life.
Now, armed with more powerful technology, planet hunters are racing to find a true twin of Earth. Science writer Michael Lemonick has unique access to these exoplaneteers, as they call themselves, and "Mirror Earth" unveils their passionate quest. Geoff Marcy, at the University of California, Berkeley, is the world's most successful planet hunter, having found two of the first three extra-solar planets. Bill Borucki, at the NASA Ames Research Center, struggled for more than a decade to launch the Kepler mission-the only planet finder, human or machine, to beat Marcy's record. David Charbonneau, at Harvard, realized that Earths would be much easier to find if he looked at tiny stars called M-dwarfs rather than stars like the Sun-and that he could use backyard telescopes to find them
Unlike those in other races, the competing scientists actually consult and cooperate with one another. But only one will be the first to find Earth's twin. "Mirror Earth" is poised narrate this historic event as the discovery is made.
About the Author
Michael D. Lemonick is the Senior Science Writer at "Time" and a two-time winner of the American Association for the Advancement of Science-Westinghouse Science Writing Award. The author of "The Light at the Edge of the Universe, " he lives in Princeton, New Jersey.
Praise For Mirror Earth…
"In Mirror Earth, Michael Lemonick describes what may be the single most important quest in science, the search for Earthlike planets around other stars—and thus for alien life itself.  He's immersed himself in the science and in the personalities, the rivalries and dreams of the players, and accomplished a great piece of nonfiction writing. I love this book and love the quest."—Richard Preston
"As a science writer, I was thrilled by Mirror Earth's account of cutting edge astronomical research and discovery. As a twin, I was moved by this touching and poignant tale of humanity's yearning for cosmic companionship."—Margaret Wertheim, author of Pythagoras' Trousers and Physics on the Fringe

"Leave it to veteran science journalist Michael Lemonick to not only capture the science behind the search for exoplanets, but to eavesdrop on the occasionally quirky lives of the planet hunters themselves."—Neil deGrasse Tyson, astrophysicist, American Museum of Natural History