The Right Dog for the Job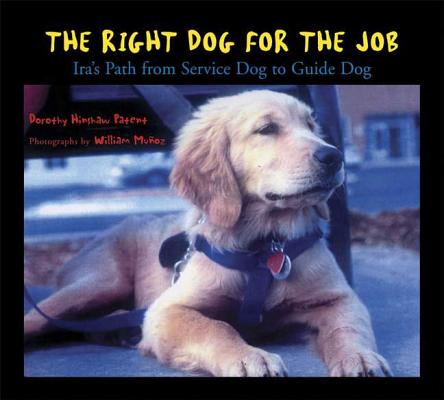 The Right Dog for the Job
Ira's Path from Service Dog to Guide Dog
Walker & Company, Hardcover, 9780802789143, 32pp.
Publication Date: May 1, 2004
* Individual store prices may vary.
Buy Now
or
Shop Local
Enter your zip code below to purchase from an indie close to you.
Description
Follow an adorable Golden Retriever as he trains to become a helper for the disabled.
Ira was not born to be an ordinary dog. A few weeks after his birth, a foster puppy trainer with PawsAbilities, Canine Partners for People with Disabilities, took him home to begin his training as a Service Dog. Service dogs help people who have a lot of difficulty moving around on their own. To become one, Ira must learn how to retrieve dropped keys; press a wheelchair sign to open doors; ride a bus; sit quietly in loud, distracting places; and do many other difficult tasks. Not many dogs can do all that
Fortunately, Ira is smart and confident, and he is able to pass his Service Dog test. Unfortunately, the new facility that Ira needs to attend for more detailed training isn't ready. What will happen to Ira? Will he be able to learn a new career as a Guide Dog for the Blind?
This true story shows the immense impact service and guide dogs have on the lives of the disabled, and what it takes for them to have that impact.
Adorable, full-color photographs bring children into Ira's life and let them connect with him in a very personal way.
See how sixth graders helped train Ira, and hear how they felt about the experience.
About the Author
Dorothy Hinshaw Patent holds a Ph.D. in zoology from the University of California, Berkeley. She is the recipient of the Washington Post--Children's Book Guild Nonfiction Award for her body of work, which includes more than 130 books for children and young adults on subjects ranging from biodiversity to the spirit bear. She lives with her husband in Missoula, Montana. You can learn more about her on her web site: www.dorothyhinshawpatent.com.

Children's book photo-illustrator William Munoz graduated from the University of Montana with a degree in history. He has provided photographs for more than 80 books. He lives in Montana with his family.