Blood Red Horse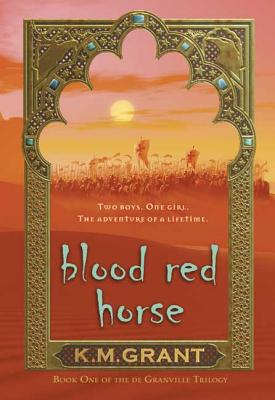 Blood Red Horse
Book One of the de Granville Trilogy
Walker Childrens, Hardcover, 9780802789600, 288pp.
Publication Date: April 1, 2005
* Individual store prices may vary.
Buy at Local Store
Enter your zip code below to purchase from an indie close to you.
or
Buy Here
Description
You need three things to become a brave and noble knight:
A warhorse.
A fair maiden.
A just cause.
Will has a horse a small chestnut stallion with a white blaze in his brow. Ellie is a fair maiden, but she's supposed to marry Will's older brother, Gavin. And as for the cause, King Richard is calling for a Crusade. The Knights of England must go to the Holy Land to fight.
Will and Gavin will go. Blood will be shed. Lives will be taken. But through it all, two things will be constant Ellie, and a blood-red horse called Hosanna. . . .
About the Author
K. M. Grant grew up in Lancashire, England, where she adopted a horse named Miss Muffet when she was 14 years old, a horse who later inspired the character of Hosanna. She and her older sisters used to stay up late devising stories to entertain each other. That, and K. M.'s extraordinary family history (one of her ancestors was the last in England to be drawn and quartered!), fueled her storytelling. She lives in Glascow, Scotland, with her husband and children where she works as a journalist and a broadcaster.