Little Bitty Mousie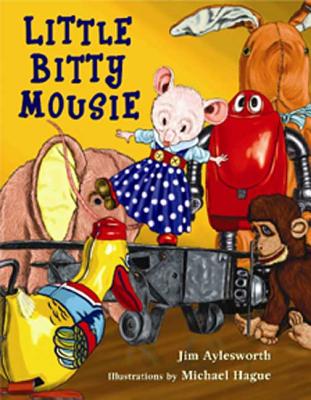 Little Bitty Mousie
Walker & Company, Hardcover, 9780802796370, 32pp.
Publication Date: October 16, 2007
* Individual store prices may vary.
Not Currently Available for Direct Purchase
or
Shop Local
Enter your zip code below to purchase from an indie close to you.
Description
What new surprise will Little Bitty Mousie find around the next corner?
While a family sleeps, Mousie scampers through the house one night. She sniffs around, wiggling her nose at all she sees from A through Z. After a bite of an apple, a taste of some butter, and a nibble on a carrot, Mousie's just begun to explore. The night is young, and there's still much more to discover
Jim Aylesworth's rhythmic language and Michael Hague's intricate illustrations will lead readers on a delightful midnight adventure with a charmingly curious little mouse.
About the Author
Jim Aylesworth taught the first grade for more than twenty years. He has written more than twenty books for young readers, including "My Son John" and "McGraw's Emporium". He lives in Hinsdale, Illinois, with his wife.

Growing up in California in the 1950s, Michael was greatly influenced by the Prince Valiant comics and the Walt Disney Studio. His mother, who attended art school in London before immigrating to the US, nurtured his artistic talents and love for books. Her own childhood picture books impressed her young son so much that from an early age he knew exactly what he wanted to be a baseball player. Fortunately, his inability to hit a curve ball determined that he rediscover his true vocation, that of a book illustrator. Michael attended Art Center College of Design where he met his wife of over forty years, Kathleen Hague. After the two graduated with honors, they moved to Kansas City where Michael worked for Hallmark Cards designing greeting cards and calendars. Hallmark published his first book in 1975, a pop-up version of Gulliver s Travels. They then relocated to Colorado Springs to work at Current, again creating art for paper products. Several years later Michael opened his own studio and began work as a freelance illustrator. The Hagues stayed on in Colorado Springs where he and Kathleen raised three children and where the couple still live and work. Michael Hague has been inspired by a wide variety of artistic styles, ranging from the work of the Disney Studios to the oriental printmakers Hiroshige and Hokusai and the drawings of Michelangelo. He is a fan of contemporary comic and book illustrators as well as turn-of-the-century illustrators such Arthur Rackham, W. Heath Robinson, Howard Pyle and Herman Vogel. He is an avid collector of their books. About his life and work, Michael Hague says, I count myself as one of the most fortunate of beings. For as an artist I have not only the pleasure, but the duty to daydream. It is part of my work. I have been a contented daydreamer all my life, often to the exasperation of those around me. I have lived what seems to be a charmed life. I ve raised three wonderful children, live with my wife in a pink house with our two large dogs, and my work enables me to remain young at heart, forever like Peter Pan. The Michael Hague Signature Series is a wonderful tribute to a brilliant career and to the finest literature published for children and adults of all ages.