Louisa May's Battle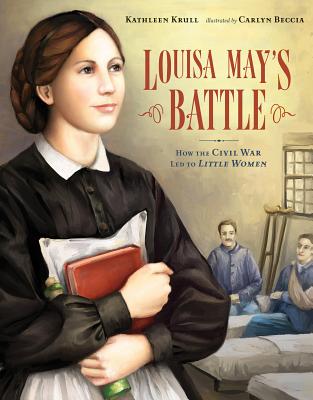 Louisa May's Battle
How the Civil War Led to Little Women
Walker & Company, Hardcover, 9780802796684, 40pp.
Publication Date: March 5, 2013
* Individual store prices may vary.
Shop Local
Enter your zip code below to find indies closest to you.
Description
Louisa May Alcott is best known for penning "Little Women," but few are aware of the experience that influenced her writing most-her time as a nurse during the Civil War. Caring for soldiers' wounds and writing letters home for them inspired a new realism in her work. When her own letters home were published as "Hospital Sketches," she had her first success as a writer. The acclaim for her new writing style inspired her to use this approach in "Little Women," which was one of the first novels to be set during the Civil War. It was the book that made her dreams come true, and a story she could never have written without the time she spent healing others in service of her country.
About the Author
Kathleen Krull is a prominent biographer for young people. Her Wilma Unlimited was named an ALA Notable Book; her Lives of the Musicians was a Boston Globe/Horn Book Honor Award winner; and her other nonfiction has won countless other awards. Kathleen also wrote A Woman for President: The Story of Victoria Woodhull for Walker & Company. She and her husband, illustrator Paul Brewer, live in San Diego, California.

Carlyn Beccia made her picture book debut with the captivating Who Put the B in the Ballyhoo? The idea for The Raucous Royals, her second book, came after a trip to Paris: I went to Versailles, she writes, and discovered that Marie Antoinette never said her infamous line Let them eat cake. Then I remembered also believing that Anne Boleyn had six fingers. After much digging, I discovered that one of her biographers after her death said she had an extra nail. A nail isn t a finger. That discovery led to another rumor and then another . . . Besides painting, drawing, and researching royalty, Carlyn enjoyssalsa dancing, horseback riding, and raucous games of badminton with her husband. She lives in Lynnfield, Massachusetts.