Survival at 40 Below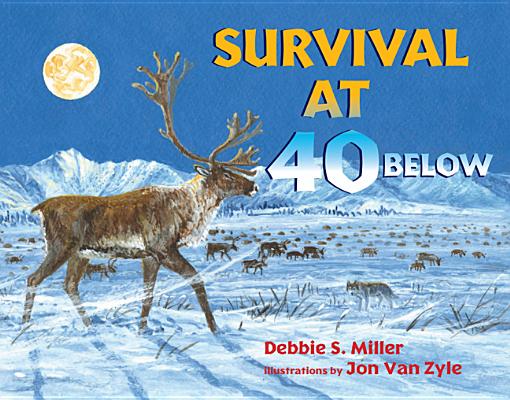 Survival at 40 Below
Walker & Company, Hardcover, 9780802798152, 40pp.
Publication Date: February 2, 2010
* Individual store prices may vary.
Buy at Local Store
Enter your zip code below to purchase from an indie close to you.
or
Not Currently Available for Direct Purchase
Description
The award-winning Alaskan picture book duo is back with a look at the long arctic winter. As temperatures drop and the snow deepens, the animals that make the tundra home must ready themselves for survival. Follow the arctic ground squirrel as it begins the cycle of sleeping, supercooling, and warming that will occur at least a dozen times before spring arrives. See how the wood frog partially freezes itself in hibernation beneath layers of snow, or how the woolly bear caterpillars makes it through the winter months with a special antifreeze substance that prevents ice from forming in their bodies. Then when the temperatures finally rise and the snow begins to melt, these creatures emerge and the pulse of life returns to the arctic.
Debbie S. Miller's expert research and accessible writing will fascinate readers as Jon Van Zyle's signature style beautifully captures these animals and their habitat.
About the Author
Debbie S. Miller is the author of several picture books including "A Woolly Mammoth Journey, " "A Caribou Journey, "and "A Polar Bear Journey", one of Booklist's Top Ten Animal Books for Youth"."
Art is Jon's life and Alaska, all Alaska, has been his inspiration. Artist Jon Van Zyle has seen more of Alaska in a much more unique way than most can ever hope to experience. Jon has twice completed the 1049 miles of the Iditarod Trail Sled Dog Race between Anchorage and Nome. From these adventures he has created the yearly Iditarod poster series commemorating the race and his involvement. In 1979 he was made the official Iditarod artist, a title he still holds today. In 2004 he was inducted into the Iditarod Hall of Fame.
His acrylic paintings go beyond the race though, and encompass so much of the Alaska beauty. Jon's reputation as a storyteller through his art is further enhanced by his prints, posters and stone lithographs. Dog teams, landscapes, wildlife, Alaskan faces from native to newcomer, portray an intimacy with the land and it's people. He touches on history with studies of Alaskan pioneers and native traditions and lore recording the Alaskan spirit. Public acceptance of his shared feeling through his art has been his greatest reward.
Jon's art career has spanned over 3 decades. Prolific artist, he produces numerous paintings a year for one man exhibitions in the United States as well as Europe. Illustrating at least two children's books a year since 1993 for prestigious publishers has earned him a reputation with a younger audience as well as many awards for his children's art. His limited edition prints and posters sell out regularly with well over 300 editions in the last 30-plus years.