The Pontificate of Benedict XVI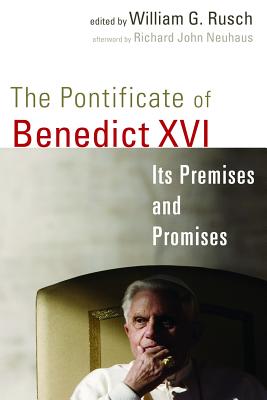 The Pontificate of Benedict XVI
Its Premises and Promises
William B. Eerdmans Publishing Company, Paperback, 9780802848680, 173pp.
Publication Date: March 2009
* Individual store prices may vary.
Shop Local
Enter your zip code below to find indies closest to you.
Description
Few persons of the theological stature of Joseph Ratzinger and with such a developed corpus of theological works have been elected Pope. There is no question that his pontificate will be extremely influential for the Roman Catholic Church and the world. But the question is In what ways? / This volume, published on the fourth anniversary of Benedict's election as Pope, offers considered insights into that key question. William Rusch has pulled together an ecumenical gathering of viewpoints Episcopalian, Lutheran, Methodist, Orthodox, Pentecostal, Reformed, and Roman Catholic. Coming from this spectrum of Christian traditions, the authors examine how the life experiences and theological reflections of Cardinal Joseph Ratzinger will likely influence the pontificate of Benedict XVI. / "Again and again, conference] participants expressed their pleased surprise at discovering that Ratzinger . . . was an intense but modest partner in exploring the truth of the Christian tradition and its more effective communication in a world frequently hostile to that truth. Those who have known Ratzinger over the years know him to be a man eager to listen, learn, and candidly respond to questions such as those addressed by the contributors to this volume." / Richard John Neuhaus (from the afterword) / Contributors: Cheryl Bridges Johns (Pentecostal), Sara Butler (Roman Catholic), Dale T. Irvin (Baptist), Metropolitan Maximos (Greek Orthodox), Harding Meyer (Lutheran), Richard John Neuhaus (Roman Catholic), Ephraim Radner (Episcopalian), William G. Rusch (Lutheran), Joseph D. Small (Presbyterian), and Geoffrey Wainwright (Methodist) / Few persons of the theological stature of Joseph Ratzinger and with such a developed corpus of theological works have ever become Pope. No doubt Pope Benedict XVI will have a tremendous influence on the Roman Catholic Church and the world. But how? Respected scholars from various ecclesial traditions offer their considered perspectives on that question in this volume marking the fourth anniversary of Benedict's election as Pope. / Speculation on the relation between Joseph Ratzinger and Pope Benedict XVI has been rife ever since the announcement that the Prefect of the Congregation for the Doctrine of the Faith was to be the successor to Pope John Paul II. This remarkable collection of essays brings readers face-to-face with a very different man from the stereotype often presented. Here we encounter a man of great learning, a sophisticated thinker, incisive, clever, always passionate for the truth and for unity in truth, a listener, gentle, humble, and above all a person driven by a vision of love' and centered on Christ. The authors emphasize the challenges in Benedict's thought to other traditions while not glossing over the hurt caused by some recent statements on where the Church is to be found. . . . These essays are not the last word, but they provide an important reflection at this point in Benedict's pontificate. Mary Tanner / President of the World Council of Churches / Many Protestants have been quick to dismiss Pope Benedict XVI as a rigid enforcer of doctrinal orthodoxy whose election can only be bad news for ecumenical relations. These essays by distinguished scholars from a variety of Christian traditions dig far beneath such caricature to show, among other things, the ecumenical promise of his pontificate. I recommend this book highly to anyone who wants a nuanced understanding of Pope Benedict's theological assumptions and their implications for church relationships. Michael Kinnamon / National Council of the Churches of Christ in the USA.
About the Author
William G. Rusch, a Lutheran pastor, is professor of Lutheran studies at Yale Divinity School and professor of church history at New York Theological Seminary. Among his other books are"Ecumenical Reception: Its Challenge and Opportunity" and "The Pontificate of Benedict XVI: Its Premises and Promises"