Psalms for Preaching and Worship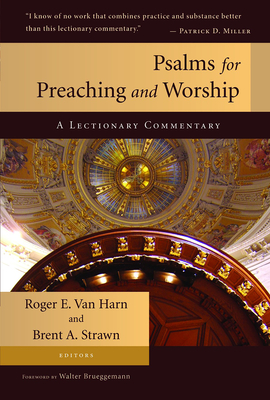 Psalms for Preaching and Worship
A Lectionary Commentary
William B. Eerdmans Publishing Company, Paperback, 9780802863218, 552pp.
Publication Date: April 2009
* Individual store prices may vary.
Shop Local
Enter your zip code below to find indies closest to you.
Description
Psalms for Preaching and Worship a key addition to the critically acclaimed three-volume Lectionary Commentary / Despite the rich resources available for studying the Psalms, few are as focused on their place in worship and preaching as is this volume. The responsorial Psalms of the Revised Common Lectionary are here taken up in careful and often illuminating interpretation with attention also to their interaction with other lectionary texts. The many ways that psalms can function meaningfully in the liturgical life of congregations are explored especially in John Witvliet's concluding section. I know of no work that combines practice and substance better than this lectionary commentary. Patrick D. Miller / Princeton Theological Seminary / A fascinating book well organized, well written and edited, thorough, and informative. . . . An excellent resource not only for preachers using the Revised Common Lectionary but also for those wishing to preach a series of sermons on the Psalms. In addition, worship leaders and worship committees will appreciate the many excellent ideas for using the Psalms in worship. Highly recommended. Sidney Greidanus / author of Preaching Christ from the Old Testament and Preaching Christ from Genesis / Here is something even better than a simple completion of The Lectionary Commentary, which would be cause enough for gratitude. ... Serious attention paid to this one book could go a long way toward remedying the scandalous neglect of the treasure of the Psalms in too much contemporary worship. Marguerite Shuster / Fuller Theological Seminary / Contributors: Nancy R. Bowen, William P. Brown, Walter Brueggemann, Richard J. Clifford, Nancy L. deClaiss -Walford, Jennifer S. Green, Karl N. Jacobson, Rolf A. Jacobson, Melody D. Knowles, Eunny P. Lee, Joel M. LeMon, James Limburg, J. Clinton McCann, James K. Mead, Carol A. Miles, Luke A. Powery, Stephen Breck Reid, Sandra L. Richter, Cynthia L. Rigby, Kathryn L. Roberts, Brent A. Strawn, Beth LaNeel Tanner, Roger E. Van Harn, Raymond C. Van Leeuwen, J. Ross Wagner, Gerald H. Wilson, John Witvliet, Christine Roy Yoder.
About the Author
Van Harn is retired from the pastorate at Grace Christian Reformed Church in Grand Rapids, Michigan.

Brent A. Strawn is Professor of Old Testament at Candler School of Theology, Emory University. He currently serves on the editorial advisory board of the esteemed Old Testament Library series, published by Westminster John Knox Press.

Walter Brueggemann is William Marcellus McPheeters Professor Emeritus of Old Testament at Columbia Theological Seminary. A past president of the Society of Biblical Literature, he is one of today's preeminent interpreters of Scripture.