Seldom Seen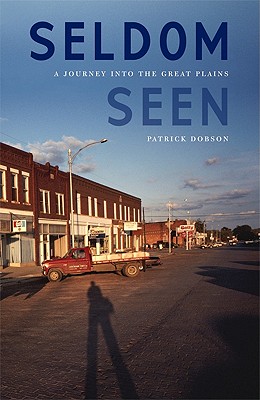 Seldom Seen
A Journey Into the Great Plains
University of Nebraska Press, Hardcover, 9780803216167, 279pp.
Publication Date: November 2009
* Individual store prices may vary.
Shop Local
Enter your zip code below to find indies closest to you.
Description
In May 1995, with nothing but a backpack and a vague sense of disquiet, Patrick Dobson left his home and a steady if deadening job in Kansas City, Missouri. Over the next two and a half months he made his way to Helena, Montana, letting chance encounters guide him to a deeper sense of who he was and where he was going. His chronicle of this journey charts his experiences with the seldom-seen people of the small towns, the far-flung outposts, and the Great Plains that make up our America. Beginning as a seeker, Dobson becomes a faithful recorder of other people's search for contentment, introducing us to a firefighter with a farm at the end of the world, a fiery Christian conservative, a man sharing a van with a crowd of cats, a former circus carny who's found the secret to living life, and a homeless Native American offering a special and enduring gift. Ridden out of a hostile Kansas town, sniffed by bears, confronted by bison and recalcitrant moose, Dobson cannot help but see how land, sky, weather, and a world of circumstances influence people. Against the majestic sweep of the open plains and endless horizon, his story is one of hope and desperation, richness and simplicity a portrait of who we are in the heartland of America.
Praise For Seldom Seen…
"A journey worth taking."—David Pitt, Booklist
-David Pitt

"The prairie, lovingly described by the author, becomes the fabric that holds these people together. Their stories, some as violent and powerful as a Midwestern thunderstorm, others as calm as a breeze, create a captivating narrative, and Dobson finds the common humanity that keeps people struggling against their circumstances and striving to succeed, in whatever form that may take."—Kirkus Reviews

"[Seldom Seen] is a dynamic portrait of a man in the process of arriving, step by step, at a better self."—Nina Shevchuk-Murray, Nebraska Life
-Nina Shevchuk-Murray

"One of the strongest aspects of this narrative is its attention to the natural world.  Dobson offers visceral descriptions of his surroundings, which draw readers into his story at a sensory level. . . . Such beautifully written natural scenes will satiate those who come to this book hoping to be swept along with Dobson on his journey."—Traci J. Macnamara, newwest.net
-Traci J. Macnamara

"An important addition to the growing body of nonfiction literature from the Great Plains, Seldom Seen highlights the quiet, forgotten lives of America's rural center. Whether touching or discomfiting, these ordinary lives, like grace notes, make Dobson's journey into the Great Plains unexpectedly luminous."—Susan Naramore Maher, Western American Literature
-Susan Naramore Maher

"With open eyes and open heart, Patrick Dobson shows us the heart of the nation."—David Shribman, executive editor of the Pittsburgh Post-Gazette and syndicated columnist with Universal Press
-David Shribman