Under the Big Sky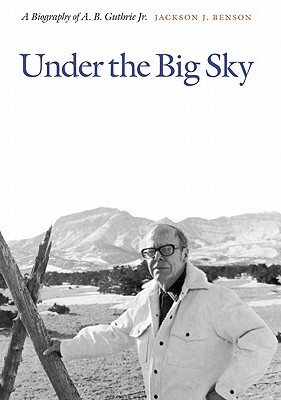 Under the Big Sky
A Biography of A. B. Guthrie Jr.
University of Nebraska Press, Hardcover, 9780803222861, 322pp.
Publication Date: May 1, 2009
* Individual store prices may vary.
Buy Now
or
Shop Local
Enter your zip code below to purchase from an indie close to you.
Description
Author of The Big Sky series, "The Way West," and the screenplay for the classic "Shane," among many other timeless stories of frontier mountain men, icon of Western literature A. B. "Bud" Guthrie Jr. brought a blazing realism to the story of the West. That realism, which astounded and even shocked some readers, came out of the depth of Guthrie's historical research and an acuity that had seldom been seen in the work of Western novelists. In "Under the Big Sky," the latest in his celebrated series of biographies of Western writers, Jackson J. Benson details the life and work of this true giant on the Western literary landscape. The small Montana town that figures in several of Guthrie's books is clearly patterned after the town where he grew up, Choteau, on the eastern front of the Rocky Mountains. Benson illuminates the critical details of Guthrie's upbringing and education, the influence of his intellectually inclined father, his work as a newspaperman in Kentucky, and his time at Harvard University. Animated by the observations of friends, family, and fellow authors, this intimate account offers rare insight into the life and work of a remarkable writer and into the making of the literary West.
About the Author
Benson was professor of English and American literature at San Diego State University for 31 years until his retirement in 1998.
Praise For Under the Big Sky…
"In this caring yet objective account of the novelist's life, Jackson J. Benson uncovers the passions and demons in Guthrie's life away from the desk, lending the biography meaning for general readers as well as writers."—Washington Post 

"A welcome biography of the Western novelist and environmentalist."—Kirkus Reviews

"Guthrie was a man of ideas who was quick to question and eager to learn what prompted settlers to step outside the confines of their secure lives. Benson's biography follows Guthrie's own personal quest for transcendence."—ForeWord

"One measure of a writer's biography is the degree to which it expands one's appreciation of the author's work and increases the pleasure of reading it. Good biographies should also give readers insight into the people being written about: why they were who they were, why they became who they became. Under the Big Sky succeeds on all counts."—Bloomsbury Review


"A thorough, well-written, lively, and authoritative account of A. B. Guthrie Jr.'s life."—Richard W. Etulain, Oregon Historical Quarterly
 

-Richard W. Etulain

"[Under the Big Sky] is a good picture of the man overall, one whose brother Chick described as 'a smart aleck and a wise guy.' But one who gave us all an enduring history of the West through fiction."—Pete Warzel, Montana Quarterly
-Pete Warzel