Bohemian Girl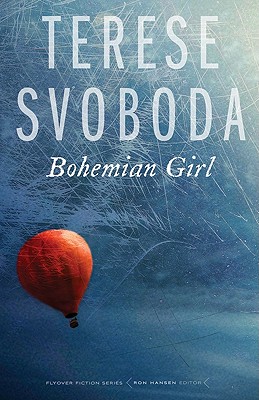 Bohemian Girl
Bison Books, Paperback, 9780803226821, 193pp.
Publication Date: September 2011
* Individual store prices may vary.
Buy Now
or
Shop Local
Enter your zip code below to purchase from an indie close to you.
Description
Young Harriet's father sells her as a slave to settle his gambling debt with an eccentric Indian--and her story is just beginning. Part Huck Finn, part "True Grit," Harriet's story of her encounter with the dark and brutal history of the American West is a true original. When she escapes the strange mound-building obsession of her Pawnee captor, Harriet sets off on a trek to find her father, only to meet with ever-stranger characters and situations along the way. She befriends a Jewish prairie peddler, escapes with a chanteuse, is imprisoned in a stockade and rescued by a Civil War balloonist, and becomes an accidental shopkeeper and the surrogate mother to an abandoned child, while abetting the escape of runaway slaves.
A picaresque in the American vein, Terese Svoboda's new novel is the Bohemian answer to Willa Cather's iconic "My Antonia." Lifting the shadows off an entire era of American history in one brave girl's quest to discover who she is, "Bohemian Girl" gives full play to Svoboda's prodigious talents for finding the dark and the strange in the sunny American story--and the beauty and the hope in its darkest moments.
About the Author
Terese Svoboda is the translator of CLEANED THE CROCODILE'S TEETH: NUER SONG (Greenfield Review Press, 1985) and the author of All Aberration (University of Georgia Press, 1985), Laughing Africa (University of Iowa Press, 1991), Treason (Zoo Press, 2003), Mere Mortals (University of Georgia Press, 2009), Weapons Grade (University of Arkansas, 2009), and WHEN THE NEXT BIG WAR BLOWS DOWN THE VALLEY: SELECTED AND NEW POEMS (Anhinga Press, 2015), and the chapbook Dogs Are Not Cats. A recent Guggenheim recipient, she has won the Iowa Prize in Poetry, the Cecil Hemley Award and the Emily Dickinson Prize from the Poetry Society of America, and a New York Foundation for the Arts grant. A fellow at Bellagio, Bogliasco, Yaddo, the James Merrill House, MacDowell, and the NEH, she also received a PEN/Columbia fellowship to translate Nuer song. She has taught at Williams, Columbia's School of the Arts, Southampton/Stony Brook, the New School, San Francisco State, William and Mary, Fairleigh Dickinson, Sarah Lawrence, Bennington, Atlantic Center for the Arts, and the Universities of Tampa, Miami, and Hawaii, Fordham, and Wichita State, in St. Petersburg and Kenya for the Summer Literary Program, and held the McGee Professor at Davidson College. Also the author of six books of fiction, a memoir, and a book of translation from the Nuer, she will publish a biography of the radical poet Lola Ridge in 2016.
Praise For Bohemian Girl…
"Harriet''s observations of the world and her small place in it are insightful and often touching. And Svoboda (Trailer Girl and Other Stories) often displays a poet''s touch with language and imagery."—Publishers Weekly

"Creating a western world as raucous and unpredictable as any imagined by Larry McMurtry, and teeming with characters as tragically heroic as those created by Willa Cather, Svoboda offers a vividly distinctive tale of the American frontier."—Carol Haggas, Booklist starred review
-Carol Haggas

"Hollywood has handed us an American West of cowboys, cattle, train whistles, and Indian wars, but Terese Svoboda offers a different glimpse of history, from the perspective of a young girl abandoned by her own father to make her way in a world that has mostly cruelty to offer. . . . An eloquent exploration of the Wild West from the perspective of one of its victims who refuses to be victimized."—Andi Diehn, ForeWord
-Andi Diehn

"Billed as "part Huck Finn, part True Grit," with Willa Cather mentioned as well, this in fact is sure to have a narrative voice all its own, and one worth waiting for."—Margaret Heilbrun, Library Journal
-Margaret Heilbrun

"We never doubt Harriet will seize as much satisfaction as this hard life can spare. . . . A marvelous heroine with an iron will and a unique voice."—Kirkus

"Terese Svoboda''s unusual, yet wonderful narrative reaches its apex of richness and character development as the book draws to an ending as unpredictable as the book itself. . . . Readers who appreciate writing that is innovative, follows no rules, and is equally exasperating and enchanting will fully enjoy Bohemian Girl."—Micki Peluso, New York Journal of Books
-Micki Peluso