Let There Be Pebble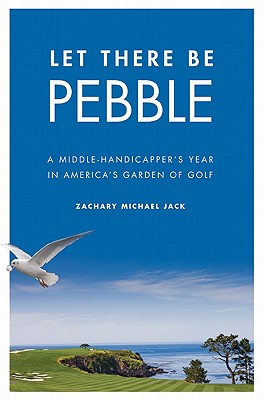 Let There Be Pebble
A Middle-Handicapper's Year in America's Garden of Golf
University of Nebraska Press, Hardcover, 9780803233577, 333pp.
Publication Date: June 2011
* Individual store prices may vary.
Buy Now
or
Shop Local
Enter your zip code below to purchase from an indie close to you.
Description
It was "scary," Jack Nicklaus said of Pebble Beach, and gave him nightmares so acute he famously woke his wife on the eve of his 1972 U.S. Open victory totally spooked. "It's not a golf course," sportswriter Jim Murray wrote, "it's a hellship." Golf writer Dan Jenkins once joked that the famed venue of the Bing Crosby National Pro-Am should be dubbed "Double Bogey-by-the-Sea." 
A one-time failed Division One golf walk-on, Zachary Michael Jack opts to stare down an early midlife crisis by chronicling a U.S. Open year spent at Pebble Beach, object of his ailing father's fantasies and site of the nation's number one public course and its fairy-tale host town, Carmel-by-the-Sea, California. There, along the blue Pacific, he traces the colorful, capricious, and comical world of golf on the Monterey Peninsula as never before via interviews with legends of the game Johnny Miller, Gary Player, and Tom Watson; with today's brightest stars—Padraig Harrington, Phil Mickelson, and Bubba Watson; and with some of its most famous celebrity linksters—actor Bill Murray, Olympic soccer star Brandi Chastain, and billionaire entrepreneur Charles Schwab.
Conducting more than one hundred interviews, Jack ranges far and wide to get the scoop, talking golfing haunts with bestselling golf novelist Michael Murphy; teeing up with members of a Carmel-based worldwide golfing society devoted to mystical play; learning to play Pebble at the knee of one of the Top 50 Golf Teachers in America and with a Carmel-based journeyman pro described as "a golf savant"; and raising a cup with a lifelong Pebble Beach resident and caddy who, unbeknownst to the hackers he shepherds, is a Hall of Fame golfer. By turns hilarious, haunting, and historic, Let There Be Pebble reveals the utter uniqueness—the people, the rich history, the unforgettable setting and sporting culture—of this one-of-a-kind golfing cathedral. 
About the Author
Zachary Michael Jack teaches courses in rural studies, writing, and the environment as an associate professor of English and member of the Urban and Suburban Studies and Environmental Studies faculties at North Central College in Naperville, Illinois. The author or editor of nearly twenty books, including Uncle Henry Wallace: Letters to Farm Families from Purdue University Press, Jack is a two-time nominee for the Theodore Saloutos Award for the best work in agricultural history, a nominee for the Pushcart Prize (Best of the Small Presses), and, in 2010, a runner-up in his class for the ForeWord Reviews Book of the Year Award. He is the great-grandson of pioneering conservation writer Walter Thomas Jack, whose book The Furrow and Us has been selected by scholars for inclusion in the Core Historical Literature of Agriculture. Jack is the seventh generation in his family to make a home on a farm in rural eastern Iowa, where the Jack Heritage Farm has been in continuous family ownership since 1855.
Praise For Let There Be Pebble…
"There''s plenty to satisfy, entertain and prod most golfers to want to read this one on Pebble. . . . An absolute winner!"—Bob Koczor, Golf Today
-Bob Koczor

"Few courses have spawned as many published words as Pebble Beach. It''s unlikely that any writer will ever tackle this subject with the skill displayed by Jack."—Martin Kaufmann, Golf Week
-Martin Kaufmann

"Every golfer goes through some variation of the mid-life crisis. Not everyone gets to do it on the Monterrey Peninsula. Once the obvious envy is removed from the equation, what''s left is an inviting escapade into discovering—through a diverse cast from Michael Murphy and Clint Eastwood to the caddie corps and the author himself—why Pebble and its high-rent environs are always so absorbing, especially in an Open season."—Golf.com

"A real-life golf fantasy year, boldly lived and exuberantly told."—Kirkus

"Like the author himself, the reader of Let There Be Pebble won''t play golf one bit better at the end of the book. But there are enough laughs, and even a few poignant moments in between, to satisfy any golfer."—Jack Shakely, Foreword
-Jack Shakely

"A combination of history, celebrity-chasing and a few fleeting glimpses behind the "out of bounds" tapes strung around the iconic golf course, this book will not only provide a few laughs but also offer some revealing looks at the folks who make events like the U.S. Open and the AT&T Pebble Beach National Pro-Am tournaments function smoothly."Robert Walch, Salinas Californian
-Robert Walch