In Thought and Action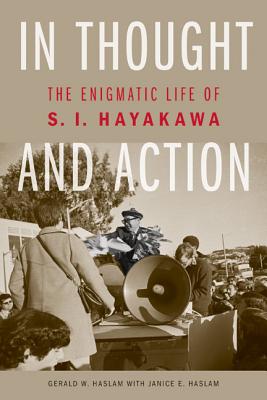 In Thought and Action
The Enigmatic Life of S. I. Hayakawa
Bison Books, Paperback, 9780803237643, 427pp.
Publication Date: November 1, 2011
* Individual store prices may vary.
Buy Now
or
Shop Local
Enter your zip code below to purchase from an indie close to you.
Description
One of the most gripping images from the 1960s captures the slight figure of Dr. S. I. Hayakawa scrambling onto a sound truck parked in front of San Francisco State College amid campus unrest. Hayakawa had hoped to use this soapbox to address the assembled demonstrators, but instead he ended up ripping out speaker wires and halting an illegal campus demonstration—or denying first-amendment rights to the crowd, depending on your perspective. Indeed, Hayakawa's entire life defies simplistic labels, and his ability to be categorized largely depends on personal perspective.
This intimate and detailed biography draws on interviews with friends and family members, as well as Hayakawa's own papers and journals, to bring this controversial and fascinating figure to life. He was an enigma to colleagues as well as adversaries, a Republican senator who consistently bucked his party's ideals with his support of the women's movement, abortion rights, and even Ronald Reagan's search for a female running mate. The son of Japanese immigrants, born and raised in Canada before moving to the United States, Hayakawa emerges here as a complex and complicated figure. His blend of heritage, politics, artistic inclination, and intellectual achievement makes him quintessentially American.
Visit the author's Web site for bibliographic notes.
About the Author
Gerald Haslam is the author of numerous books, both fiction and nonfiction. He wrote the text for "The Great Central Valley: California's Heartland" (California, 1992), which featured the photography of Stephen Johnson and Robert Dawson. A professor of English at California State University, Sonoma, until his retirement in 1997, he lives in Northern California. Alexandra Haslam Russell is managing editor of "Gavin" magazine. She and her father coedited the anthology, "Where Coyotes Howl and Wind Blows Free: Growing Up in the West" (1995). Richard Chon plays fiddle with the Sons of the San Joaquin and for many years was an entertainment writer for the "Bakersfield Californian".


Praise For In Thought and Action…
"Haslam (with his own wife as partner) was a good choice for biographer. . . . [An] absorbing study of a surprising, multifaceted life."—Kirkus

"In Thought and Action: The Enigmatic Life of S. I. Hayakawa traces the fascinating life of an iconic American writer, teacher, politician, and family man. In the process, authors Gerald W. Haslam and Janice E. Haslam tell us a lot about the culture wars of the 20th century—and of American identity itself. The authors' many fans will be delighted by this definitive biography, as will students, scholars, and teachers of ethnic studies, California history, and American politics."—Jonah Raskin, author of American Scream: Allen Ginsberg's "Howl" and the Making of the Beat Generation
-Jonah Raskin

"Gerald and Janice Haslam are the perfect writers for this complete and superbly researched biography of S.I. Hayakawa, the teacher, poet, scholar, writer, flamboyant college president and Senator from California, who was always seeking more, not just for fame but for other, more personal reasons. Only the Haslams, with their unique perspectives, could know and tell this story."—Clark S. Sturges, author of Dr. Dave: A Profile of David E. Smith, MD, founder of the Haight Ashbury Free Clinics
-Clark S. Sturges