501 Baseball Books Fans Must Read Before They Die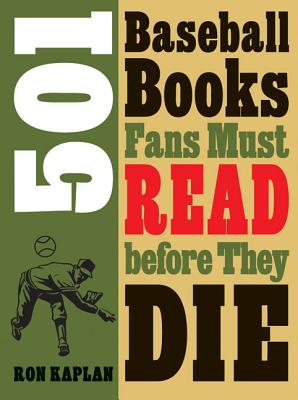 501 Baseball Books Fans Must Read Before They Die
University of Nebraska Press, Paperback, 9780803240735, 405pp.
Publication Date: March 20, 2013
* Individual store prices may vary.
Buy at Local Store
Enter your zip code below to purchase from an indie close to you.
or
Buy Here
Description
From the bewildering array of baseball books, Ron Kaplan has chosen 501 of the best, making it easier for fans to find just the books to suit them (or to know what they're missing).
Praise For 501 Baseball Books Fans Must Read Before They Die…
"Sportswriter and blogger Kaplan's first book is a fun and useful guide for finding arguably the best baseball books among the mounds of titles relating to this book-inspiring sport. . . . The author's well-informed and well-written comments are compelling enough to make this either a worthwhile light read or a handy reference for all readers of baseball literature."—Library Journal

"From biography, history, fiction, and instruction to books about ballparks, business, and rules, anyone who loves to read about baseball will find in this book a companionable guide."—H-Net

"I don't know whether Ron Kaplan took any performance-enhancing drugs, but he has accomplished something amazing. His book is the ultimate guide to baseball literature. If you love baseball or books or any combination thereof, you should pick this up now."—A. J. Jacobs, author of The Know-It-All: One Man's Humble Quest to Become the Smartest Person in the World
-A. J. Jacobs

"This is a book guaranteed to make a baseball fan feel worse than I (a Red Sox fan) did on the last day of the 2011 season. You thought you had a decent baseball library, you thought you were a well-read fan . . . but no! You're a rookie, and you haven't read a fraction of all the memoirs, analyses, histories, and novels of baseball out there. But be of good cheer: a whole new world awaits, and Ron Kaplan has drawn you a treasure map."—Peter Sagal, host of NPR's Wait Wait . . . Don't Tell Me!
-Peter Sagal

"Ron Kaplan has remarkably and thankfully given us the triple-header of baseball reference books. He has knowledgeably and entertainingly written a synopsis of, count 'em, 501 baseball books. This is a feat, and a very welcome one. A standing ovation for Ron Kaplan."—Ira Berkow, Pulitzer Prize winner and former New York Times sports columnist
-Ira Berkow

"Ron Kaplan provides a meticulous, entertaining, and informative dissection of the best baseball books, a perfect volume for anyone who loves the game. Great stuff."—Dave Kaplan, director, Yogi Berra Museum & Learning Center
-Dave Kaplan