Speaking to the Rose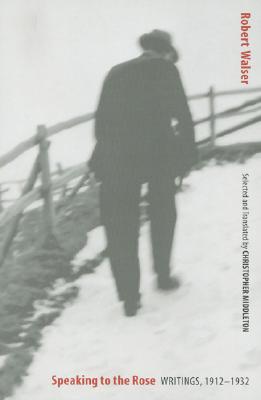 Speaking to the Rose
Writings, 1912-1932
University of Nebraska Press, Paperback, 9780803298330, 128pp.
Publication Date: September 1, 2005
* Individual store prices may vary.
Buy Now
or
Shop Local
Enter your zip code below to purchase from an indie close to you.
Description
The Swiss writer of whom Hermann Hesse famously declared, "If he had a hundred thousand readers, the world would be a better place," Robert Walser (1878–1956) is only now finding an audience among English-speaking readers commensurate with his merits—if not with his self-image. After a wandering, precarious life during which he produced poems, essays, stories, and novels, Walser entered an insane asylum, saying, "I am not here to write, but to be mad." Many of the unpublished works he left were in fact written in an idiosyncratically abbreviated script that was for years dismissed as an impenetrable private cipher. Fourteen texts from these so-called pencil manuscripts are included in this volume—rich evidence that Walser's microscripts, rather than the work of incipient madness, were in actuality the product of desperate genius building a last reserve, and as such, a treasure in modern literature. With a brisk preface and a chronology of Walser's life and work, this collection of fifty translations of short prose pieces covers the middle to later years of the writer's oeuvre. It provides unparalleled insight into Walser's creative process, along with a unique opportunity to experience the unfolding of his rare and eccentric gift. His novels The Robber (Nebraska 2000) and Jakob von Gunten are also available in English translation.
About the Author
Born 1878 in Switzerland, Robert Walser was at various times in his life a bank teller, office clerk, scribe, house servant, machinist's assistant, and archivist. Although he wrote four novels and some poetry, his production consisted mainly of hundreds of small prose pieces. Being small was a key concern. His writing got smaller and smaller until, before he ceased writing altogether, he wrote a tiny script with letters about one millimeter high. By this time he had committed himself to a sanitarium where he remained for 27 years, mostly not writing. Always an avid taker of walks, Walser died in a snowdrift while out for a walk in 1956.

Author of several books of poetry, most recently Of the Mortal Fire: Poems 1999-2003 and In the Mirror of the Eighth King (Green Integer, 1999).
Praise For Speaking to the Rose…
"Middleton translates to perfection both the text and the spirit. . . . Walser's central themes of self-effacement, the primacy of the imagination, the liberating aim of creative play are richly displayed in the new volume. You'll find both the Walser deadpan . . . and his pratfall. . . . . Walser's lightness is lighter than light, buoyant up to and beyond belief, terrifyingly light. At times, he seems closer to writers like the French poet Francis Ponge than to his ''weightier'' peers such as Musil, Broch, or Mann. Both Ponge and Walser, through an almost phenomenological parsing and shedding of received notions, reveal the uniqueness of insignificant things. In his insignificance, Walser was among the sovereign."—Bookforum

"Journals (and the contemporary malady of journalishness) are full of solitude and feigned humility, as small as personal; Walser''s microtexts are the opposite. Or, small script = large human. Smallness makes text liquid, lose-able, ubiquitous. Walser is a scale explosion."—Trisha Donnelly, Artforum International
-Trisha Donnelly

"Splendidly translated by the inestimable Christopher Middleton, a poet and champion of Walser's. . . . They remind us of the pleasure of his keen eye, his alert imagination, and his lyric voice."—Joseph Dewey, Review of Contemporary Fiction
-Joseph Dewey

"A little gem. . . . Christopher Middleton has translated and introduced a selection of Walser's strange scribbles, including many from his pre-asylum period. . . . What a find."—George Fetherling, New Brunswick Reader
-George Fetherling