Why Did the Chicken Cross the Road? [With Poster]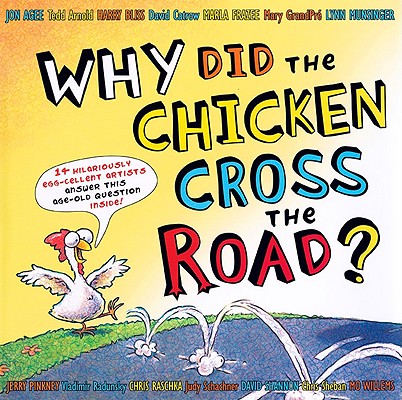 Why Did the Chicken Cross the Road? [With Poster]
Dial Books, Hardcover, 9780803730946, 40pp.
Publication Date: September 21, 2006
* Individual store prices may vary.
Buy at Local Store
Enter your zip code below to purchase from an indie close to you.
or
Buy Here
Description
We all know the joke. We've all told it. Kids love to tell it over and over and over again, with as many different punch lines as possible. And now we've found out that famous award-winning artists love to tell the joke too and they have some wacky and downright hilarious ideas about why that chicken really did cross the road.
Mo Willems's chicken confesses his motives to a police officer; David Shannon's chicken can drive a car; Marla Frazee's chicken is looking for a more luxurious coop; and Harry Bliss's chicken encounters aliens. And this is just the beginning. One thing is for sure you won't cross this book without a good laugh
About the Author
Jon Agee, the author-illustrator-playwright-librettist-palindromist, grew up along the Hudson River in Nyack, New York. As a kid, he created picture books, detective comics, and flipbooks made out of train ticket stubs. In high school, he spent an inordinate amount of time in the art room. In college, at the Cooper Union in New York City, he studied painting, dabbled in animation, and made an "art" film. Soon after graduating, in 1981, he began getting his first books published.
He is probably best known for his fourth book, "The Incredible Painting of Felix Clousseau", in which a mysterious painter's pictures come to life, wreaking havoc in turn-of-the-century Paris. His other books, featuring canine professors, forgotten astronauts, and guffawing grumps, are at times quirky, nonsensical, satiric, and always humorous. Their sophisticated wit appeals to kids and adults alike.
Somewhere along the line, Jon became obsessed with creating words and phrases that read the same backwards and forwards. The result was his first book of palindromes, "Go Hang a Salami! I'm a Lasagna Hog!" Its companion volume, "So Many Dynamos!", temporarily relieved Jon of his peculiar compulsion.
Jon has also written the book and lyrics to two musicals, B.O.T.C.H. and Flies in the Soup, which were performed at the TADA! theater in New York. He would happily continue to pursue this enterprise if he didn't need to eat.
In his spare time, Jon does a lot of doodling; or he might write a tongue twister, or an anagram, or a poem. Sometimes he draws a cartoon that gets published in "The New Yorker" magazine, which pleases him very much.