Where's My T-R-U-C-K?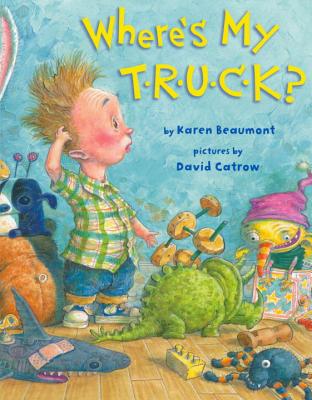 Where's My T-R-U-C-K?
Dial Books, Hardcover, 9780803732223, 32pp.
Publication Date: September 1, 2011
* Individual store prices may vary.
Buy Now
or
Shop Local
Enter your zip code below to purchase from an indie close to you.
Description
"Tommy's not himself today. He's lost his T-R-U-C-K " And no matter what Mom, Dad, sis, brother, and Grandma offer, it's just not as fun as his best red truck. The family dog isn't as picky, and sharp-eyed readers will wonder what happens to the cast-off toys Bowser gets his mouth around. Meanwhile, Tommy tears through the house and yard to hilarious and poignant effect, only to discover, in a grand moment of triumph, sneaky Bowser's secret stash. Hooray Tommy's found his T-R-U-C-K Come on Bowser, let's go play
A welcome addition to the community of strong-willed but endearing picture-book protagonists, Tommy proves you can be in a funk and still be a sweet kid.
About the Author
Karen Beaumontis known for her lively and celebratory picture books, including "I Like Myself!" and the New York Times best-seller "I Ain t Gonna Paint No More!, " both illustrated by David Catrow, as well as "No Sleep for the Sheep!, " illustrated by Jackie Urbanovic, and Wild About Us!, illustrated by Janet Stevens. She lives in Northern California. For more information, visit www.karenbeaumont.com.

David Catrow is an editorial cartoonist and the illustrator of more thanseventy books for children, including the New York Times bestseller I Ain't Gonna Paint No More! and I Like Myself!, both written by Karen Beaumont, Dozens of Cousins by Shutta Crum, Plantzilla by Jerdine Nolen, and Rotten Teeth by Laura Simms. He lives in Ohio. Visit his website at www.catrow.com.
Praise For Where's My T-R-U-C-K?…
* "Readers are in for a very funny encounter with a memorable personality. Catrow doesn't let a single spread go to waste."
-Publishers Weekly, starred review

"Catrow's colorfully frenetic artwork and Beaumont's flawlessly rhyming text will have children chanting along . . . . By the end, readers will definitely know how to spell 'truck'[and] they will definitely recognize themselves in Tommy."
-New York Times Sunday Book Review

"Anyone who's ever interacted with a young child who's lost a favorite toy will immediately recognize this little boy and his single-mindedness in searching for his t-r-u-c-k."
-Kirkus

"Beaumont's refrain promises that listeners will know how to spell 'truck' by tale's end and is perfectly paced for expressive pauses and exclamations. Catrow's jam-packed pencil and watercolor scenes are masterworks of detail and humor. This is definitely a 'read it again' book."
-School Library Journal

"Sharp-eyed viewers might guess who's responsible for the truck's disappearance before the mystery is solved, but knowing whodunit doesn't detract from the fun. In fact, the pictures are just as, if not more, entertaining on subsequent readings."
-Horn Book

"Beaumont's rhymes are consistently pleasurable . . . . Just as big an attraction, though, are Catrow's wild, undulating . . . illustrations."
-Booklist