Force Recon Command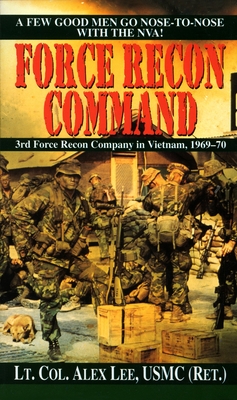 Force Recon Command
3rd Force Recon Company in Vietnam, 1969-70
Ballantine Books, Mass Market Paperbound, 9780804110235, 344pp.
Publication Date: September 30, 1996
* Individual store prices may vary.
Not Currently Available for Direct Purchase
or
Shop Local
Enter your zip code below to purchase from an indie close to you.
Description
THE A SHAU VALLEYWHERE THE NVA WAS KING . . .
In order to prevent surprise attacks on U.S. forces as they were pulling out of Vietnam, someone had to be able to pinpoint the NVA's movements. That dangerous job was the assignment of then-major Alex Lee and the Marines of the 3rd Force Reconnaissance Company when he assumed command in late 1969. They became the tip of the spear for Lt. Gen. Herman Nickerson's III MAF. And each time one of Lee's small, well-motivated, well-led, and wildly outnumbered teams was airlifted into the field, the men never knew if the day would end violently.
But whether tracking NVA movements, recovering downed air crews, or making bomb-damage assessments after B-52 strikes, Major Lee's Few Good Men never forgot who they were: Each of them was in Vietnam to live like a Marine, win like a Marine, and, if need be, die like a Marine.
Forthright and unabashed, Lieutenant Colonel Lee leaves no controversy untouched and no awe-inspiring tale untold in this gripping account of 3rd Force Recon's self-sacrifice and heroic achievement in the face of overwhelming odds.
About the Author
Lt. Col. Alex Lee retired from the U.S. Marine Corps in 1978 after a twenty-seven-year career. As an infantryman he held commands ranging from rifle and machine-gun platoons and rifle-company-level assignments to a tour of duty as commanding officer of 3d Battalion, 1st Marine Regiment. In combat operations in Vietnam, he commanded two rifle companies and a force reconnaissance company. His staff duties included two tours at the Marine Corps headquarters in Washington, D.C., during which he implemented new techniques to improve the equipment-acquisitions process and created a doctrine-based combat-readiness evaluation system.
A graduate of Stanford University and a fifth-generation Californian, he resides in Alpine, California, with his wife and three sons. He is also the author of Force Recon Command: 3rd Force Recon Company in Vietnam, 1969-70.