Dr. Dean Ornish's Program for Reversing Heart Disease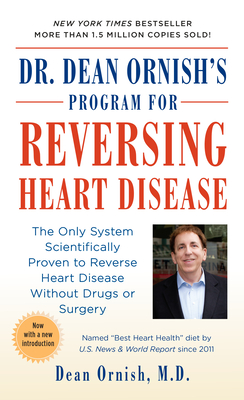 Dr. Dean Ornish's Program for Reversing Heart Disease
The Only System Scientifically Proven to Reverse Heart Disease Without Drugs or Surgery
Ivy Books, Mass Market Paperbound, 9780804110389, 672pp.
Publication Date: December 30, 1995
* Individual store prices may vary.
Buy at Local Store
Enter your zip code below to purchase from an indie close to you.
or
Buy Here
Description
Dr. Dean Ornish is the first clinician to offer documented proof that heart disease can be halted, or even reversed, simply by changing your lifestyle. Based on his internationally acclaimed scientific study, which has now been ongoing for years, Dr. Ornish's program has yielded amazing results. Participants reduced or discontinued medications; their chest pain diminished or disappeared; they felt more energetic, happy, and calm; they lost weight while eating more; and blockages in coronary arteries were actually reduced.
In his breakthrough book, Dr. Ornish presents this and other dramatic evidence and guides you, step-by-step, through the extraordinary Opening Your Heart program, which is winning landmark approval from America's health insurers. The program takes you beyond the purely physical side of health care to include the psychological, emotional and spiritual aspects so vital to healing. This book represents the best modern medicine has to offer. It can inspire you to open your heart to a longer, better, happier life.
About the Author
Dean Ornish, M.D., is president and director of the nonprofit Preventive Medicine Research Institute in Sausalito, California. He is Assistant Clinical Professor of Medicine at the School of Medicine, University of California, San Francisco, and an attending physician at California Pacific Medical Center.
Praise For Dr. Dean Ornish's Program for Reversing Heart Disease…
Advance praise for Dr. Dean Ornish's Program for Reversing Heart Disease

"Revolutionary results...By the standards of conventional medicine the impossible has happened. Dr. Ornish's work could change the lives of millions." -- Newsweek

"Dr. Ornish's research offers strong scientific evidence that lifestyle changes alone can actually reverse the progression of atherosclerotic plaques in coronary arteries. These lifestyle changes can begin to reverse even severe coronary artery disease after only one year, without the use of cholesterol-lowering drugs."

-- Claude Lenfant, M.D., director, National Heart, Lung, and Blood Institute, National Institutes of Health

"This is more than a book on reversing heart disease; it is a powerful and wise prescription for opening the heart in its deepest sense. Dr. Ornish's humanity, wit and integrity shine through on every page, affirming the best of what medicine has to offer. You don't have to have heart disease to be healed through this extraordinary book and program."

-- Joan Borysenko, Ph.D., author of Minding the Body, Mending the Mind

"In his groundbreaking book, Dr. Dean Ornish demonstrates that even severe coronary heart disease can be reversed. He shows us that when we begin healing our lives, then our hearts begin to heal as well. Dr. Ornish shows us what we are all capable of in this exciting new book. I cannot recommend it highly enough."

-- Bernard S. Siegel, M.D., author of Love, Medicine & Miracles

"Dr. Ornish's book will be good news for many patients with severe coronary heart disease. As one of his earliest mentors, I am very proud of Dr. Ornish's achievements."

-- Antonio M. Gotto, Jr., M.D., president, American Heart Association (1984)

"Whether or not you think you'll ever be concerned about your heart, this is likely to be the most useful book about health you'll read this year, maybe ever." -- John Poppy, Esquire

"This is an epochal book. It sets a new standard in our understanding of heart disease, and it is the template against which all other books on any disease whatsoever should be judged. For the purity of the science on which it rests, and for the majesty of its spiritual wisdom, this book has no equal in the literature of medicine and health."

-- Larry Dossey, M.D., author, Space, Time and Medicine and Recovering the Soul