Price of Exit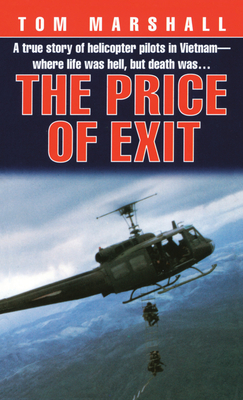 Price of Exit
Ballantine Books, Mass Market Paperbound, 9780804117159, 384pp.
Publication Date: April 29, 1998
* Individual store prices may vary.
Buy at Local Store
Enter your zip code below to purchase from an indie close to you.
or
Not Currently Available for Direct Purchase
Description
"The risk of a fatal catastrophe was constant. The NVA was the enemy, but the ultimate opponent was, quite simply, death. . . ." For assault helicopter crews flying in and around the NVA-infested DMZ, the U.S. pullout from Vietnam in 1970-71 was a desperate time of selfless courage. Now former army warrant officer Tom Marshall of the Phoenix, C Company, 158th Aviation Battalion, 101st Airborne, captures the deadly mountain terrain, the long hours flown under enormous stress, the grim determination of hardened pilots combat-assaulting through walls of antiaircraft fire, the pickups amid exploding mortar shells and hails of AK fire, the nerve-racking string extractions of SOG teams from North Vietnam. . . . And, through it all, the rising tension as helicopter pilots and crews are lost at an accelerating pace. It is no coincidence that the Phoenix was one of the most highly decorated assault helicopter units in I Corps. For as the American departure accelerated and the enemy added new, more powerful antiaircraft weapons, the helicopter pilots, crew chiefs, and gunners paid the heavy price of withdrawal in blood. For more than 30 Percent of Tom Marshall's 130 helicopter-school classmates, the price of exit was their lives. . . .
About the Author
Tom Marshall enlisted in the United States Army in the Warrant Officer Rotary Wing Pilot course in 1969. During his one-year tour in Vietnam, he received the Bronze Star for meritorious service after two months of action with the 4th Infantry Division at An Khe, where he flew OH-58s for 1st Brigade, Headquarters Company. He was next assigned to the Phoenix, C Company, 158th Aviation Battalion, before transferring to the 163rd Aviation company at Camp Eagle to fly Hueys and Loaches. At the end of his twelve-month tour, he had accumulated 1,087 hours of combat flying time. When he returned to the World in 1971, he served as an instructor pilot at Fort Rucker, Alabama, in OH-58 Kiowas, where he transitioned former air force jet pilots into helicopter pilots. He also instructed army fixed-wing aviators and foreign officers. He used his G.I. benefits to obtain a commercial multiengine-instrument airplane rating. He lives in Pensacola, Florida.