A Spy Among Friends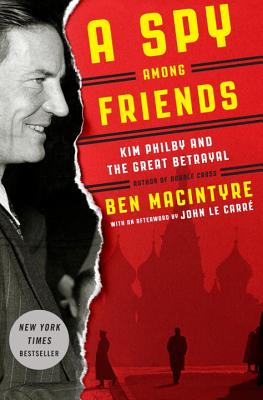 A Spy Among Friends
Kim Philby and the Great Betrayal
Crown Publishing Group (NY), Hardcover, 9780804136631, 368pp.
Publication Date: July 29, 2014
* Individual store prices may vary.
Buy at Local Store
Enter your zip code below to purchase from an indie close to you.
or
Buy Here
Description
Master storyteller Ben Macintyre's most ambitious work to date brings to life thetwentieth century's greatest spy story.
Kim Philby was the greatest spy in history, a brilliant and charming man who rose to head Britain's counterintelligence against the Soviet Union during the height of the Cold War while he was secretly working for the enemy. And nobody thought he knew Philby like Nicholas Elliott, Philby's best friend and fellow officer in MI6. The two men had gone to the same schools, belonged to the same exclusive clubs, grown close through the crucible of wartime intelligence work and long nights of drink and revelry. It was madness for one to think the other might be a communist spy, bent on subverting Western values and the power of the free world.
But Philby was secretly betraying his friend. Every word Elliott breathed to Philby was transmitted back to Moscow and not just Elliott's words, for in America, Philby had made another powerful friend: James Jesus Angleton, the crafty, paranoid head of CIA counterintelligence. Angleton's and Elliott's unwitting disclosures helped Philby sink almost everyimportant Anglo-American spy operation for twenty years, leading countless operatives to their doom. Even as the web of suspicion closed around him, and Philby was driven to greater lies to protect his cover, his two friends never abandoned him until it was too late. The stunning truth of his betrayal would have devastating consequences on the two men who thought they knew him best, and on the intelligence services he left crippled in his wake.
Told with heart-pounding suspense and keen psychological insight, and based on personal papers and never-before-seen British intelligence files, "A Spy Among Friends" is Ben Macintyre's best book yet, a high-water mark in Cold War history telling.
About the Author
Ben Macintyre is the author of several books, most recently "The Englishman's Daughter "(FSG, 2002). A senior writer and columnist for "The Times" of London, he was the newspaper's correspondent in New York, Paris, and Washington D.C. He now lives in London.

John le Carre was born in 1931. His third novel, "The Spy Who Came in From the Cold, " secured him a worldwide reputation, which was consolidated by the acclaim for his trilogy: "Tinker, Tailor, Soldier, Spy; The Honorable Schoolboy;" and "Smiley s People." His novels include "The Constant Gardner", "The Little Drummer Girl, A Perfect Spy, The Russia House, Our Game, The Tailor of Panama, " and "Single & Single." He lives in Cornwall, United Kingdom.
Praise For A Spy Among Friends…
"The Philby story has been told many times, but never with such sensitivity. Almost inadvertently, Ben Macintyre, a Times columnist, provides a devastating critique of the British class system and the disasters that result when people assume they know people… A Spy Among Friends is an extraordinary book about a sordid profession in which the most important attribute is the ability to lie…. Macintyre's focus on friendship brings an intimacy to this book that is missing from the cardboard stereotypes that populate spy novels and conventional espionage histories…I'm not a lover of spy novels, yet I adored this book." –The Times of London
 
"Macintyre writes with the diligence and insight of a journalist, and the panache of a born storyteller, concentrating on Philby's friendship with and betrayal of Elliott and of Angleton, his pathetically dedicated admirer at the top of the CIA. Macintyre's account of the verbal duel between Elliott and Philby in their final confrontation in Beirut in 1963 is worthy of John le Carré at his best."–The Guardian

"A Spy Among Friends, a classic spookfest, is also a brilliant reconciliation of history and entertainment…An unputdownable postwar thriller whose every incredible detail is fact not fiction…[a] spellbinding narrative…Part of the archetypal grip this story holds for the reader is as a case study in the existential truth that, in human relations, the Other is never really knowable. For both, the mask became indistinguishable from reality…A Spy Among Friends is not just an elegy, it is an unforgettable requiem." –The Observer
 
"Ben Macintyre's bottomlessly fascinating new book is an exploration of Kim Philby's friendships, particularly with Nicholas Elliott… Other books on Philby may have left one with a feeling of grudging respect, but A Spy Among Friends draws out his icy cold heart…This book consists of 300 pages; I would have been happy had it been three times as long." –The Mail on Sunday 
 
"Such a summary does no justice to Macintyre's marvellously shrewd and detailed account of Philby's nefarious career. It is both authoritative and enthralling... The book is all the more intriguing because it carries an afterward by John le Carré." –The New Statesman

"No one writes about deceit and subterfuge so dramatically, authoritatively or  perceptively [as Ben Macintyre]. To read A Spy Among Friends is a bit like climbing aboard a runaway train in terms of speed and excitement–except that Macintyre knows exactly where he is going and is in total control of his material." –The Daily Mail
 
"Philby's story has been told many times before–both in biography and most notably in John le Carre's fictional masterpiece Tinker Tailor Soldier Spy–but never in such exhaustive detail and with such panache as in Ben MacIntyre's brilliant, compulsive A Spy Among Friends… Reads like fiction, which is testament to the extraordinary power of the story itself but also to the skills of the storyteller…One of the best real-life spy stories one is ever likely to read." –The Express
 
 "Ben Macintyre has written an engaging book on a tantalising and ultimately tragic subject. If it starts as a study of friendship, it ends as an indictment." –The Spectator
Sunday, Jul 27, 2014
Philby was one of the 20th century's most legendary spies. NPR's Arun Rath talks with author Ben Macintyre about his new book, A Spy Among Friends, and the boozy secret to Philby's success. More at NPR.org