The Rathbones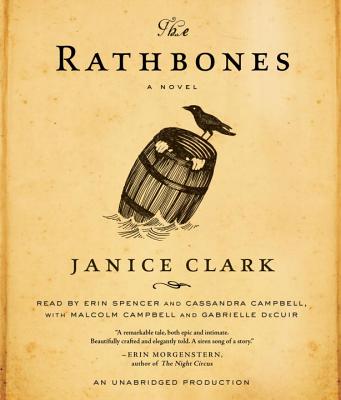 The Rathbones
Random House Audio Publishing Group, Compact Disc, 9780804148375, 12pp.
Publication Date: August 6, 2013
* Individual store prices may vary.
Buy at Local Store
Enter your zip code below to purchase from an indie close to you.
or
Not Currently Available for Direct Purchase
Description
A gothic, literary adventure set in New England, Janice Clark's haunting debut chronicles one hundred years of a once prosperous and now crumbling whaling family, told by its last surviving member.

Mercy Rathbone, fifteen years old, is the diminutive scion of the Rathbone clan. Her father, the last in the beleaguered dynasty, has been lost at sea for seven years - ever since the last whale was seen off the coast of Naiwayonk, Connecticut. Mercy's memories of her father grow dimmer each day, and she spends most of her time in the attic hideaway of her reclusive uncle Mordecai, who teaches her the secrets of Greek history and nautical navigation through his collection of specimens and moldering books. But when a strange, violent visitor turns up one night, Mercy and Mordecai are forced to flee the crumbling mansion and set sail on a journey that will bring them deep into the haunted history of the Rathbone family, and the reasons for its undoing.

As Mercy and Mordecai sail from island to island off the Connecticut coast, encountering dangers and mysteries, friends and foes, they untangle the knots of the Rathbone story, discovering secrets long encased in memory.  They learn the history of the family's founder and patriarch, Moses Rathbone, and the legendary empire he built of ships staffed with the sons of his many, many wives. Sons who stumbled in their father's shadow, distracted by the arrival of the Stark sisters, a trio of "golden" girls, whose mesmerizing beauty may have sparked the Rathbone's decline.

From the depths of the sea to the lonely heights of the widow's walk; from the wisdom of the worn Rathbone wives to the mysterious origins of a sinking island, Mercy and Mordecai's journey will bring them to places they never thought possible.  But will they piece together a possible future from the mistakes of the past, or is the once great  family's fate doomed to match that of the whales themselves?

Inspired by The Odyssey by way of Edgar Allan Poe and Moby Dick, The Rathbones is an ambitious, mythic, and courageous tour de force that marks the debut of a dazzling new literary voice.
About the Author
Janice Clark, known to many as "Grandma Jan" was born in Corona, California, but has lived long enough in the state of Washington to grow webbed feet. She has been a dreamer of dreams and a teller of tales all her life. Once her children were grown, she began writing in earnest, producing a prolific profusion of poems, stories, songs, and even a few sermons. She and her brother share a home on partially wooded acreage in a rural area south of Puget Sound, where the morning fog drifting over the coastal hills could easily conceal dragons or any number of magical creatures. She does not own a cat, but there are often deer, squirrels, and rabbits in the yard, as well as the neighbor's free-range chickens and several cats who hunt the area.

Erin Spencer's acting credits include appearances in television shows such as "CSI" and "Prison Break." As an audiobook narrator, she has read books by Terri Read, Janice Clark, Diane Graham, and others.

Actress and director Cassandra Campbell has narrated nearly two hundred audiobooks and has received multiple Audie Awards and more than twenty AudioFile Earphones Awards, including for Orange Is the New Black by Piper Kerman.
Praise For The Rathbones…
"Part odyssey, part ancestral mystery and part sea shanty, all brilliantly entwined and soaked in Greek myth. Mercy's journey over sea and shore and through extraordinary family history is a remarkable tale, both epic and intimate. The Rathbones itself feels as though it was loom-woven or carved in whalebone. Beautifully crafted and elegantly told. A siren song of a story."

-Erin Morgenstern, bestselling author of The Night Circus

"Janice Clark, in her new novel, The Rathbones, steeps readers in her world, which is strange and unforgettable… Reading The Rathbones you will want to live in these salt-swept cottages, sleep in these damp sheets, feel the Atlantic breeze sweep in to your bedroom at night… Clark's magic is in creating places that will linger with you, and make you long for the sea as if you, too, were spawned from an ancient whaling family."
 
-The Chicago Tribune


"Janice Clark's debut novel is fabulous — in the word's earlier definitions of 'suggesting a fable' and 'astonishing,' as well as its modern meaning of 'terrific' and 'awesome.' The Rathbones is both cleverly crafted and a beguiling read…part fairy tale, part sea yarn (with nods to Melville and Hemingway), part Homeric epic, it is also a story of star-crossed love, spiced with Gothic Poe-like details and a dollop of farce… Mercy's "sometimes patchy tale," woven from many fantastical threads, will provide landlubbers many a diverting hour following the fortunes of this salty family."
 
-The Boston Globe
 
 
"This is a novel of vividly imagined settings: the Rathbone home, the islands Mercy and Mordecai visit, the ship on which they sail. Clark's command of language and power of description are the novel's great strengths…Clark's writing is unquestionably beautiful… be borne away by the novel's lyricism and return from the journey refreshed."
 
-The Dallas Morning News


"Take a deep breath before you start reading The Rathbones, and renew regularly. Her book is vastly appealing in its primal reach back to the Odyssey and Moby-Dick. The Rathbones will draw in men and women alike, and at its close, many of those readers may well be inclined to take another deep breath—and start all over again."
 
-Bookpage


"The Rathbones is the most sui generis debut you're likely to encounter this year. Think Moby-Dick directed by David Lynch from a screenplay by Gabriel Garcia Marquez…with Charles Addams doing the set design and The Decembrists supplying the chanteys. Clark writes a beautiful prose line, and the story, like the ocean, gets deeper, richer, and stranger the farther out you go."
 
-The Millions; Featured in "Most Anticipated: The Great Second Half  for 2013"

"A teenager comes of age and grapples with the heavy burdens of family secrets against the backdrop of the 19th Century New England whaling industry in this beautifully written, playful and intricate debut novel.  Clark creates evocative descriptions . . . making her images and encounters between people especially vivid." 
 - Publishers Weekly, Starred Review.

"Drawing on Edgar Allan Poe, Homer and Herman Melville, an ambitious saga of lineage and whaling … Simultaneously mythic, gothic and whimsical … Clark imagines a rich hinterland to her briny story … [and] seduces with her vision and prose."
 -Kirkus Reviews


"Dark and beautifully written, Janice Clark's journey into family history captures the salty bonds of blood and sea, with all that lies beneath: from long held secrets to a broken covenant with the whale.  As cautionary a tale as Melville's, this is nevertheless a woman's odyssey, one that creates a kind of longing that lingers far beyond its final pages. I'm telling everyone I know to read this one." 
 —Brunonia Barry, bestselling author of The Lace Reader

"Full of longing and desire, The Rathbones is a wonder. Janice Clark has written a new chapter of American myth and family legend, an epic tale of adventure-of men who go off to sea and the women who wait for them until they can wait no longer. Mercy Rathbone, the 15-year-old girl whose odyssey is at the story's core, is a brilliant creation, who will haunt your memory long after you turn the final page."
 -Keith Donohue, New York Times bestselling author of The Stolen Child

"The Rathbones is a gorgeous, gothic tale of a seafaring family and their dark secrets, passed through generations.  Reminiscent of Melville, Janice Clark's writing is inventive and astonishing in its sensuousness and attention to historic details."
-Kathleen Kent, bestselling author of The Heretic's Daughter

"If Faulkner's Snopes family from Yoknapatawpha County had gone to sea, they might have become the Rathbones: generations of men whose impossible goal was to tame the ocean and slay its leviathans -- but whose story, in the end, could only be told by a woman.  Janice Clark has fit the whole world into this beautiful and capacious book, proving that it's not only life that came from the sea, but language and love as well."
-Daniel Wallace, bestselling author of Big Fish and The Kings and Queens of Roam