Bridget Jones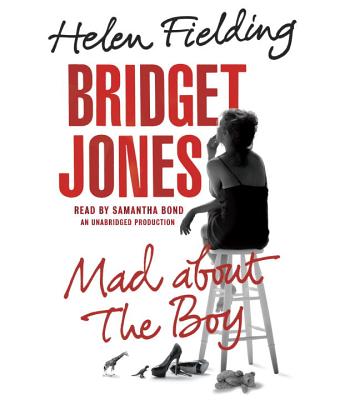 Bridget Jones
Mad about the Boy
Random House Audio Publishing Group, Compact Disc, 9780804148764
Publication Date: November 12, 2013
* Individual store prices may vary.
Buy at Local Store
Enter your zip code below to purchase from an indie close to you.
or
Not Currently Available for Direct Purchase
Description
A GoodReads Reader's Choice
Bridget Jones one of the most beloved characters in modern literature (v.g.) is back In Helen Fielding's wildly funny, hotly anticipated new novel, Bridget faces a few rather pressing questions:
What do you do when your girlfriend's sixtieth birthday party is the same day as your boyfriend's thirtieth?
Is it better to die of Botox or die of loneliness because you re so wrinkly?
Is it wrong to lie about your age when online dating?
Is it morally wrong to have a blow-dry when one of your children has head lice?
Is it normal to be too vain to put on your reading glasses when checking your toy boy for head lice?
Does the Dalai Lama actually tweet or is it his assistant?
Is it normal to get fewer followers the more you tweet?
Is technology now the fifth element? Or is that wood?
If you put lip plumper on your hands do you get plump hands?
Is sleeping with someone after two dates and six weeks of texting the same as getting married after two meetings and six months of letter writing in Jane Austen's day?
Pondering these and other modern dilemmas, Bridget Jones stumbles through the challenges of loss, single motherhood, tweeting, texting, technology, and rediscovering her sexuality in Warning Bad, outdated phrase approaching middle age.
In a triumphant return after fourteen years of silence, "Bridget Jones: Mad About the Boy" is timely, tender, touching, page-turning, witty, wise, outrageous, and bloody hilarious.
TODAY Book Club Selection.
About the Author
HELEN FIELDING is Associate Professor of Philosophy and Women's Studies at the University of Western Ontario, Canada. She has published articles on Irigaray, Heidegger, Nancy and Merleau-Ponty.
"."
Samantha Bond is best known for her role as Miss Moneypenny in several James Bond films, including "Die Another Day, The World is Not Enough, Tomorrow Never Dies", and "GoldenEye". Her many television credits include Agatha Christie s "Poirot, Inspector Morse, Midsomer Murders, Rampole of the Bailey", and "Downton Abbey." She is a member of the Royal Shakespeare Company and has appeared in multiple performances on Broadway and London's West End.
A native of England, Bond s audiobook credits include reading classic works by Agatha Christie and John Milton. Of her narration ability, "AudioFile" magazine has stated, Samantha Bond...does a top-notch job with these stories. Her pacing is perfect, and her ability to switch from American to British to Russian-inflected accents astonishing. She starred opposite Dame Judi Dench in David Hare's "Amy's View" at the Royal National Theatre, and, along with the cast, recorded the audiobook of the award-winning play. She also went on to narrate Dench s memoir, "And Furthermore."
Praise For Bridget Jones…
Praise for Bridget Jones: Mad About the Boy

Today Show's second Book Club Selection!

"Mad About the Boy is not only sharp and humorous, despite its heroine's aged circumstances, but also snappily written, observationally astute and at times genuinely moving. Fielding has somehow pulled off the neat trick of holding to her initial premise – single woman looks for romance – while allowing her heroine to grow up into someone funnier and more interesting that she was before. Who knew middle age could be so eventful? . . . Fielding beautifully conveys the constant seesaw of emotions a parent feels toward the young and demanding: one minute overwhelming love, the next minute overwhelming desire to lock oneself in the bathroom with a bottle of gin . . . We get some good long narration, but large chunks of the book come in diary form, introduced by select statistics of the day, hilariously expanded to reflect grown-up Bridget's concerns…. Its big heart, incisive observations and zippy pace . . . make the prospect of middle age not so bad at all. It is possible I cried a little at the end, but then, as Bridget might say: am sucker for happy endings."
—Sarah Lyall, The New York Times Book Review
 
"With Bridget Jones's Diary, Helen Fielding created a new female archetype. Now she's brought Bridget back to conquer the 21st century. (Rule No. 1: No texting while drunk) . . . Texting and Twitter play an outsize role in the new novel, which finds Bridget solo-parenting two young children and seeking romance after a decade under Mark Darcy's chivalric guard . . . The diary form itself pays homage to Austen, lifting Fielding's work above many pale imitations. Austen's heroines aren't writers, but Fielding's is . . . Austen's plots are marriage plots, and ultimately so are Bridget's. But Fielding's novels (like Austen's, and like Sex and the City and Girls) also revolve around friendship—something at which Bridget excels. Nor is the character's staying power an accident. Fielding . . . is still very much a writer. "
–Radhika Jones, Time
 
"She's back! Our favorite hapless heroine returns after a decade-plus hiatus, juggling two kids, potential boyfriends, smug marrieds, rogue gadgets, and her nascent Twitter feed."
—Vogue

"Fielding's comic gifts—and, just as important, her almost anthropological ability to nose out all that is trendy and potentially crazy making about contemporary culture, from Twitter ("OMG, Lady Gaga has 33 million followers! Complete meltdown. Why am I even bothering? Twitter is giant popularity contest which I am doomed to be the worst at") to online dating—are once again on shimmering exhibit. And Bridget, although now a fiftyish single mother who has to deal with putting her two young children, Billy and Mabel, to bed, along with treating their hair for nits, cleaning up vomit, and attending Sports Day school picnics, is still recognizably her ditzy but ultimately unfazable self . . . Bridget is so specific a character that it's hard to believe that she's been invented from whole cloth . . . [Has] the sort of narrative propulsion that is rare in autobiographically conceived fiction, not to mention an unsolipsistic worldview (for all of Bridget's fussing over herself) that invites broad reader identification."
—Daphne Merkin, Elle
 
 "Bridget's back!  And as irrepressible as ever . . . Yes, Bridget has changed her dismal (Born-Again Virgin) status via the scary world of online dating, and she's in turmoil.  Repentant after masses of sex and drunken Twitter over-sharing, she comforts herself with grated mozzarella, her adorable, vomit-prone children and cockeyed attempts at self-improvement . . . sweet, clever and funny.  Yay Bridget!"
—Helen Rogan, People

"Mark has been gone five years. Children have nits. Mother still difficult. Jude still tormenting Vile Richard. Daniel Cleaver is children's godfather . . . Good fun, like gathering with friends." 
—Seattle Times
 
"Tender and comic."
—The New Yorker
 
"Fielding manages to both move and delight the reader time after time . . . Hilarious."
—New York Journal of Books

 "Plenty has changed for everyone's favorite London singleton since her v. funny diary first charmed the world in 1998. In Helen Fielding's Bridget Jones: Mad About the Boy, Bridget's a widow with two kids, a Twitter account and a 'toy boy'– but she's still adorably clueless."
—People 
 
"Three years before 'Sex and the City' staked its claim to the smart-sassy-single stereotype, Helen Fielding created Bridget Jones, a vessel for educated, urban thirtysomethings' secret fears about cellulite and dying alone and the probable correlation between the two. Nearly 20 years later, in Fielding's latest, Bridget Jones: Mad About the Boy, a 50-year-old Bridget is looking for love again . . . This time around, though, instead of dialing 1471 to see who's called while she was in the shower, she's refreshing her Twitter at-replies . . . Delightful . . . Bridget Jones was a character made for the Internet, from her confessional tone to her casual creation of memes."
—Ann Friedman, Los Angeles Times
 
"Hearing Bridget dissect wardrobe choices ('a brand chillingly called Not Your Daughter's Jeans'), parenthood ('Why can't everyone just F---ING SHUT UP AND LET ME READ THE PAPERS'), and exercise ('Usually love Zumba...stomping angrily like horses, transporting one into a world of Barcelona or possibly Basque-coast nightclubs, and fire-lit gypsy encampments of undetermined national extraction') feels like visiting with your funniest friend."
—Jessica Shaw, Entertainment Weekly

"She's back! And even though she's a fifty-something single mom, she's still the Bridget Jones we all fell in love with."
—Jenna Bush Hager, Today