Raising Steam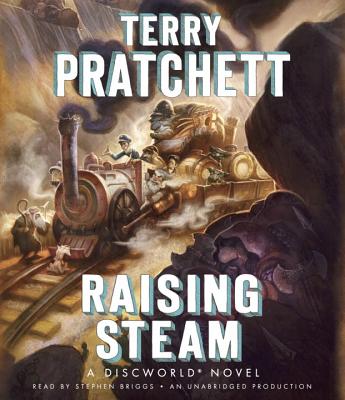 Raising Steam
Random House Audio Publishing Group, Compact Disc, 9780804164535, 10pp.
Publication Date: March 18, 2014
* Individual store prices may vary.
Buy at Local Store
Enter your zip code below to purchase from an indie close to you.
or
Buy Here
Description
The new Discworld novel, the 40th in the series, sees the Disc's first train come steaming into town.

Change is afoot in Ankh-Morpork. Discworld's first steam engine has arrived, and once again Moist von Lipwig finds himself with a new and challenging job.
Praise For Raising Steam…
"Consistently funny, wise and clever. . . . Rewarding to both longtime readers and novices, filled with characters who leap off the page and metaphors that make you laugh out loud. . . . Pratchett's appeal isn't just his roller-coaster plots but the depth of his ideas."
     —Sam Thielman, Newsday
 
"A delightful fantasy send-up of politics, economics and finance, as the Discworld gets a railway and complications ensue. . . . A lovely homage to the courage at the core of technological advance. . . . Pratchett melds politics, finance and the occasional dark turn with his fantasy and humor, and as ever his footnotes are not to be missed. . . . How many writers are more fun to spend time with?"
     —Ken Armstrong, The Seattle Times
 
"A spectacular novel, and a gift from a beloved writer to his millions of fans. . . . A tremendous synthesis of everything that makes Pratchett one of the world's most delightful writers."
    —Cory Doctorow, Boing Boing

"From the first, the novels demonstrated Pratchett's eye for telling detail and the absurdities of the human condition. . . . He remains one of the most consistently funny writers around; a master of the stealth simile, the time-delay pun and the deflationary three-part list. . . . I could tell which of my fellow tube passengers had downloaded it to their e-readers by the bouts of spontaneous laughter."
    —Ben Aaronovitch, The Guardian

"Terry Pratchett's creation is still going strong after 30 years. . . . Most aficionados, however, will be on the look-out for in-jokes and references from previous novels—of which there is no shortage. Discworld's success, like that of Wodehouse's Jeeves and Wooster stories, has never been driven by the plots. . . . It is at the level of the sentence that Pratchett wins his fans."
    —Andrew McKie, The Times (London)

"A brash new invention brings social upheaval, deadly intrigues, and plenty of wry humor to the 40th installment of Pratchett's best-selling Discworld fantasy series. . . . As always, Pratchett's unforgettable characters and lively story mirror the best, the worst, and the oddest bits of our own world, entertaining readers while skewering social and political foibles in a melting pot of humanity, dwarfs, trolls, goblins, vampires, and a werewolf or two."
     —Publishers Weekly (starred review)
 
"Brimming with Pratchett's trademark wit, a yarn with a serious point made with style and elegance." 
     —Kirkus Reviews
 
"Leavened with Pratchett's usual puns, philosophical quips, and Discworld in-jokes, the story offers an amusing allegory of Earthly technology's many seductions." 
     —Booklist 


Praise for Terry Pratchett

"Terry Pratchett may still be pegged as a comic novelist, but . . . he's a lot more. In his range of invented characters, his adroit storytelling, and his clear-eyed acceptance of humankind's foibles, he reminds me of no one in English literature as much as Geoffrey Chaucer. No kidding."
    —Michael Dirda, The Washington Post Book World

"Given his prolificacy and breezy style, it's easy to underestimate Pratchett. . . .  He's far more than a talented jokesmith, though. His books are almost always better than they have to be."
    —Michael Berry, San Francisco Chronicle

"Nonstop wit. . . . Pratchett is a master of juggling multiple plotlines and multiplying punchlines."
    —Ken Barnes, USA Today