Veronica Mars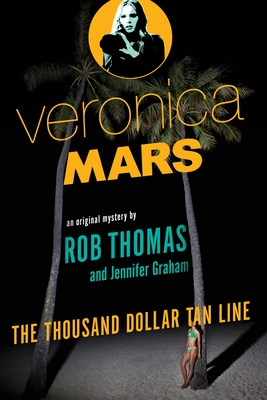 Veronica Mars
The Thousand-Dollar Tan Line
Vintage Books, Paperback, 9780804170703, 324pp.
Publication Date: March 25, 2014
* Individual store prices may vary.
Buy at Local Store
Enter your zip code below to purchase from an indie close to you.
or
Buy Here
Description
From Rob Thomas, the creator of the television series and movie phenomenon "Veronica Mars," comes the first book in a thrilling mystery series that picks up where the feature film left off.
Ten years after graduating from high school in Neptune, California, Veronica Mars is back in the land of sun, sand, crime, and corruption. She's traded in her law degree for her old private investigating license, struggling to keep Mars Investigations afloat on the scant cash earned by catching cheating spouses until she can score her first big case.
Now it's spring break, and college students descend on Neptune, transforming the beaches and boardwalks into a frenzied, week-long rave. When a girl disappears from a party, Veronica is called in to investigate. But this is no simple missing person's case; the house the girl vanished from belongs to a man with serious criminal ties, and soon Veronica is plunged into a dangerous underworld of drugs and organized crime. And when a major break in the investigation has a shocking connection to Veronica's past, the case hits closer to home than she ever imagined.
In "Veronica Mars," Rob Thomas has created a groundbreaking female detective who's part Phillip Marlowe, part Nancy Drew, and all snark. With its sharp plot and clever twists, "The Thousand-Dollar Tan Line" will keep you guessing until the very last page.

About the Author
Rob Thomas is the creator and executive producer of the television series "Veronica Mars". He is also a cocreator and executive producer of the cable television series "Party Down". In addition to his television work, Thomas is the author of five young adult books for Simon & Schuster including "Rats Saw God", "Slave Day", "Satellite Down", and "Doing Time: Notes From the Undergrad". He lives in Austin, Texas, with his wife Katie, daughter Greta, and son Hank. Visit him at SlaveRats.com.

Jennifer Graham spent 20 years in education as a teacher, principal and professor before commencing her work with educational foundations. Her mission is to improve lives through education by providing innovative ways to provide opportunities for students to succeed. With a passion for teaching, Jennifer focused her studies on inner city and third world education, which allowed her to teach in four countries, on three continents and in three states. She has served as the principal of elementary, middle and high schools with her favorite position being the principal of a K-12 grade Disciplinary Alternative School where she was able to maintain an environment that rewarded collaborative learning and personal responsibility. As an adjunct professor, Graham taught lower and upper division classes in special education. Leadership is the honor given to those who enjoy service. Whether it's leading a Rotary service team to the Philippines, orchestrating a downtown revitalization program, forming a Botanical Garden, hosting foreign exchange students, guiding entrepreneurs, or heading a Youth Leadership Camp Jennifer never says no to a new idea. She considers herself a window jumper because when windows of opportunity open up, she's the first to jump. Whether she heads out feet first, or dives in, she often lands on her butt, but has the tenacity to brush herself off and be glad for the flight time. This book was a concept her father, a Pan Am pilot started in the 1980's. It wasn't until after the company folded, and court cases were settled that he was able to get enough information to begin telling the story. It was in his final years, that Jennifer and her father went to the University of Miami and began the work of sifting through the special collections to piece together the story of Pan Am Flight 73 and the crew who saved all but 20 of the 350 passengers. This story takes the actual events but tells it from the perspective of a fictional character. Jennifer's father read her story before his death, and was proud that the story got told, but felt certain there was too much technical information about the airplane that was left out. That's the beauty of storytelling, we all tell our own version of the truth.
Praise For Veronica Mars…
Praise for the television series Veronica Mars

A Time, Entertainment Weekly, and Salon Best Show of the Year

"Nancy Drew meets Philip Marlowe, and the result is pure nitro." —Stephen King

"Best. Show. Ever. Seriously, I've never gotten more wrapped up in a show I wasn't making, and maybe even more than those. . . . These guys know what they're doing on a level that intimidates me. It's the Harry Potter of shows." —Joss Whedon, creator of Buffy and writer/director of Marvel's The Avengers

"Classic California film noir. . . . Raymond Chandler in its writing." —The Seattle Times

"Sharp wits, steely nerves, and a wicked sense of humor. . . . This is one TV case we don't want to see closed."—USA Today

"It's what lies deeper that not only makes the show remarkable but what defines it. Mysteries are its central metaphor; Veronica solves little puzzles because she, like all of us, cannot unravel the bigger ones. . . . Filled with deft, glorious wit." —Entertainment Weekly