Travels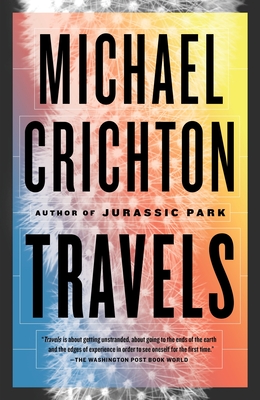 Travels
Vintage Books, Paperback, 9780804171274, 377pp.
Publication Date: March 11, 2014
* Individual store prices may vary.
Shop Local
Enter your zip code below to find indies closest to you.
Description
From the bestselling author of"Jurassic Park," "Timeline," and"Sphere"comes a deeply personal memoir full of fascinating adventures as he travels everywhere from the Mayan pyramids to Kilimanjaro.
Fueled by a powerful curiosity and by a need to see, feel, and hear, firsthand and close-up Michael Crichton's journeys have carried him into worlds diverse and compelling swimming with mud sharks in Tahiti, tracking wild animals through the jungle of Rwanda. This is a record of those travels an exhilarating quest across the familiar and exotic frontiers of the outer world, a determined odyssey into the unfathomable, spiritual depths of the inner world. It is an adventure of risk and rejuvenation, terror and wonder, as exciting as Michael Crichton's many masterful and widely heralded works of fiction.
About the Author
Michael Crichton was a writer and filmmaker, best known as the author of Jurassic Park and the creator of ER. One of the most popular entertainers in the world, Crichton sold more than 200 million copies of his books, which have been translated into 40 languages and adapted into 15 films. Long before the carefully researched techno-thrillers that ultimately brought him to fame, Crichton wrote high-octane suspense novels to support himself while studying at Harvard Medical School. In partnership with his brother Douglas Crichton, he wrote Dealing under the pseudonym Michael Douglas in 1970.