Heated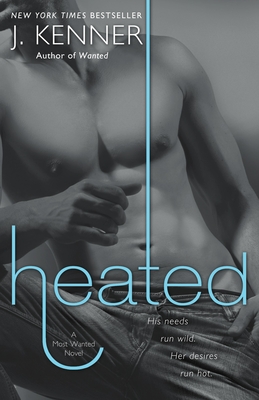 Heated
Bantam, Paperback, 9780804176682, 400pp.
Publication Date: June 3, 2014
* Individual store prices may vary.
Shop Local
Enter your zip code below to find indies closest to you.
Description
"NEW YORK TIMES" BESTSELLER
For fans of" Fifty Shades of Grey, Bared to You, " and "Release Me" comes an all-new series of three enigmatic and powerful men, and the striking women who can bring them to their knees.
"I knew better than to risk my heart."
"But fierce passion comes at a high price."
I grew up believing in right and wrong, good and evil, black and white. I knew better than to trust. And then I met Tyler Sharp.
Bold, charming, and dangerously sexy, Tyler always gets what he wants. But his smile can be deceiving, his dealings sordid, his ambitions ruthless. I thought I was the one woman strong enough to resist him, but our need for each other was too urgent to deny.
One look and I was in trouble. One touch and I was hooked. One night and I became his.
And now that I've fallen, there's no going back.
"Heated "is intended for mature audiences.
"FIRST TIME IN PRINT: THE BONUS STORY "TAKE ME"
"
Praise for "Heated"
" "
"A steamy story with a dark edge. Recommended for those seeking crime drama with spice."--"Library Journal"
" "
"Kenner may very well have cornered the market on sinfully attractive, dominant antiheroes and the women who swoon for them, and this second installment of her Most Wanted series goes a long way toward solidifying that claim. Her characters' scorching, scandalous affair explores the very nature of attraction and desire, redeeming and changing them beyond measure. . . . Fans will no doubt love the games of power, overwhelming passion and self-defining relationship that Kenner has crafted, and come away eager for more."--"RT Book Reviews"
" "
"Fans of erotic romance will enjoy "Heated." The plot is complex, the characters engaging, and J. Kenner's passionate writing brings it all perfectly together."--Harlequin Junkie
"In Julie Kenner's typical masterful storytelling, nothing is as it seems. We are taken deeply into the plot twists and the danger of this erotic journey. The chemistry first felt by both Tyler and Sloanne during their first encounter roars into an all-consuming fire neither one can put out. . . . Take the same journey I did and you will not be disappointed "--As You Wish Reviews.
About the Author
Julie Kenner (aka J. Kenner and J.K. Beck) is the New York Times, USA Today, Publishers Weekly, and Wall Street Journal bestselling author of over forty novels, novellas and short stories in a variety of genres. Praised by Publishers Weekly as an author with a "flair for dialogue and eccentric characterizations," J.K. writes a range of stories including super sexy romances, paranormal romance, chick lit suspense and paranormal mommy lit. Her foray into the latter, Carpe Demon: Adventures of a Demon-Hunting Soccer Mom by Julie Kenner, is in development as a feature film with 1492 Pictures. Her most recent trilogy of erotic romances, The Stark Trilogy (as J. Kenner), reached as high as #2 on the New York Times list and is published in over twenty countries. J.K. lives in Central Texas, with her husband, two daughters, and several cats.